Air Commodore Ian Mower
The Deputy Chief of Air Force is responsible for governance and strategic plans that ensure the RNZAF meets its obligations to the New Zealand Government. The Deputy Chief of Air Force is also responsible for capability advice and assurance, oversight of recruitment and training, health and safety and overseeing Technical Airworthiness, Air Force Museum and the International Commitments Programme.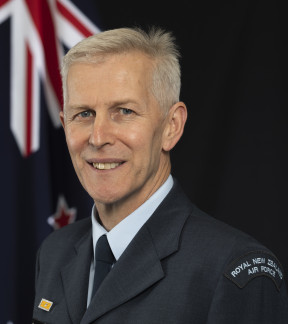 Air Commodore Ian Mower joined the Royal New Zealand Air Force (RNZAF) in January 1983.
Commissioned as a Pilot Officer within the Engineering Branch in August 1989, he undertook various roles as a junior engineering officer, progressing through the ranks to Flight Lieutenant.
He undertook formal Engineering Officer training at the Royal Melbourne Institute of Technology from July 1994 to July 1995 and upon return to New Zealand served as the Iroquois Section Commander of No 3 Squadron.
In March 1997, Air Commodore Mower was seconded to an NZMOD project team, based in Connecticut, USA as the Mechanical Engineer for the acquisition of the SH-2G(NZ) Seasprite maritime helicopter.
Upon return to New Zealand in 2001, he was posted to the Naval Support Flight as the Maintenance Flight Commander.
During this tour, he was appointed as a Member of the New Zealand Order of Merit for efforts associated with the Seasprite acquisition project and for its introduction into service.
In January 2005, Air Commodore Mower completed a Master's Degree in Engineering Management at Auckland University, gaining the degree with First Class Honours.
Upon completion of studies he was promoted to Wing Commander and served as Director of Aeronautical Engineering within Air Staff and in August 2007, he was posted to the position of Director of Logistics Capability within Air Staff.
In January 2010, he was posted to the position of Director of Aeronautical Configuration as the Prime Technical Airworthiness Authority for all RNZAF aircraft types, then, in November 2011, he was promoted to Group Captain and posted into the position of RNZAF Chief Engineer and Technical Airworthiness Authority.
In June 2014, Air Commodore Mower took up a position within Headquarters New Zealand Defence Force as the Director Capability Working Groups within Capability Branch.
Over 2016 and 2017, Air Commodore Mower completed a course at the US's National Defence University where he studied at the Eisenhower School for National Security and Resource Strategy, gaining a Master's of Science Degree in National Resource Strategy.
Following studies in the US, Air Commodore Mower took up the position as Head of the New Zealand Defence Staff in Canberra where he was appointed to the roles of Defence Advisor to Australia and India.
Air Commodore Mower took up his current appointment as Deputy Chief of Air Force in February 2020.