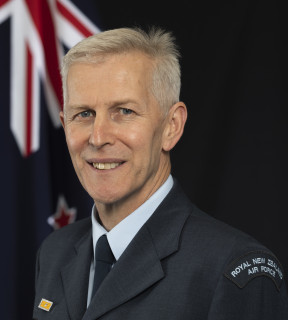 Air Commodore Ian Mower
Deputy Chief of Air Force
The Deputy Chief of Air Force is responsible for governance and strategic plans that ensure the RNZAF meets its obligations to the New Zealand Government. The Deputy Chief of Air Force is also responsible for capability advice and assurance, oversight of recruitment and training, health and safety and overseeing Technical Airworthiness, Air Force Museum and the International Commitments Programme.
40 years and counting
Mower joined the Royal New Zealand Air Force in 1983 and became a Pilot Officer in 1989. He went to the Royal Melbourne Institute of Technology for formal Engineering Officer training.
When he came back to New Zealand, he worked in various roles, including Mechanical Engineer for the acquisition of the SH-2G(NZ) Seasprite maritime helicopter. Mower started his current role as Deputy Chief of Air Force in February 2020.
Education and Achievements
After completing a Master's Degree in Engineering Management in 2005, Mower was promoted to Wing Commander and then Group Captain.
In 2014, Air Commodore he worked at Headquarters New Zealand Defence Force and completed a course at the US's National Defence University in 2016 and 2017.
He was appointed as Head of the New Zealand Defence Staff in Canberra and as Defence Advisor to Australia and India after his studies.