World War II motorcycles deliver veteran a blast from the past
When World War II veteran Walter 'Wally' Malcolm turned 100 in 2021 he received a visit from a current member of the New Zealand Army, which started the wheels turning for a special reunion with the beloved motorcycles of his wartime years.
11 April, 2023
Wally was visited at his Waipukurau, Hawke's Bay, home by Staff Sergeant Richard Davis, on behalf of East Coast Company, 5th/7th Battalion, Royal New Zealand Infantry Regiment to mark his century.
"Wally was part of a crew that uplifted over 60 Indian motorcycles to support the New Zealand War effort for WWII. Wally mentioned this to me on our last visit, which started the wheels turning on planning a follow-up trip," said Staff Sergeant Davis.
That surprise follow-up trip happened late last month when three men, wearing period Army motorcycle gear, roared up to Wally's house on two WWII Indians and a 1937 Norton.
"Our visit was delayed due to our response efforts to Cyclone Gabrielle which 5/7 was heavily involved in. It all went off in the end though, and Wally really was chuffed with the visit," Staff Sergeant Davis said.
Staff Sergeant Davis's step-father, Garry Alve, owned and rode the Norton motorcycle, while family friend Jim Lord supplied the Indians and allowed Staff Sergeant Davis to ride the 1941, Model 741 Indian.
"Jim also supplied the genuine Army issue greatcoats, jerkins and helmets, which Wally enjoyed putting on," Staff Sergeant Davis said.
"The great coat in particular brought back many memories for him. Wally even tried to mount one of the bikes, and can probably still ride one better than me," he laughed.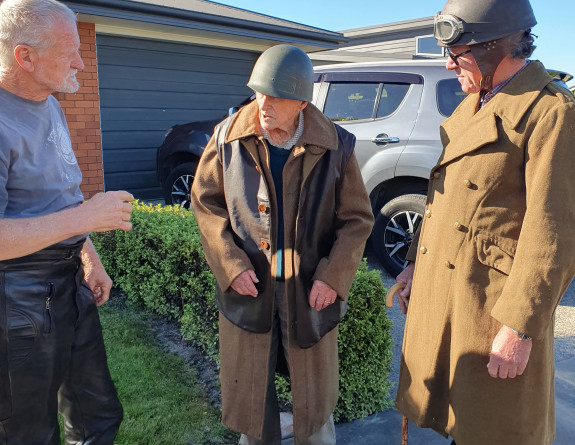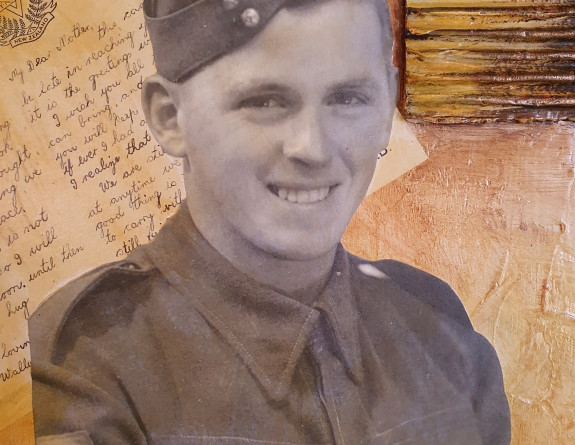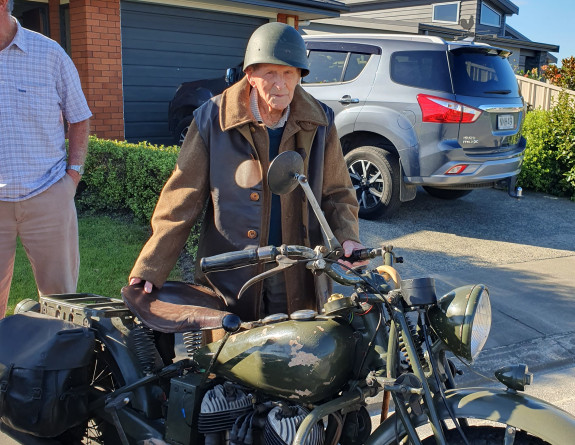 Wally was a member of the 25th Battalion, which fought in the North African and Italian campaigns. He can recall many of the skirmishes he was involved in, especially at Orsogna where he was captured, along with 52 others.
As a prisoner of war, he spent four days crammed in a cattle wagon with no food and little water as they were transported by train to a camp outside Munich.
The camp, home to about 3500 prisoners was bombed by an Allied air raid, which took out five of the seven barracks. Fortunately, Wally was housed in one of the two that remained.
The 25th Battalion was disestablished in late 1945 and its battle honours entrusted to units which later amalgamated and now form 5th/7th Battalion Royal New Zealand Infantry Regiment.