What it takes to be an Army emergency responder
Sapper Jack Gardner always knew he wanted to be an emergency responder.
20 July, 2023
Call-outs are hard work, says Sapper Jack Gardner, based at Linton Army Camp. As emergency responders, he and his team could be called on to any emergency in the locality.
"You get back to the station and you can feel very muscle in your body," he says.
"You're exhausted physically and mentally. But it's the fact that I can help someone, or do one little thing for them on what could have been the worst day of their life, is something that I find very rewarding."
Sapper Gardner says he had always wanted to join the Army.
"Ever since the recruiters came around in high school I was pretty sold on the idea of being a soldier. I joined as an emergency responder because I wanted to help people and also put the skills we learn to use at emergencies. My other options when joining the army were Armoured and vehicle mechanic. But at the end of the day I knew I wanted to be an emergency responder."
After completing basic training Sapper Gardner went through Engineer Corps training for three months.
"From there we go onto basic fire training for an additional three months. After graduating from basic fire I was qualified to ride a truck as an emergency responder."
When on shift, he and his colleagues train once a day.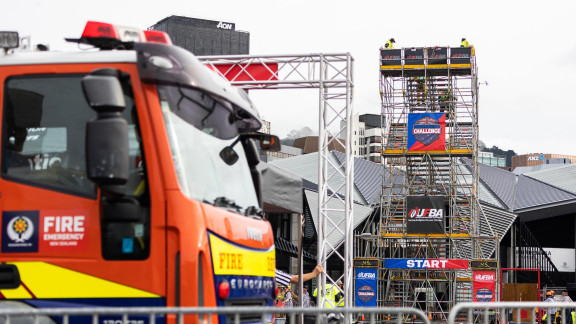 Sapper Gardner in the Firefighter Challenge 2023
"As well as keeping up to date with the military aspect of our job, our main focus is on the operational side of being an emergency responder. Some examples are search techniques, medical co-response or motor vehicle accident training. We train with simulated real life emergencies. This means we are exposed to live fire environments that reach temperatures exceeding 400 degrees."
Some aspects of the job can be challenging. "You could be dealing with victims who have lost either family or property, or both. But when it comes to a challenging call out we are trained to a very high level."
No two callouts are the same. "Whether it be child-related or a family that has lost everything in a house fire, we recognise that 'in the absent of experience we fall back on our training'. That is a quote that I strongly believe is key for an emergency we haven't encountered before."
Firefighters form very strong bonds, he says.
"We are a very tight knit bunch on shift, as is expected due to the nature of the job. We go into some very high stress and potentially hazardous situations where you have no choice but to rely on your team mates and in turn that creates a very strong bond with your peers."
They also rely on their kit – some of the best money can buy.
"We have industry standards that our equipment needs to meet as well as putting it through a series of rigorous tests that push it far beyond what we'd ever put it through on the job."
Downtime is often spent at the gym, or even playing a board game with the crew.
"I'm very much an active person but when I am not at work I attend CrossFit classes and go out four-wheel driving and camping. I also play canoe polo and during the winter months I snowboard."
Thanks to his fitness and professionalism, Sapper Gardner has qualified Fire Fighter Challenge World Championships in Florida later this year.