Welcoming 2022 in South Sudan
As Major Dan Swale looks out over the HESCO and razor wire, the sun sets over Jonglei State, the last time for 2021.
23 February, 2022
It's New Year's Eve and this year his celebrations will be a little different. He's serving as a United Nations Military Observer in South Sudan, the world's youngest state and also one of its most troubled.
"I'm one of three New Zealand Army officers serving here, and we'll all be spending this night in different parts of the country: Major Oliver Lynn in Yei close to the border with Uganda and the Democratic Republic of Congo, Lieutenant Colonel Dave Vink in the capital Juba and myself, here in Bor, Jonglei's capital.
For many of us, New Year's Eve is a time to look back on the year that has been. 2021 has certainly been a year like no other, shifting from our pre-deployment training in snowy Waiouru to South Sudan, where the temperature topped out at thirty-eight degrees today.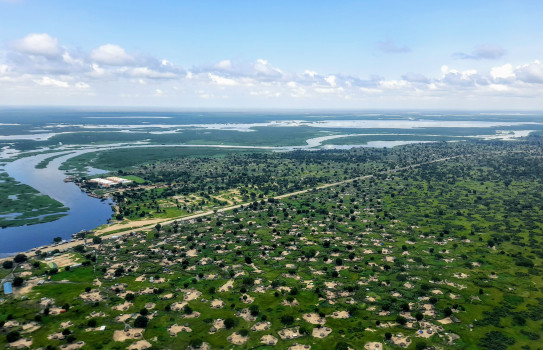 My day started like most others, with a run around the inside of the camp perimeter. I sometimes think how strange it must seem to the local security guards: this foreigner who is so wealthy that he chooses to waste precious energy running around in circles, wearing a special pair of shoes he owns solely for that purpose. Still, the guards who look on are the lucky ones. One of the guards, Jacob, is in his mid-twenties, a graduate of a Ugandan university where he studied microbiology. 'But there are no jobs in South Sudan' he tells me, 'I must humble myself as a guard here'.
Yet relatively speaking Jacob has hit the jackpot; whilst his skills may well be underutilised, he earns $1,000 a year and the United Nations reliably pays his salary, month in month out. That's better than the majority of the population – just last week public servants blocked access to the local airstrip, protesting against having not received salaries for five months. Meanwhile a soldier at one of the ubiquitous checkpoints down the road earns the equivalent of $5 a month, though he too hasn't been paid for the last few months.
Whilst New Zealand, like all countries, has its issues, being here definitely gives you a sense of perspective. In the week before Christmas I was reading the news from back home and the lead story was a potential blueberry shortage for Christmas. Meanwhile, two days ago we received a letter from a community of 40,000 imploring us to assist them. In this town the crops have been destroyed by flooding, food is becoming increasingly scarce in the market as the World Food Programme struggles to keep up with demand, and the population are choosing to become refugees in neighbouring Ethiopia rather than face starvation at home.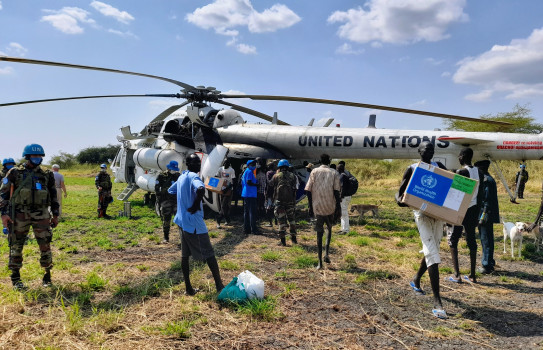 An alert pings on my phone, announcing the arrival of another email. 'Dear Colleagues, please be reminded that as the traditional way of celebrating the ushering in of the incoming New Year 2022, during the night of 31 December 2021 it is most likely that there would be a series of gunfire in Bor town over a period of time. Some of the gun firing may be heard in close proximity to UN bases. UN personnel are advised not to panic during this occasion, but as a personal security precautionary measure should strictly avoid any unnecessary movement, irrespective of place or time.' What's interesting is how quickly we adapt to 'normal'.
When I first arrived in South Sudan, every bout of gunfire made me instinctively look to my body armour, noting the time and direction of the firing. What back home would be grounds for a call to the Police is just another day here, where one in five households have at least one semi-automatic rifle. Weapons are everywhere, whether carried by the Police and Army, or with cattle keepers protecting their herds from the ambushes that occur multiple times a week. What's more, knowing who is carrying weapons is frequently a challenge.
Sometimes government soldiers, cattle herders and members of ethnic militias are one and the same, depending on the day of the week and whether the government has paid salaries that month.
For all the country's challenges, I see some hope in the children here who are bright and bubbly and love to play, like children anywhere in the world. As I drove through town on my daily patrol I saw kids playing with used plastic bottles on a string, fashioned into toy cars, or pushing a bicycle tyre with a stick. At the dock alongside the river barges, children were swimming and having fun. South Sudan is an unforgiving place though; just a few weeks back the son of one of the locally employed civilians was eaten by a crocodile whilst swimming near here. It's not just the wildlife that poses a risk. My Rwandan next door neighbour returned a fortnight ago from patrolling up the White Nile to Malakal, the only souvenir from his trip a dose of typhoid. This week he has Covid-19, which he's treating with a concoction of ginger from the market and leaves plucked from the tree outside my room.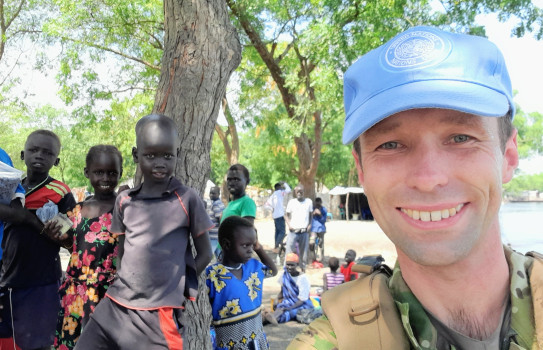 South Sudan has so many issues: from rampant corruption to climate-change-induced natural disasters, inter-ethnic violence to the Covid pandemic that is just another malaise to add to the long list of diseases afflicting the people here. It can often feel pretty bleak. Yet every now and then, there is a glimmer of hope, a life made a little better. Just last week our team identified a boy, a little older than my eldest son, who had been abducted in an inter-tribal cattle raid last year.
As the sun dips below the horizon and I look forward to 2022, with the help of the UN that boy will be re-united with his family in the coming year. I think too of my neighbour, the one sipping ginger and leaf tea. When he was that boy's age, his country was going through the Rwandan genocide. Less than thirty years on, he's here, helping another African nation through its birthing pains. There are indeed many challenges to face, but sure as the sun will rise over the New Year, there is also a glimmer of hope for the people of South Sudan."