The doctor is in
A New Zealand Army Medical Officer provides follow-up care to isolated communities in the Hawke's Bay.
24 February, 2023
Click here
for the latest live updates on our response to Cyclone Gabrielle.
Being cut off after Cyclone Gabrielle doesn't just mean no access to food and fuel. Those with ongoing health issues, or in need of follow-up care from injuries, can't simply drive to their GP or a pharmacy.
Captain Sandy Mitchell, Southern Health Support Squadron Medical Officer, travelled into the Dartmoor community west of Napier this week with an Army task unit proving routes to rural areas.
"There's a few with medical problems that will crop up during this post-cyclone time," she said. "Out here we've got older people who can't get in to get their regular medication, and there others who are managing but need to be checked on."
She visited one patient who had checked out of hospital prior to the cyclone, but couldn't get back into town for follow-up checks.
"I'm out here to have a look, make sure everyone is doing okay, and check if anyone needs more assistance. Some people have been checked out previously, but they don't have that contact with their GP. They can't just pop in to the doctor and say, I've got this issue, what's going on. They might be getting things they don't actually need, so we're ensuring that what they are getting is actually what they need, and nothing is being missed."
CAPT Mitchell, who comes from a rural background, knows small communities like these are good at looking after each other. "For me, it's being able to get out here, reassure them that they are doing the right things, and patch those holes of information they don't have. They can look after themselves and keep doing the great work they are doing out here. There's more bad weather predicted, and we don't want them getting stuck out here because of something that could have been easily fixed."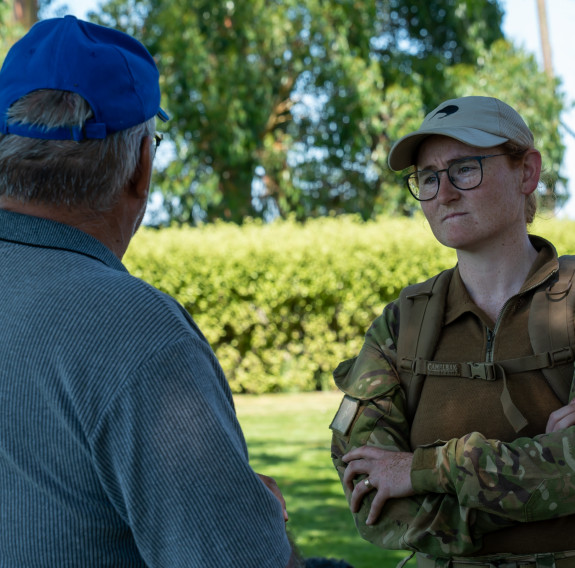 Patient A, who agreed to be interviewed and photographed, is a diabetic on blood pressure medication. Prior to the cyclone he passed out and was treated in hospital and discharged.
"The hospital is a long, long way to go if you haven't got bridges or ways of being mobile. With blood pressure and diabetes, what worries me is that if you're changing medications you need access to doctors, just in case it goes wrong. In town, I can call into the doctor and say, I'm not feeling too good. Here, I can't go anywhere. Farmers tend to staunch it out, but sometimes that gets you in a lot of trouble. The Army is here to help. We might not have our medications, we might have a big gash on our leg. To have you guys in, it's just invaluable."
CAPT Mitchell, normally based in Christchurch, has never done something like this before, and she's received a lot of gratitude from locals. "They really appreciate it. These people are doing heaps of awesome work, they've dug their own roads, they are connecting people back together, and they have got as far as they could. They haven't got that connection back to the world, so being that person that's here, being that connection and getting the things they need is pretty awesome."