Tauranga man leading rugby side in Commonwealth Navy Rugby Cup
For Royal New Zealand Navy (RNZN) Leading Diver Ethan Shergold, the chance to combine his two great passions of water and rugby is a dream come true.
07 September, 2022
The 27-year-old from Tauranga is co-captain of the RNZN Te Taua Moana rugby squad, which is heading off to compete in the Commonwealth Navy Rugby Cup (CNRC) tournament in the United Kingdom this month.
"I started playing rugby when I was five. Mum strapped on the head-gear and I was away. I grew up around the water too, I've been doing surf lifesaving all my life at Mt Maunganui and I learnt diving at Tauranga Boys' College. As soon as I found out there was Navy Rugby then I was keen to join," he said.
This year marks the 25th anniversary of the triennial CNRC tournament that was first played in 1997 and is traditionally competed for between the Royal Navy, the Royal Australian Navy and the Royal New Zealand Navy.
Leading Diver Shergold said he was privileged to be team co-captain.
"In my job as a diver with the Navy we do a lot of international deployments where we conduct mine clearance and salvage tasks. Going away with the divers, making close friends and working with other nations is pretty amazing, but rugby in the Navy is my number one downtime enjoyment," the openside flanker said.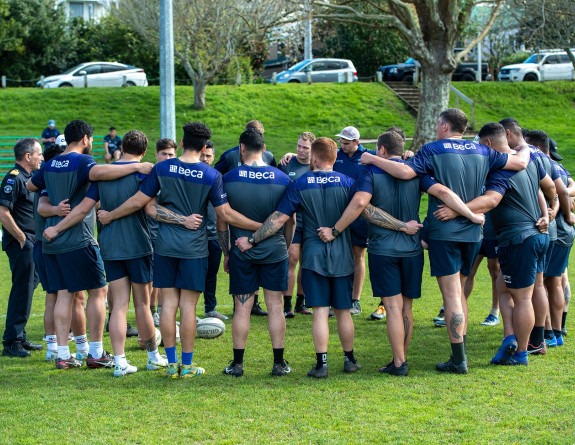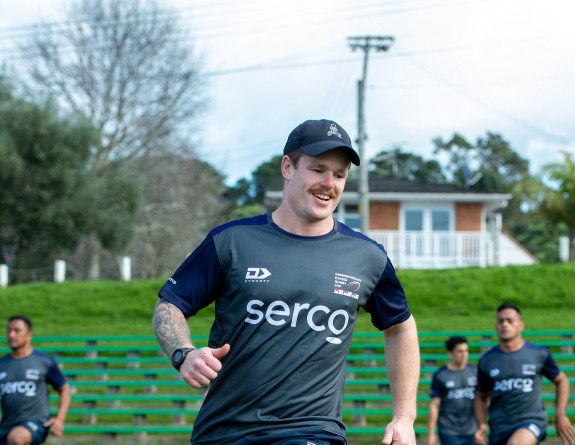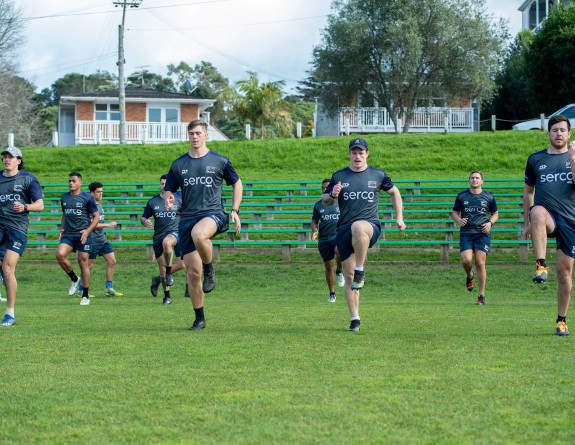 This year, five Fijian and three Tongan navy personnel have joined Te Taua Moana, 'Warriors of the sea'.
Leading Diver Shergold said rugby was a passion shared with our Pacific neighbours and he welcomed the skills they bring to the team.
"I think we're really lucky to have our Pacific Island brothers joining our team and making us even stronger, they fit in really well and they're nothing but strengths to be added to our team," he said.
Te Taua Moana Contingent Commander, Captain Richard Walker, said the participation of Pacific partners would enrich the tournament.
"The Pacific is our front yard and a significant percentage of our operational deployments occur in the region, so this is a great opportunity to re-enforce the existing strong ties between our partner navies and bring our sailors together through their love of rugby to form a joint Te Taua Moana team," Captain Walker said.
Leading Diver Shergold has been playing for the RNZN Rugby Football Club team, Navy Doggies, since 2016 and he has just been selected to play for the Defence Force Rugby Team, NZDF Blacks.
"As soon as I finished the dive course that's when I fully committed to Navy Rugby. I've been playing for the Navy team for a few years now, Covid slowed us down, so it's good to be back and it's awesome to have the opportunity to play in the UK with the Te Taua Moana side," he said.
Livestream
The Commonwealth Navy Rugby Competition will be live streamed by British Forces TV on the BFBS YouTube Channel
Royal Navy v Te Taua Moana (Royal New Zealand Navy) - 0600 NZT 13 September 2022
Royal Australian Navy v Royal Navy - 0600 NZT 16 September 2022
Royal Australian Navy v Te Taua Moana (Royal New Zealand Navy) - 0600 NZT 19 September 2022
CNRC Draw
Tuesday 13 September, Royal Navy v Te Taua Moana (Royal New Zealand Navy)
Friday 16 September, Royal Navy v Royal Australian Navy
Monday 19 September, Te Taua Moana (Royal New Zealand Navy) v Royal Australian Navy
Tuesday 20 September, Tavistock RFC v ANZAC XV
Thursday 22 September, CNRC Barbarians v South West Select XV