Surviving the cold
Staying alive in the snow requires a particular set of skills and the best team to deliver the programme is the Survival, Evasion, Resistance, Escape (SERE) Training Centre, supported by two Antarctica NZ field training specialists.
07 November, 2023
The five-day cold weather survival course on Mt Ruapehu was delivered to both Royal New Zealand Air Force aircrew and select New Zealand Defence Force personnel, SERE specialist Flight Sergeant (F/S) Stu Gilbert said.
"This year's programme featured an international aspect, with one of the three courses designated for the Royal Australian Air Force's (RAAF) 36 Squadron.
"The primary objective was to leverage this training to contribute to the development of the RAAF cold weather course and establish an ongoing training partnership," he said.
"Our training grounds at Memorial Hut on Whakapapa offered the ideal setting for equipping personnel with the essential skills, knowledge, and techniques needed to survive in cold weather environments.
"The winter season introduces distinctive challenges, making it imperative that our personnel receive comprehensive training to handle emergency situations effectively," F/S Gilbert said.
The training involved familiarising students with the contents of a cold weather survival pack and provide knowledge on how to use it. Selected Air Force crews carry Personal Survival Packs (PSP) when operating in cold weather environments.
SERE Instructor Corporal (CPL) Jessie Beech said several cold weather survival principles were addressed during the training.
"There was a First Aid element and how to recognise and treat cold weather injuries such as frostbite and hypothermia. We also looked at the best way to keep warm by dressing in layers to stay warm and dry, including the use of insulated and moisture wicking clothing."
The students also learned how to build snow shelters, CPL Beech said.
"First they use the minaret tent that comes in their PSP. They made snow blocks to form a wall around their tents to provide added wind protection. They then move onto building natural shelters.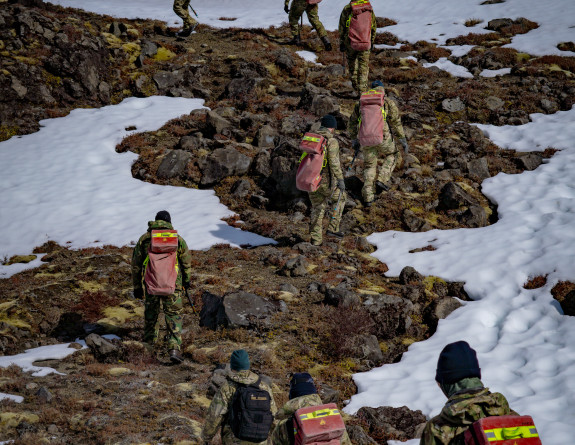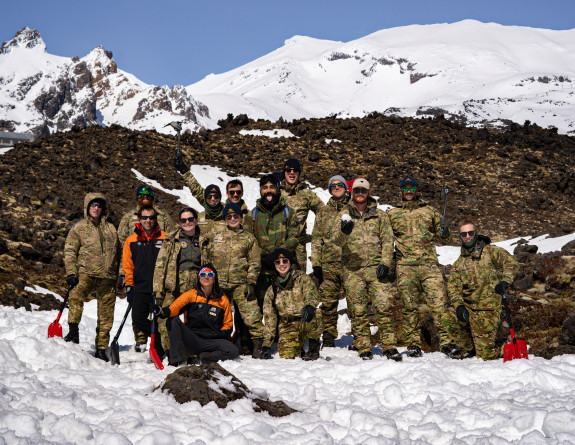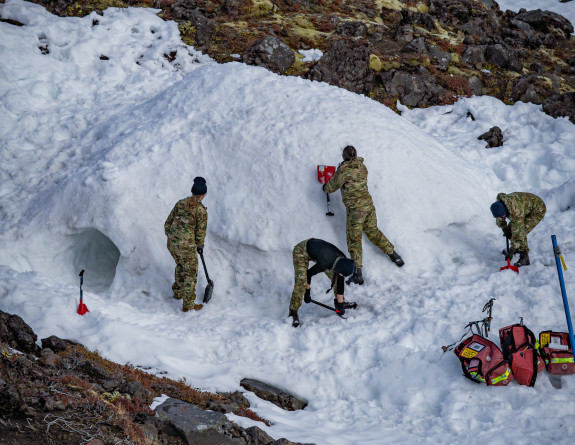 "These include shovel-ups, snow caves and trenches. Between the students there was a variety of multi-person shelters to single person shelters.
Students then had the opportunity to sleep in the shelters they had built."
Students were taught how to employ location aids to attract, hold and direct rescuers to their location, and they were shown how to use an MSR cooker to melt and boil snow for drinking and cooking their ration packs or any food they would acquire in a survival situation, she said.
They were taught how to cut steps with an ice axe, or the kick-step technique when moving up or down slopes to ensure stability, also how to stop themselves with or without an ice axe if they were to fall on a slope.
Antarctica NZ instructors taught the students how to recognise avalanche terrain by looking at the stability and load of the snow pack, the angle of the slope and the weather. The students also learned about the hazards of crevasses and glaciers and how best to avoid them.
"Cold weather training is designed to prepare individuals to survive and operate effectively in cold and harsh winter environments," CPL Beech said.
CPL Beech said it was a "brilliant course to be part of."
"It took me out of the office, allowed me to actively practise the skills and knowledge I've acquired and shared this with the students. I highly recommend this course to those eligible personnel."