Stewards take key role in diplomacy
Elite teamwork comes in all shapes and sizes in the Defence Force. Meet the stewarding teams on Defence diplomacy duties in the Pacific.
18 January, 2023
In Pacific nations, hospitality is an important – and expected - part of sustaining relationships. And while Navy ships carry chefs and stewards, the scale of an intended function could mean assembling a team in New Zealand and getting them there.
That was the case with two Ministry of Foreign Affairs and Trade events in Tonga and Fiji last year. HMNZS Manawanui, undertaking a survey of harbour approaches in Tonga, had no stewards on board when it was asked to host Foreign Minister Nanaia Mahuta and the Tongan Prime Minister at a cocktail party on the flight deck. And during Operation Island Chief, HMNZS Wellington was called on to host a function in Fiji – with only one steward in its Ship's Company.
Able Steward Paige Harvey was among the five-person 'fly away' stewarding team sent to Tonga (a different team went to Fiji). This was her first experience of a formal function on board a ship.
"We had been given a couple of months' notice of the opportunity, and had been told what it would involve," she says.
"For me, it was really exciting. The Crown Prince of Tonga was in attendance, plus the Tongan Prime Minister and Tongan Minister of Foreign Affairs and Trade. New Zealand's Minister of Foreign Affairs and Trade and other dignitaries were there."
Event management is a big part of being a steward. The stewarding team booked the gear for the function, organised transport, pre-ordered the food and drinks, and ensured everything was on time. The team set up the marquee, tables and settings, and managed serving food and drink.
During the function, Tonga's Prime Minister talked about the aid provided by the Royal New Zealand Navy and Government of New Zealand during Tonga's tsunami disaster on 15 January 2022.
"It made me feel immense pride to be part of the NZDF and hear first-hand how we support and help our Island nations."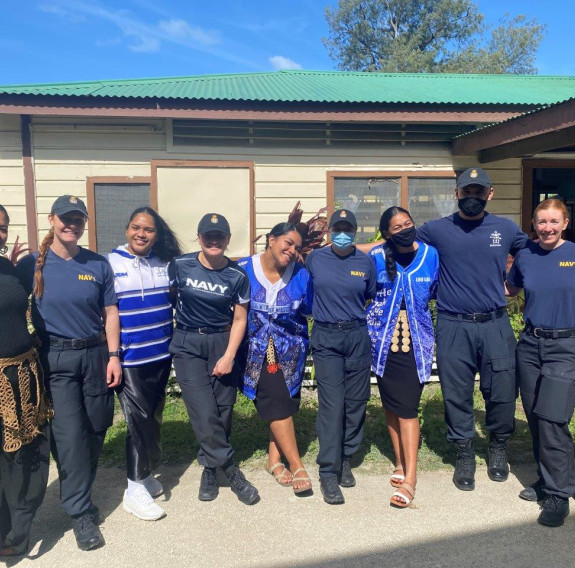 The 'Defence Diplomacy' theme in fact started a few days earlier, with the team providing talks and teaching sessions with local hospitality students at the Ahopanilolo Technical Institute, a polytechnic. Students there learn stewarding, cooking, sewing and hairdressing.
"We spent a few days at the school alongside the students, showcasing and teaching what the Navy has taught us in terms of stewarding. This ranged from table setting, napkin folds, producing alcoholic and non-alcoholic drinks, barista services and bed making. They were exceptionally fast learners and had the desire to execute the skills to perfection."
She says the interaction was very humbling, as the polytechnic's resources were limited. "The students loved the teaching. They were so engaged with us, so eager to learn as we showed them our day-to-day skills and how we did the cocktail party. They had never seen things like cocktails before. They told us they did a lot of schooling in Tonga before going to Australia or New Zealand for work. We spoke at the school assembly, sharing our journey and experiences to help them feel motivated in the studies they're doing.
"The other stewards were saying, it was the first time we'd done something like this. We loved it and we're hoping to do more like it."
ASTD Harvey is from Levin and attended Waiopehu College before joining the Navy in 2020.
"I joined because I wanted to push myself," she says. "There was a police-run course at school that did a mini-version of basic training. People came and talked about careers in the Defence Force. I thought to myself: I can do this."
In 2021 she served in frigate HMNZS Te Kaha for an overseas deployment. Stewards have additional roles while at sea, including boarding party duties and being part of Damage Control teams. Back then, COVID restrictions and a tight curfew meant ashore opportunities were limited.
"I was very excited and fortunate to be in Tonga and I look forward to being able to have many more opportunities such as this throughout my naval career."