NZDF Sports Awards 2022
The NZDF Sports Awards were held on 23 November 2022 and recognised sporting achievements between October 2019 and September 2022.
25 November, 2022
NZDF Sport has been significantly disrupted over the past few years and has resulted in a halt of all but the most strategic sports fixtures. Despite the challenges, many of our people in the sports community have continued to move forward with positive and visible contributions.
The Chief of Defence Force, with the support of the Sports Council, recognises the importance of acknowledging significant contributions to sport, signalling to all of the NZDF that participation in sport is encouraged, and excellence is recognised and rewarded.
Outstanding Sports Award
Over the past two years, Lance Corporal (LCPL) Uila Mau'u has had considerable success in boxing with his participation spanning regional, national, and international competitions.
In 2019 he was the NZ Super Heavyweight National Champion. In 2022 was invited to compete at the Maco Nena Challenge Belt event, an Oceanic International tournament where he won the Super Heavyweight category and the Maco Nena Belt. He then went on win the NZ Super Heavyweight class at the North Island Golden Gloves and gained national No. 1 ranking in his category.
The culmination of his efforts resulted in winning a 2022 Commonwealth Games Bronze Medal in the Super Heavyweight competition.
Throughout his career, LCPL Mau'u has lived the NZDF values and set an example to those serving with him. He continues to set lofty goals, maintain high standards and pursue excellence despite setbacks and disruptions. He is held in high regard by his peers and colleagues as a humble yet inspirational serviceperson.
As a Youth Development Specialist, LCPL Mau'u continues to role model and motivate NZ youth through his dedication, mana, and success.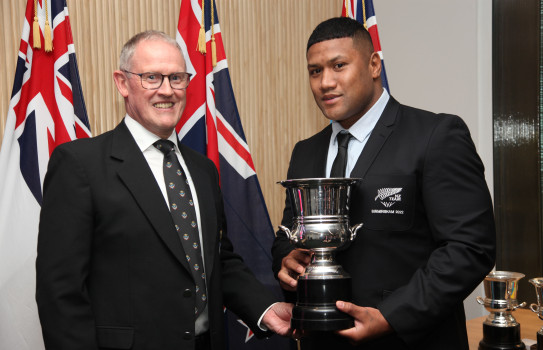 Individual Sportsperson of the Year
Corporal (CPL) Hayley Hutana continues to achieve significant sporting achievements. Since 2019 she has represented the RNZAF at inter-services rugby and basketball, regionally in Manawatu rugby 7s and 15s, the Blues inaugural women's super-rugby game, and the North Harbour Farah Palmer Cup Team as Captain. CPL Hutana has also represented the NZDF at an international level through rugby 7s and 15s (NZ Defence Ferns, winners of the 2019 PACMIL Cup) and basketball.
CPL Hutana has been instrumental in establishing women's rugby within the NZDF. She has recruited and coached promising players at all levels, demonstrated commitment and leadership to promote the game, and shown consistent determination in training, preparation and competition. She is humble, quick to praise her team mates and positively reinforces achievement. CPL Hutana is a key member of the Defence Ferns Senior Leadership Group.
In all the codes she participate in, CPL Hutana consistently displays the highest NZDF values and personal standards. She utilises a relaxed yet professional leadership approach to create a positive and friendly team culture. She is a powerful team member both on and off the field, drawing people into her team with her engaging personality, attitude and considerable sporting prowess.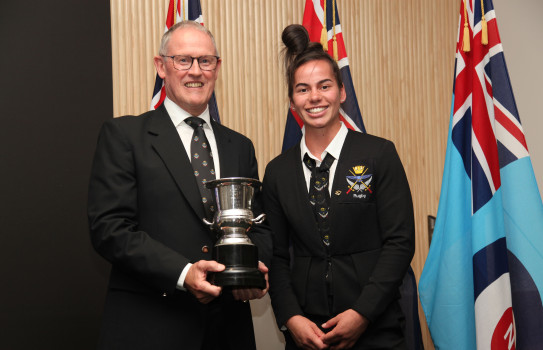 Sports Team of the Year
This year has been a very successful year for the NZDF's Women's Rugby team, more affectionately known as the 'Defence Ferns'.
Their 2022 season consisted of a month long campaign where they prepared and competed in the inaugural Women's International Defence Rugby Competition (IDRC) following a long period of Covid-related commitments and distraction.
Overall, the IDRC was a great success which would not have been possible without the leadership and courage of the Defence Ferns team to pioneer and host such an event. They beat the NZ Universities team 31-17 in a warm-up to the IDRC, then breezed through their pool phase beating France 22-10, Vanuatu/PNG combined 96-5 and Tonga 72-0.
They showed their real class in the semi-final against their Australian sisters where they won 62-5, secured the Fairweather-Jones Cup and progressed to the inaugural final against France. Unfortunately, they were pipped at the post by a last minute penalty goal and went down 9-8.
The Defence Ferns were great role models on and off the park. They played with courage, determination and skill. Off the field they progressed many of the NZDF's strategic objectives by conducting community engagements, leading engagements with international military partners and conducting many media commitments to tell the great story of this team and the wider NZDF.
These Wahine Toa are truly leaders within the NZDF and epitomise the NZDF values.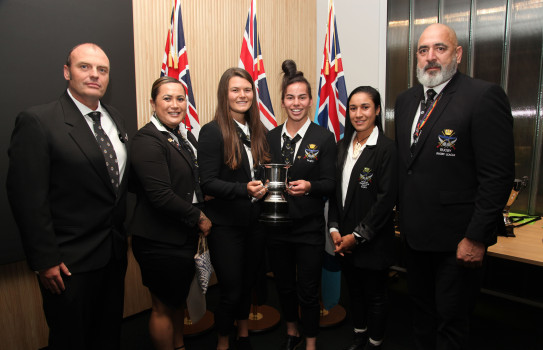 Sports Official of the Year
Sergeant (Sgt) Natasha Wineera is a significant contributor to the RNZAF and NZDF Rugby League code. During the past two years Sgt Wineera has ensured that key leaders, officials and players have remained engaged with the code despite Covid disruptions and commitments.
She continued to engage with external agencies such as the NZ Warriors and Tamaki Makaurau Police Rugby League team over an extended period to coordinate the curtain-raiser game for the NZ Warriors NRL match against the Canterbury Bulldogs at Mt Smart Stadium on 12 August 2022. This internationally televised event re-energised the code and brought credit to the NZDF Rugby League team and the wider NZDF during a time when sporting activities were severely restricted.
SGT Wineera has demonstrated her dedication to the welfare of players by providing an extensive Risk Management Plan and implementing an injury and concussion database used to track players' history. This measure has enabled the code to enhance the safety and wellbeing of its people.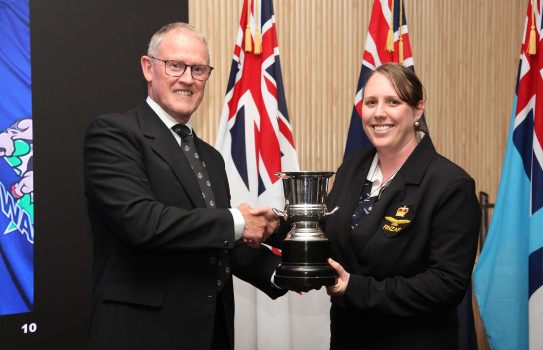 Emerging Sportsperson of the Year
In 2021 Leading Aircraftman (LAC) Benjamin MacManus won first place in the Oceania Strongest Man Under 80 kg category. He was subsequently invited to compete at the Official Strongman Games in the USA in the World's Strongest Man under 80 kg category.
To achieve his success, LAC MacManus has consistently demonstrated the NZDF values throughout his training and competitions. He utilises a relaxed and easy-going demeanour to create a positive and friendly team culture.
In addition to his Strongman success, LAC MacManus has also represented the RNZAF at inter-services Basketball.