Sole-charge medic on Navy's smallest ship
It's a busy life for medics aboard the Navy's smallest ships, where sick bay duties combine with watch keeping shifts on the bridge.
10 November, 2023
Able Medic Adam Armstrong posted to Inshore Patrol Vessel HMNZS Taupo two months ago for a six-month posting. He's at sea a lot, in support of the ship's role as the training platform for the Officer of the Watch (Basic) course, or "Bravos".
Sea sickness is the most common condition he deals with. He and the crew had just arrived in the capital after a bumpy crossing over the Cook Strait from Nelson.
"The Navy like their medics to do a 'sole-charge' role before promoting to Leading Hand," he says. On larger ships there are several medics and in some cases a Surgeon Lieutenant, working out of a sick bay. On Taupo, the sickbay is a shared space and is utilised by a lot of the Ship's Company, particularly the Bravos officers planning briefs and pilotages.
Unlike other ships, the medic on Taupo is also a watch keeper on the bridge due to the small number of crew. "It's hard to do a sick parade (a set time when crew can see the medic) because we're helping drive the ship. So people come and see us when they can." The sole charge duty teaches medics to back themselves and take charge, useful skills when they get promoted to Leading Hand.
"Taupo being such a small ship is more susceptible to ship roll than the other bigger ships in the fleet. That being said there aren't too many injuries resulting from this but we do have to deal with the occasional sprained ankle and lots of motion sickness."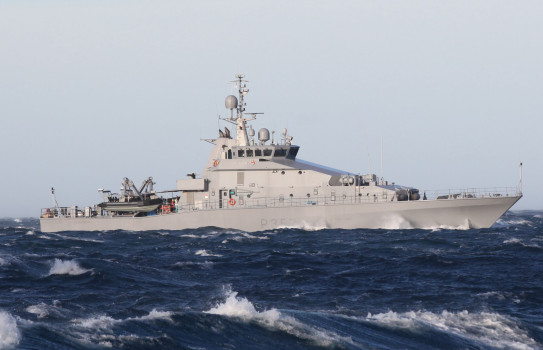 AMED Armstrong grew up in Lower Hutt and after finishing at St Bernard's College worked for a while. After being accepted into the Navy he undertook basic training and three years of medic training in Burnham Military Camp, obtaining a paramedic degree.
"There's a lot of university work involved. They have lecturers coming and teaching classes. You also do emergency department shifts and ambulance shifts. After I finished at the Defence Health School I posted up to Navy Hospital in Devonport. It was the middle/end of COVID times, and I was doing vaccinations and loads of PCR testing. I then went into the Managed Isolation Facilities for three months, then off to Canada for three months."
The last was a posting to frigate HMNZS Te Mana, to help bring the ship back to New Zealand after its Frigate Systems Upgrade.