Soldier who saved colleague from grenade blast receives NZ Bravery Medal
A Linton-based New Zealand Army soldier who tackled a junior colleague out of the way of a grenade blast following a misthrow has been recognised with the New Zealand Bravery Medal.
26 October, 2022
Acting Warrant Officer Class Two (WO2) Mike Marvin was the safety supervisor during a grenade-throwing practice at the New Zealand Defence Force Raumai Range in June 2020.
During the practice, to re-qualify soldiers on using hand grenades, the younger soldier removed the pin and took a throwing stance but misthrew the grenade, which missed the natural safety rise and landed dangerously close.
Realising immediately what had happened, WO2 Marvin tackled the soldier into a small depression four metres from the grenade, using his body to shield them from the blast.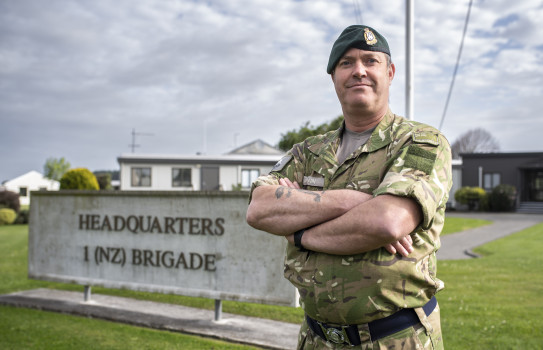 He said his training kicked in immediately.
"Safety instructors are trained what to do when there is a misthrow. We often practise a dropped grenade scenario, although the real thing had never happened to me before."
The grenade exploded but WO2 Marvin didn't realise he had been injured until about 15 minutes later.
"At the time we were all concentrating on the soldier I took down as they were in a lot of pain because I landed on them.
"Someone asked me if I was OK and I lifted up my top and saw I was bleeding."
He received fragmentation blast injuries. Eight steel balls from the grenade are still in his lower body as they are too deep to be removed.
However, he said he wasn't in much pain and has had no after-effects.
The former British Army soldier who has been in the New Zealand Army for 14 years and is a Master Driver for 1(NZ) Brigade, said he was grateful for the safety training he has received.
"I suppose there was a bit of luck in it too, but training certainly pays off."
No blame could be attributed to the soldier, he said.
"It was just a one-in-a-million incident – it just went wrong."