RNZAF Poseidon starts trial flights in Fiji, continues Fijian connection
One of the Royal New Zealand Air Force's (RNZAF) new P-8A Poseidon aircraft is operating out of Nadi, Fiji this week as part of its operational trials.
05 April, 2023
The trials are an important part of the new aircraft's introduction into service and also continue the long-standing connections between the RNZAF and Fiji.
The Poseidon multi-mission maritime patrol aircraft are replacing the RNZAF's recently retired P-3K2 Orions, which first entered service in the 1960s.
The RNZAF will have a fleet of four Poseidons supporting peace and security operations, maritime surveillance, search and rescue, resource protection, and humanitarian assistance and disaster responses in New Zealand, the Pacific and around the world.
They will start flying on operations in mid-2023.
Air Component Commander, Air Commodore Shaun Sexton, said operational trials and development were an important part of the introduction into service of a modern aircraft like the Poseidon.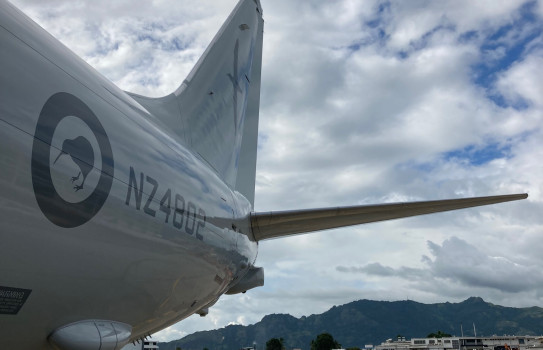 The aircraft will be operated by No. 5 Squadron, which flew the Orions, but with new systems in the Poseidons it wasn't a case of simply transferring procedures from the Orions to the new aircraft, he said.
The trials and development phase ensured all operating systems, including aircrew, maintenance, mission support and air enablers were ready for missions.
"With the inaugural flight to Fiji by one of our new P-8A aircraft, and with Fiji being the first Pacific nation the P-8A will operate from during the trials, we're also continuing a connection with Fiji which goes back many years," Air Commodore Sexton said.
"Long-range maritime patrol aircraft operated from Fiji during and after World War II. No. 5 Squadron was formed in Laucala Bay and for more than 13 years flew Short Sunderland flying boats from there."
Given its origin, the Squadron's motto is Fijian: "Keitou kalawaca na wasaliwa", which translates as "We span the Seas".
For more than 57 years, No. 5 Squadron and the P-3K2 were regulars in the skies over Fiji.
"We have based our P-3K2 aircraft in Fiji during multi-day search and rescue operations or maritime patrols in the Pacific. We're really looking forward to seeing this connection continue," Air Commodore Sexton said.