RNZAF medic gains emergency training alongside partner nations in multinational exercise
Royal New Zealand Air Force (RNZAF) medic, Corporal Heidi Joseph, gained first-hand experience in Aeromedical Evacuations while training with international military partners this month.
25 July, 2023
Exercise Mobility Guardian involved around 3000 personnel and 70 aircraft. Led by the United States Air Force, Air Mobility Command, the exercise was conducted out of Andersen Air Force Base, Guam, alongside military forces from Australia, Canada, France, Japan, New Zealand and the United Kingdom.
Corporal Joseph hails from Central Otago, and is usually based at the Defence Health Centre at RNZAF Base Auckland.
The 32-year-old has trained in Aeromedical Evacuations (AE), where land and air forces provide medical care to wounded personnel.
"I am trained to the equivalent of a paramedic but predominantly my time is spent working in primary health care, so it's important I keep training to remain up to date," said Corporal Joseph.
This experience is valuable because it enables the development of my AE knowledge which I can then take home to aid in the development of our AE capability."
New Zealand Defence Force medics can operate anywhere operations occur, including during a humanitarian aid and disaster response.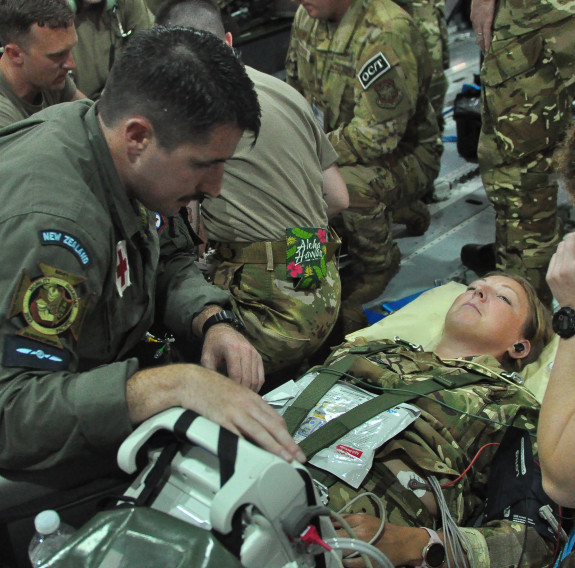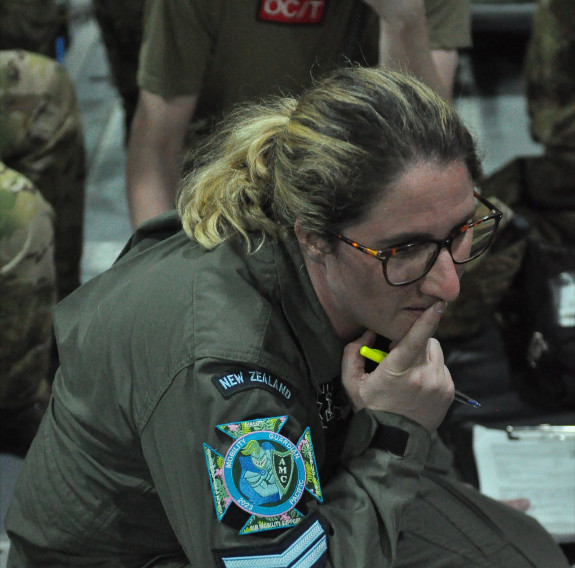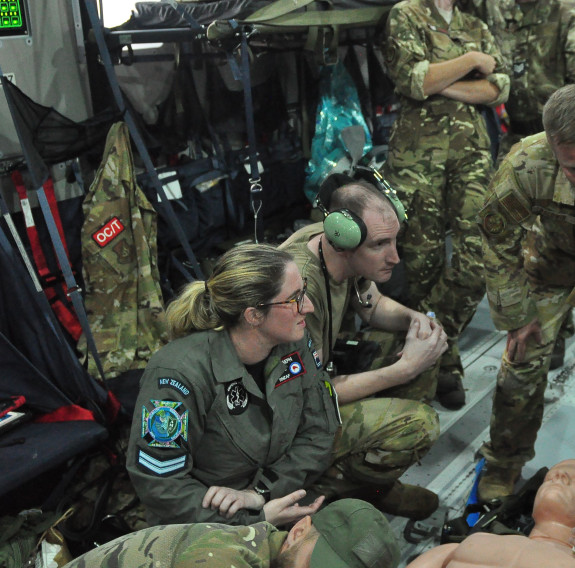 Exercise Mobility Guardian 23 was Corporal Joseph's first experience on such a large multinational military exercise.
"We look after patients who have low/medium critical injuries, from the walking wounded to stretcher-bound patients who have suffered some form of trauma," she said.
The six-person AE teams have been flying on other militaries' aircraft, including Japan, the United Kingdom and United States. Corporal Joseph said flying on other nations' aircraft, using their equipment and procedures, and integrating into their teams is critical in improving our interoperability with partner militaries.
"There are a lot of different aspects that we are practicing in the scenarios; patient management, loading-unloading patients, aircraft configuration and resource management. Basically, all aspects of patient care and the logistical side that comes with it.
This has given me the chance to learn from other nations who do this every day. There are a lot of similarities and differences with how other nations work, so adapting and working to solve problems together as a team, is great learning that I can bring home.
Growing up in Alexandra, the former Dunstan High School student knew she wanted to join the Air Force.
"I studied a Bachelor of Science straight from school, but I always wanted to serve my country. The people, work environment and variability in what we can do, makes my work so exciting.
"Opportunities to travel and train like this make my work so rewarding and further my professional development," said Corporal Joseph.
As well as medical staff, among those deployed on Exercise Mobility Guardian 23 were RNZAF personnel from the fields of refuelling, firefighting and communications personnel, and mission planners.
The New Zealand Army deployed soldiers from 51 Aerial Delivery Platoon, 5 Movements Company, to support the exercise with rigging and the inspection of air drop bundles.