RNZAF Jazz Orchestra navigates new path with second album
The Royal New Zealand Air Force (RNZAF) Jazz Orchestra is again plotting its own path in big band music with the release of its second full-length album 'Kaiwhakatere – Navigator'.
13 September, 2023
Five years after the release of 'Suites and Moods', the orchestra has recorded works inspired by some form of travel or change and the title comes from the understandable connection between the RNZAF and navigation.
Staying true to the tradition of swing and improvisation, this album features seven fresh compositions from Aotearoa, included 'Drifting' from award-winning composer Anita Schwabe, a beautifully descriptive piece inspired by Sam Hunt's poem 'My White Ship'.
Compositions also come from band members Corporal Oscar Laven, Leading Aircraftman Seth Boy, Leading Aircraftman James Guilford and Corporal Blair Latham.
The band's leader and album producer, Sergeant Alistair Isdale, was thrilled with the finished product.
"We set out with the goal of recording an album of New Zealand works and achieved something far greater that we expected. The experience of recording at Massey Studios was inspiring and the crew really pulled something truly wonderful together."
As part of the album release celebrations, the orchestra will perform a concert at St Peter's on Willis St, Wellington on Saturday, 30 September.
The concert will feature the works from the album as well as a range of compositions from John Coltrane, Toshiko Akiyoshi, Ahmad Jamal, and many more. Resident vocalist Leading Aircraftman Stephanie Paris feature and special guest compere Nick Tipping will keep proceedings rolling.
Sergeant Isdale is urging people not to miss this chance to hear the RNZAF Jazz Orchestra in all its glory.
"We absolutely cannot wait to share this music with the public," he said.
Part of the RNZAF Band, the RNZAF Jazz Orchestra is a national trailblazer in big band jazz. Having been around since the actual 'swing era', the band has a rich history to draw from.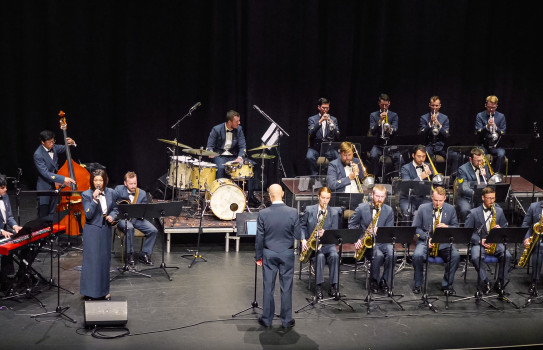 The full-sized, 65-strong symphonic RNZAF Band tours to regions around New Zealand every year, as well as giving public concerts, performances in schools, coaching to local music students, and performing at charity events.
The band maintains a busy schedule of ceremonial duties, including parades to mark the arrival of international dignitaries and Anzac Day services. Members of the band also provide music at significant commemorations around the world, with past occasions including Turkey, Greece, France and Belgium.
It also divides into a range of smaller ensembles, such as the Jazz Orchestra, a woodwind trio, a covers band, a clarinet quartet, and a range of brass ensembles.