Reserve force surgeon operates in theatres around the world
General surgeon Burton King suspects he was shoulder-tapped for the New Zealand Army Reserve Force because of his experience with trauma surgery back home in South Africa.
02 November, 2022
The 62-year-old breast cancer specialist from Wellington joined the New Zealand Defence Force (NZDF) as a civilian volunteer after the horror of the 9/11 terror attacks in the United States. Then, when he was in his 40s, he didn't need much encouragement to take it a step further and don a uniform.
"I come from South Africa so that's probably one of the reasons the military was interested in me, because I did a lot of trauma surgery there."
His good friend Major Graham Sharpe, an anesthetist, was also encouraged to enlist by then Lieutenant General Jerry Mateparae, and the pair later deployed together.
He hasn't looked back, and on top of his day job he has now worked in many different environments, including Iraq, around the Pacific and Christchurch after the 2011 earthquakes.
His most recent task was being part of a specialist team-building activity at Whanganui Hospital, drawing together Regular Force and Reserve Force clinical specialists from NZDF Health.
Personnel, who usually operate in different hospital settings, worked together to complete some elective surgical procedures on adult patients at Te Whatu Ora, Whanganui.
The planned NZDF Light Surgical Team is a small team of 11 healthcare specialists that provides the capability of initial surgical resuscitation and stabilisation of deployed NZDF casualties.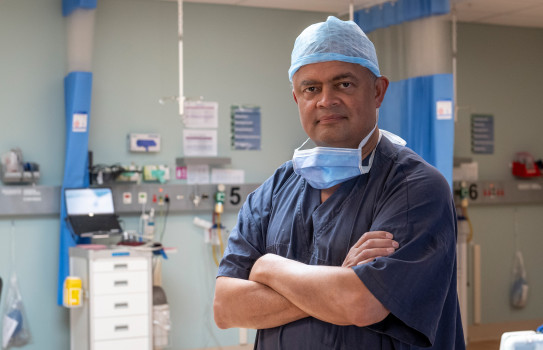 Major King enjoyed the weekend activity and he was disappointed he only had a few more years left to be involved with the NZDF.
Juggling his two roles wasn't as demanding as it sounded.
"I wish more surgeons would do it," Major King said.
The general commitment was for two weeks a year with deployments of two to four weeks intermittently, and passing an annual fitness test, he said.
He got a lot out of being in the NZ Army Reserve Force and working with NZDF personnel.
Some of the people that are coming and going here are some of the most exceptional people I have ever met.
"Not only do they come here with that sense of measure and focus, they give up a lot to do it so it's not like taking an easy way out, they want to be here and it's an effort for them to get here as well.
"They are a highly motivated energetic group of people, and you come away feeling energised by being around them.
"They go at it with a discipline and focus that's just a joy to be around."
More information on NZ Army Reserve Force can be found at www.defencecareers.mil.nz or phone 0800 1 FORCE.