Reserve Force gives biomedical engineer contrasting taste of combat engineering
In her day job, Auckland's 2nd Lieutenant Lily Feng uses her biomedical engineering training to sell respiratory devices to help with people's breathing.
12 October, 2023
In her New Zealand Army Reserve Force job, 2nd Lieutenant Feng initially spent five years as a combat engineer (or sapper) - where, as part of a troop, she uses explosives to create or remove obstacles, build temporary bridges and handle small boats to take on water obstacles so her fellow soldiers can get about the battlefield.
In 2020 she took a commission to become an officer and is now in a junior leadership role. Those early foundation skills she gained have provided her with in-depth military engineering knowledge as well as a unique leadership perspective.
"The only thing in common with my job and my degree is the word 'engineer'," 2nd Lieutenant Feng says.
Originally from Palmerston North, 2nd Lieutenant Feng is a marketing manager at a global medical device company, Fisher & Paykel Healthcare, where she puts her biomedical engineering degree from Auckland University to use.
"I work with our international sales teams to help them sell medical devices to hospital healthcare professionals. The device provides a relatively new respiratory therapy, so my job is to lead a team that provides education and sales tools to sales reps."
She said Fisher & Paykel had supported her in her Reserve Force role, and NZDF training had been beneficial to her civilian employment.
"The Army provides me with challenges that my civilian job will never be able to give me."
She joined the Reserve Force in 2015 and has risen to become the Troop Commander of 3 Troop, 2 Field Squadron, 2 Engineer Regiment.
"I love being part of the combat engineers, and feel very lucky to be in a position to serve New Zealand," she said.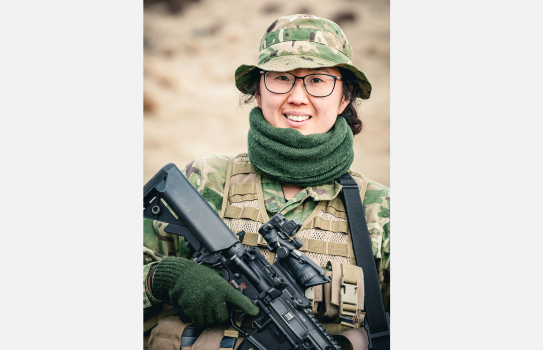 2nd Lieutenant Feng supported Operation Protect as part of the government response to Covid-19, and contributed to the disaster response when Cyclone Gabrielle caused flooding in the Bay of Islands.
You don't need to already be an engineer or have a technical background to become a combat engineer. In our troop, we have people from many walks of life, university students, business CEOs, software developers, educators, data analysts and, of course engineers and people from the trades.
2nd Lieutenant Feng has faced testing times in her Army life, but said it was rewarding work and the people and friendships help her pull through.
Recruit training teams up pairs of "battle buddies", where each person is expected to assist the other both in and out of the field. Battle buddies share challenging moments during their training and this often forms a friendship that spans a lifetime.
"My battle buddy and I both became combat engineers, and belong to the same troop in Auckland," 2nd Lieutenant Feng said.
"The friendship was built from Day 1, forged through challenges and developed over time. It's a great feeling to trust someone 100 per cent and know you have each other's backs."
I am also fortunate to have a very supportive partner, he is encouraging of what I do, and it makes juggling full time civilian work, Army work, family, and life more manageable.
Any Defence Recruiting enquiries can be directed to 0800 1 FORCE. Each Reserve Force company has its own training programme in line with its battalion's training focus.
Reserve training normally comprises of a training weekend and training night each month, with additional exercises and training opportunities available throughout the year.