Rare formation shows pilots' skills
RNZAF's entire fleet of Texans in first-time formation
15 May, 2023
For the first time since their introduction nearly seven years ago, all 11 T-6C Texans of No. 14 Squadron and the Central Flying School have been airborne at the same time. It occurred as part of formation flying training exercises in April.
Wing Commander Tim Costley, Commanding Officer of the Flying Training Wing at Ohakea says the Texan fleet is designed so they each have turns at being in the hangar getting checked. The RNZAF partners with Airbus to service the Texans.
"There should always be one or two on the ground for servicing," he says. "But the Airbus team have done such a great job that this unique window was open to fly all of our RNZAF Texans at the same time."
The weather wasn't perfect, but it was pretty close, he says. "Squadron Leader Stu Anderson was chosen to lead the formation, as he also leads the Black Falcons Aerobatic Team. The view from my aircraft in number nine (back middle) was very impressive."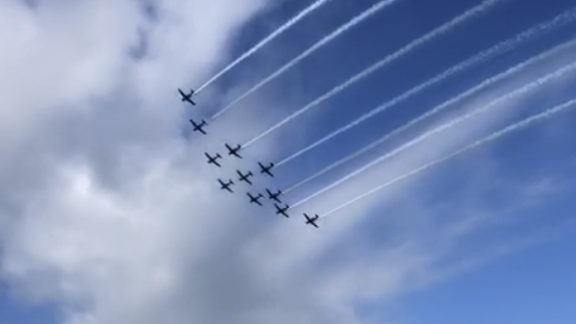 The Black Falcons, who fly in Texans, are well known for their air displays, but formation flying is an essential military flying skill taught to all pilots. The 11-plane training exercise meant all 22 seats were filled with pilots and instructors.
"Formation training is important for the military. We use formations so we can drop a large number of troops in the same spot at the same time. Flying in, and leading, large formations takes skill and practice, and it's important we maintain these skills and pass them on to the next generation. Training aircraft are a cost effective and efficient way to grow these skills, so when we need them on large expensive aircraft like NH90 or C130J, the crews have all the basics in place."
He says the formation was also a celebration of the amazing work of the Airbus maintenance team. "We were proud to showcase their work, the skills of our pilots, and what this amazing team at Flying Training Wing have produced, partnering with industry and bringing the best of military and commercial aviation together to run a world-class military training organisation."
There are 159 people in the Flying Training Wing, which includes the Texans and four King Air 350 aircraft. The RNZAF partners with company Jet Aviation for the KA350 maintenance.