Proud to wear the uniform: Reservist Private Danny McCarthy
A recent graduate of our New Zealand Army's Reserve Force (ResF) recruit training Private Danny McCarthy from 2/4 Battalion, Royal New Zealand Infantry Regiment shares his experiences of life in uniform so far.
05 July, 2022
Private (PTE) Danny McCarthy, 2/4 Battalion, RNZIR, returned to New Zealand after two years in the United Kingdom during the early days of the Covid-19 pandemic, and seeing New Zealand's response to the pandemic made him proud to be a Kiwi, igniting a spark to join the NZ Army. Shortly after arriving home a work colleague who had served in the ResF encouraged PTE McCarthy to attend a parade night in Nelson, his home unit, and he hasn't looked back.
PTE McCarthy has a keen interest in military history so, although he felt "half terrified" arriving at Waiouru Military Camp, he also felt a real appreciation to be training at a location he had read so much about in history books.
Having the opportunity to regularly attend unit training in Nelson prior to arriving in Waiouru also gave him a valuable insight into what might be required on recruit training and really helped his preparation.
"I had an insight to how the Army operated and was structured, could see how their focus on discipline impacted, and how they built on your strengths as a person," he said.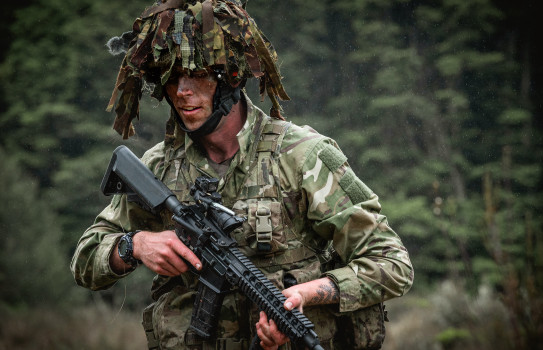 "I start work at 0430h every morning so the early starts weren't hard for me, my greatest challenge was fitness. I went to all the Force Fit training nights at the Nelson recruiting office. We had an Ironman fitness person teaching us," says PTE McCarthy.
"I didn't struggle with fitness after attending Force Fit training which made everything else easier," he said.
A highlight for PTE McCarthy was learning 'He taua' from his Section Commander.
"On Corps training we sung this at our graduation. It's a very historical chant, it really brought us together and gave us a real sense of pride as we sung it," he said.
Marae Educator and Cultural Advisor, SSGT Royal Pita, says he adapted 'He taua' from Manene Waka specifically for soldiers to sing as they march.
"The meaning behind the chant is that if we are united in mind, spirit and body we can accomplish anything," said SSGT Pita.
"I felt extremely proud to wear the uniform and wear the lemon squeezer on recruit graduation day, and proud to enter Ngāti Tūmatauenga. Our families and my partner were watching us graduate via the internet, and I felt so proud."
Due to COVID-19, graduation parades have been online via Facebook.
PTE McCarthy trained as a chemical engineer at Waikato University and now works at a natural health product manufacturing company, Alaron Products Ltd, in Nelson where he is a Manufacturing Lead. PTE McCarthy has found his Army training has crossed over into his workplace.
"Army training teaches you how to build a team, identify strengths and weaknesses, and become more efficient. Even my Team Leader noticed an improvement in my communication towards our team at Alaron."
The day after arriving back from Reserve Infantry Corps training in January, PTE McCarthy was deployed to assist Westport residents when flooding hit the town.
"My parents live in Westport. It was fantastic to help and really rewarding to be able to serve my community," said PTE McCarthy.