Pistol packing Corporal heading to Australia competition
Corporal Leeann Leadbetter is a dab hand with a pistol, so much so she is representing New Zealand at a major shooting competition in Australia later this month.
18 October, 2023
The Christchurch-based reservist will be competing in the Oceania Games in Brisbane, in the air pistol and 25m sports shooting event.
CPL Leadbetter, a force health protection technician, became interested in pistol shooting during the Covid lock down. She joined a local pistol shooting club, and her pistol packing passion began.
"I like the sport because it's competitive but also quite social. It requires a fair bit of physical and mental discipline, and you have to block out all distractions and concentrate on the objective."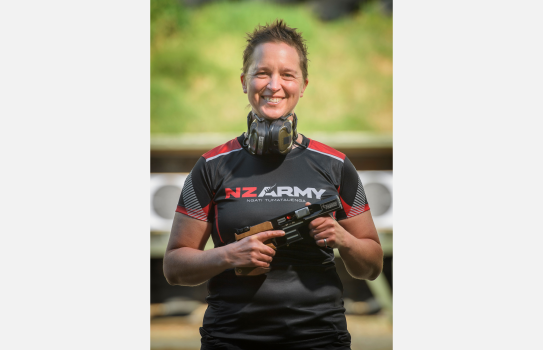 She trains at home five days a week, mostly indoors using an electronic target. She wears shooting glasses, and has two pistols – a .177 calibre air pistol, and a .22 sports pistol with a five shot capacity.
A relative newcomer to the sport she has won a range of trophies ranging from North Island championships, and shooting competitions in Auckland and Hawkes Bay, as well as a national competition.
A security contractor in her civilian life, she says she is super keen to compete against the Australians.
"It's all about precision and accuracy, and having good cardiovascular fitness and core strength so you can control your breathing. It's a bit of a mental game too!"