New Zealand Army's role in evacuation mission involved 'bravery on both sides'
The safe passage of hundreds of evacuees from Afghanistan was made possible by an elite group of New Zealand soldiers who used code words and tactical landmarks to assist their efforts in an attempt to avoid chaotic and dangerous scenes.
31 August, 2021
Members of the New Zealand Army, deployed as part of the New Zealand Defence Force's Operation Kōkako, were on the ground at Hamid Karzai International Airport (HKIA) in Kabul to help evacuate New Zealand nationals, their families and visa holders earlier this month.
The turbulent and dangerous environment saw Special Forces troops, including a Female Engagement Team, move deep into the security area designated around HKIA, at times utilising a canal, to reach those they had been sent to help, guiding them through the crowds to points on the perimeter where they could be brought into the airport, secured, and safely evacuated.
A special forces commander on the ground said the evacuees would be given code words for them to show in order for them to be positively identified.
"Once identified we would begin the work of extracting them, often during a lull where it was tactically acceptable. We were very deliberate in this approach lest we started a riot or caused a breach."
The bank of the canal was controlled by coalition forces so the soldiers were able to use the banks as a tactical thoroughfare, often jumping into the water to aide evacuees.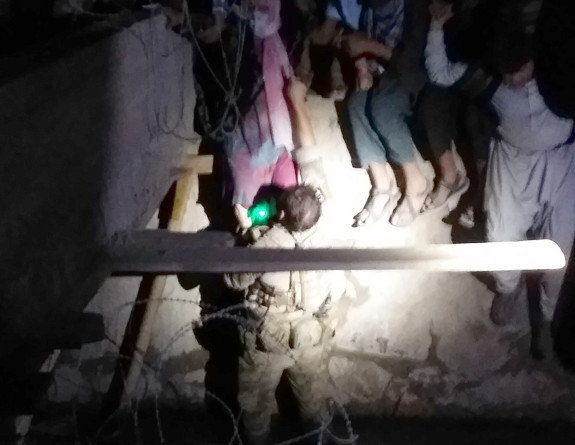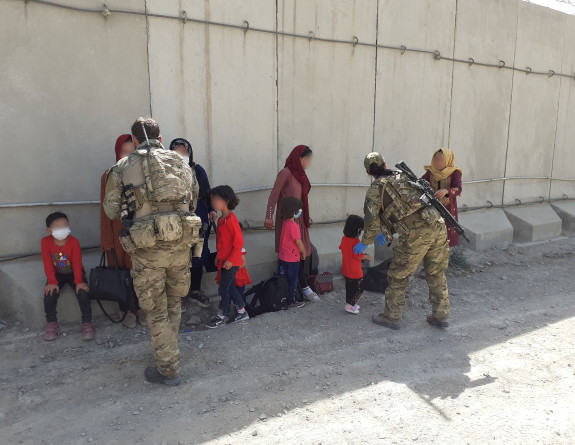 In one rescue, a wheelchair-bound woman and her son were helped down the banks in order to reach safety.
"This specific rescue was just one of hundreds of acts we undertook to recover New Zealand nationals. All those involved in the operation take great pride in being able to be a part of the numerous acts that took place to get people out safely."
Senior National Officer for the operation, Group Captain Nick Olney, said the scenes were confronting for personnel to deal with.
"We were looking for needles in haystacks. And there were a lot of haystacks out there to start with and we had no idea what the needle we were looking for looked like".
He said coordinated efforts from the interagency response, that included officials from the Ministry of Foreign Affairs, meant they were able to locate the people they needed to help.
"We were assisting people through sewage ditches, over barbed wire fences, I can't describe enough the bravery on both sides. With the evacuees, the desperation, they would do anything to get into the airport. And on our side, our team pushed themselves to every physical and psychological limit to get these people out and inside the wire and make them safe."
Group Captain Olney said the New Zealand troops "put their lives on the line" by going into crowded areas knowing there were credible threats of attack that later came to tragic fruition for US forces.
"There was absolute bravery and desperation on both sides to make it work," he said.
"There was absolute bravery and desperation on both sides to make it work."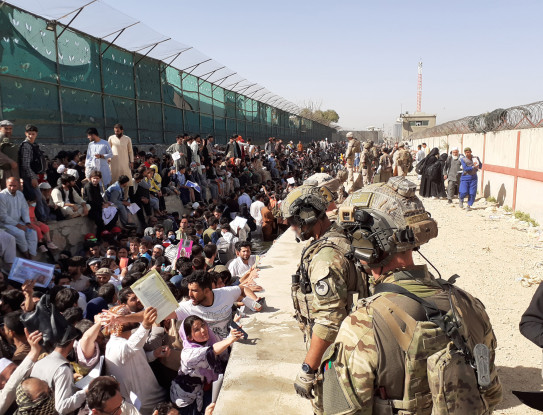 "We had some very highly trained, highly capable individuals on the ground who were able to do the best they could."
Group Captain Olney said thanks to support from MFAT and MBIE, the NZDF personnel were able to "ensure we could get the right needles, out of the right haystacks and make it work".
"This could not have been done without any one of those components working. It had to be a team effort."
He said the team were tormented by reflecting on situations where they could physically reach out and touch people who they wanted to help, but they couldn't get through.
"I can't stress enough how difficult it was to bring those people through the wire.
"It was best endeavours to make miracles happen in the timeframe we had available."
Once safely within HKIA, evacuees were "relieved, frightened, every human emotion you could possibly think of," he said.
"For them, when they saw a Kiwi serviceperson, it was their first sign of hope."
Around 80 NZDF personnel involved in the mission are due back in New Zealand in early September where they will complete the 14 day isolation period.