People from the outside: Hawke's Bay Reservists reach remote Marae
It's good to know it's physically possible, says stranded resident.
18 February, 2023
Click here
for the latest live updates on our response to Cyclone Gabrielle.
Members of 5/7 Battalion Hawke's Bay were told they were the first people to make it to Puketapu by road.
On Thursday soldiers from the Hawke's Bay-based reservist unit managed to get a three-truck convoy to Moteo Marae in Puketapu, after being told of around 200 people stranded there.
Second Lieutenant Campbell Johnston, Platoon Commander, said they had to abandon their first attempt a day earlier because the water was the height of a windshield. With the water subsiding, he said his team wanted a second crack at it.
"The aftermath of the storm was way worse than we thought," he said. "We're still just figuring out how bad it is, how stranded people are. Our main efforts now are to try and reach these people and take them back or leave them supplies.
"The biggest challenge is the nature of what's been left. Roading is gone, bridges are out, or the water is too deep, so it's about trying to figure out different ways to get in."
The team, with one Unimog truck and two Medium Heavy Operation Vehicles (MHOVs) succeeded in reaching the marae, finding about 200 people in a well-organised state, he says.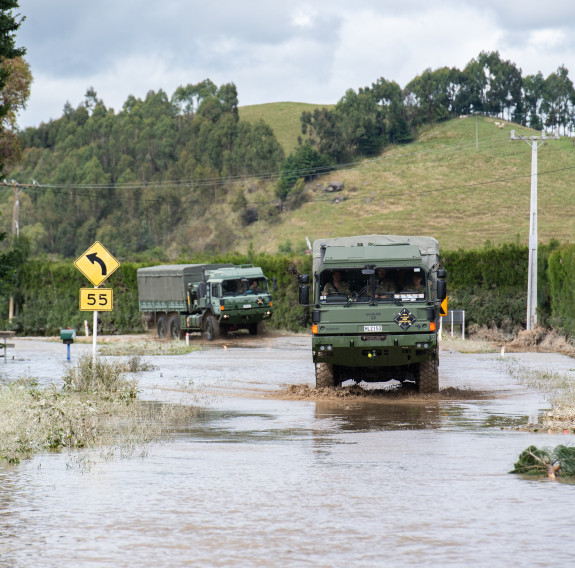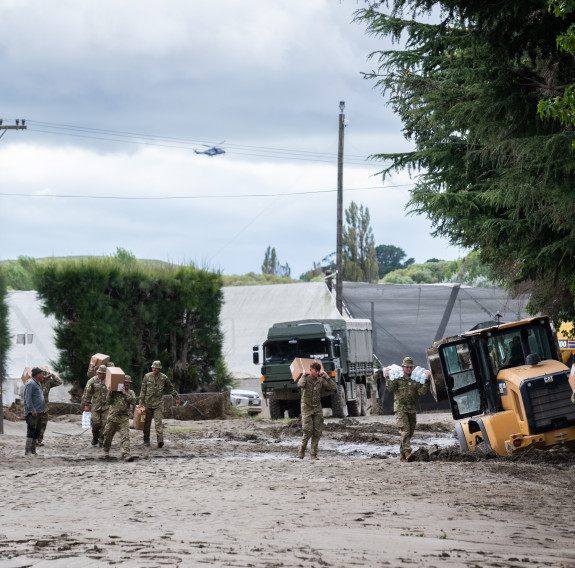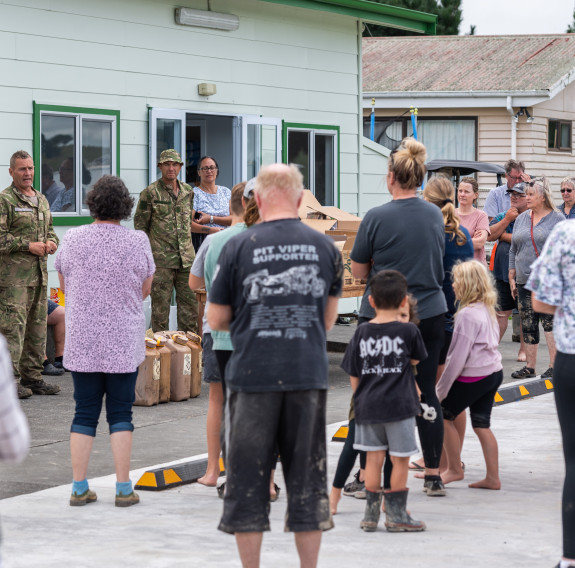 "They were in pretty good shape. We gave them some ration packs, water and diesel. Most of them wanted to stay, and we transported a few to a marae back in Hastings."
Resident David Thompson, who has lived in the community for 26 years, says there had been plenty of helicopter activity but these were the first people to come in by road. "Just to see people come in from the outside, it's nice to know that it's physically possible because we don't know. I've lost track of days. The biggest problem is communication. We don't have any power, can't see anything on TV, very little cellphone coverage. We're getting there. We're soldiering on but there must be some communities a lot worse."
He said they were not desperate but it could be a different story in three or four days if they weren't able to get supplies. "If we left we'd be creating problems for someone else. We'll keep tight, keep doing what we're doing. At least being in your own bed at night, there's a lot of comfort in that."
2LT Johnston says his platoon are working while their own families are without power. "We've got some reservists still stuck and we're trying to get them out. We're trying to keep home life going while jumping in and helping out here.
"This is what we joined for, to help the community, help the local area and being a part of getting Hawke's Bay back on track.
"We will just keep on getting out there, trying to get into the community, to look after them. The team from 5/7 will get stuck in and keep going as long as we're needed."