Passion for the job recognised by Airman of the Year award
Corporal (CPL) Gareth Nel is the Royal New Zealand Air Force (RNZAF) 
Airman of the Year for 2021.
29 October, 2021
The Airman of the Year is awarded annually to the RNZAF serviceperson who takes action to make a significant and positive contribution to the RNZAF and New Zealand Defence Force, and who personifies the core values. The citation says Corporal Nel was chosen for his initiative and specialist contribution to operations, constant pursuit of excellence, and for being a positive role model.
Corporal Nel worked on the desktop trainer for the NH90 electronic warfare suite, which resulted in him winning a Royal Aeronautical Society award.
He initiated electronic warfare pre-mission support to deployed P-3K2 operations, which increased crew situational awareness and improved mission outcomes for other partners.
Additionally, he developed a user-friendly fuel planning application to assist No. 3 Squadron with long-range flights, reducing pre-flight workloads, which can be critical in search and rescue missions.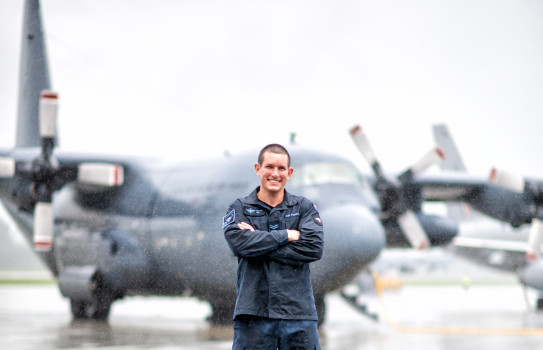 Corporal Nel is originally from Zimbabwe. He and his family emigrated to New Zealand and settled in Auckland when he was 16.
"My whole family has a huge military history and served during World War II and in the Rhodesian Bush War. So it seemed natural to join the military here," Corporal Nel said.
He was attracted to military intelligence, specifically electronic warfare.
His RNZAF career got off to an exciting start with postings overseas.
"They promised me travel and they certainly delivered on that. Early on the courses I needed to go on were all in Australia, so I spent a significant amount of time in Adelaide. Later I was deployed to the Middle East – I thoroughly enjoyed that."
The 35-year-old said his career so far had been better than he could have imagined and if he was to give advice to himself at age 16, he said it was all about being passionate about your career.
"It's why I do more, because I'm passionate about the role. If you do that, the opportunities will come. To the 16-year-old me, I'd say don't treat it as a job, treat it as a passion and you will go somewhere."