Palmerston North Navy trainee roams two oceans with UK Navy
A Royal New Zealand Navy officer is embracing life aboard a vessel from the United Kingdom, patrolling great swathes of the Indian and Pacific oceans.
11 May, 2023
Sub Lieutenant Emily Aull, from Palmerston North, is the Assistant Marine Engineer Officer aboard HMS Spey, which made its first ever port call to New Zealand this week.
HMS Spey and its sister vessel HMS Tamar are Royal Navy River-class offshore patrol vessels which were committed to the Indo-Pacific region in September 2021 for five years.
They are the first Royal Navy vessels to be stationed in the region in more than two decades.
With a patrol area across two oceans, they have no permanent home but travel from bases and ports to suit their needs and mission; and have regular crew changeovers.
Sub Lieutenant Aull started with the Royal New Zealand Navy in 2018 under a Navy scholarship scheme to study mechatronics engineering at Massey University.
Now aged 25, she completed her officer training in 2021 and went to the United Kingdom in December that year to undertake marine engineer studies at HMS Sultan.
Sub Lieutenant Aull joined HMS Spey in Japan last November.
She said sailing into New Zealand on a Royal Navy ship after 18 months away was something very special.
Through her naval career, Sub Lieutenant Aull had made friends all over the world.
"I've travelled to the other side of the world and then sailed right across the Pacific. I've experienced so many new and different cultures and ways of life."
Her travel had so far included traversing parts of the United Kingdom and Europe, spending Anzac Day 2022 on the island of Jersey, training in the Welsh mountains and playing football in every country she's been to - from Japan to Vanuatu.
"The crew loves football," she said.
"Being able to integrate with another Navy has allowed me to learn how others work outside of the Royal New Zealand Navy," Sub Lieutenant Aull said.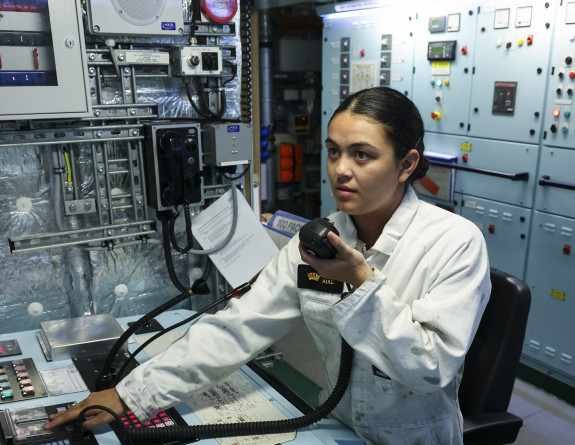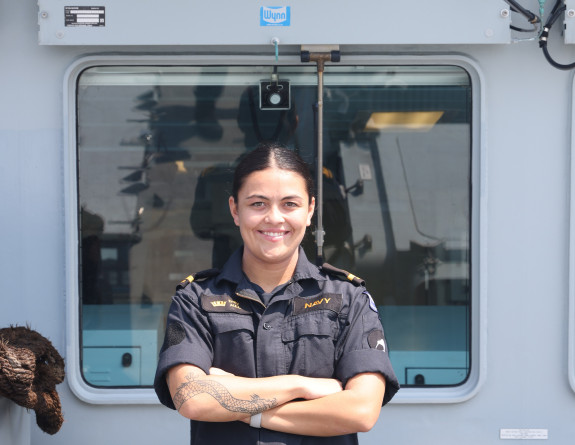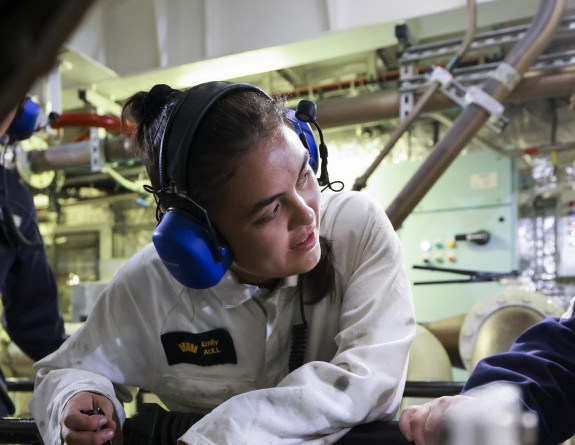 She was grateful there was wifi on the Royal Navy ship.
"The biggest challenge has been being away from home for 18 months and not being able to see friends and family.
"So being able to speak to home as often as I have done has been really great, from a welfare point of view."
Commander Mike Proudman, Commanding Officer of Spey, said Sub Lieutenant Aull was a very welcome addition to the ship's company.
"She can be justifiably proud of all she has achieved as our Assistant Marine Engineering Officer. It's a privilege to have her on board," he said.
Following her sea time with Spey and her UK studies, Sub Lieutenant Aull will be qualified as a marine engineering officer.
"I'm looking forward to being able to contribute to the Royal New Zealand Navy, and really looking forward to being back at home and seeing my family," she said.
Sub Lieutenant Aull said she would do it all again in a heartbeat.
"It's a once-in-a-career opportunity - very few people get to do this so early, if at all. I've actually spent more time in the Royal Navy than the Royal New Zealand Navy," Sub Lieutenant Aull said.
HMS Spey is visiting New Zealand from 10-23 May.