Our personnel reflect on their Gallipoli Journey
Deploying to Gallipoli to represent New Zealand at Anzac Day commemorations is an honour for our chosen personnel.
24 April, 2023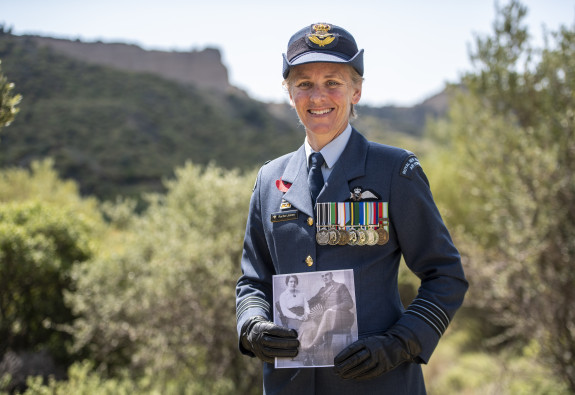 Wing Commander Rachel James
Deploying to Gallipoli to represent New Zealand at Anzac Day commemorations has been particularly special for Royal New Zealand Air Force pilot Wing Commander Rachel James.
Christchurch-born Wing Commander James was able to honour a British relative who fought in the Gallipoli campaign alongside New Zealand.
"My mother was a genealogist for many years so I was lucky enough to learn a significant amount of my family history growing up," she said.
"Her curiosity led to the discovery that my great-great uncle Private William Mounce battled for Great Britain on the Gallipoli Peninsula."
Private Mounce was born in Birmingham, United Kingdom, and was part of the Hampshire Regiment, 2nd Battalion. He was killed in action in 1915.
"To go where William fought was incredibly moving and something I've wanted to do ever since I discovered the connection."
As Contingent Commander, Wing Commander James will lead the New Zealand Defence Force personnel involved in Anzac commemorations and lay a wreath on behalf of veterans and their families at the Dawn Service.
She's not the only member of her family to carry on the tradition of military service started by her great-great uncle.
"My sister is also in the RNZAF, currently undergoing the RNZAF Officer Course in Woodbourne. She has served as an Air Warfare Specialist having joined in 2009.
"Our father is a passionate supporter of the RNZAF, we are probably both in the RNZAF because of him. He planted the seed when we were children by taking us to air shows.
"We also grew up near Wigram, when it was still an RNZAF Base," Wing Commander James said.
"Anzac Day has huge significance to me, personally and professionally, and I consider commemorating it on the Gallipoli Peninsula alongside some outstanding soldiers, sailors and aviators a very special privilege."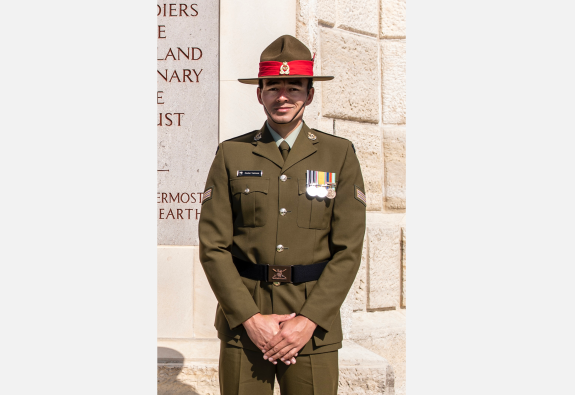 Corporal Cedar Vaimea
Walking in the same footsteps as whānau who fought for New Zealand at Gallipoli is an experience New Zealand Army Medic Corporal Cedar Vaimea (Ngāti Maniapoto) will never forget.
Corporal Vaimea is representing the New Zealand Defence Force as a Catafalque Guard in the 2023 Anzac Commemorations in Türkiye.
"I'm very humbled to stand on the ground my tīpuna once stood, experience the terrain and what they looked at. To be able to stand still and take that all in was overwhelming," he said.
Corporal Vaimea's great-great uncle Private Ned Turner served in the Auckland Infantry Battalion in World War I. He was killed at the age of 23 in April 1915.
"Physically seeing Ned Turner's name engraved on the cenotaph at the Lone Pine Memorial was an extremely emotional experience.
"There is no known grave for him due to the chaos of war, but it's likely he fell in the vicinity of the hill known as Baby 700.
"In the spiritual sense, being here lets him and the others who never returned home know that their names have not been forgotten."
Another of Corporal Vaimea's great-great uncles also fought in the costly Gallipoli campaign.
Lieutenant Thomas Matengaro Hetet was underage when he enlisted in the Maori Pioneer Battalion.
He went on to fight on the Western Front for three years and was wounded in action, with multiple gunshot wounds and shrapnel in his left thigh.
Lieutenant Hetet returned home and died in Te Kūiti in 1960, aged 64.
Corporal Vaimea's third great-great uncle to fight in Gallipoli was Second Lieutenant Te Rehe 'Brownie' Amohanga.
He too was in the Maori Pioneer Battalion and in 1916 travelled to the Western Front where he suffered a gunshot to the shoulder and was gassed.
Upon his return to New Zealand, Second Lieutenant Amohanga was held in high regard by his hapu Ngāti Kaputuhi. He died in 1977.
For Corporal Vaimea, walking the same footsteps in Türkiye as members of his whānau many decades earlier was overwhelming.
"I believe in the connection with the spiritual world, so being able to do that on the Gallipoli Peninsula was an honour.
"To pay my respects to those who have gone on before us was a moment that will always stay with me."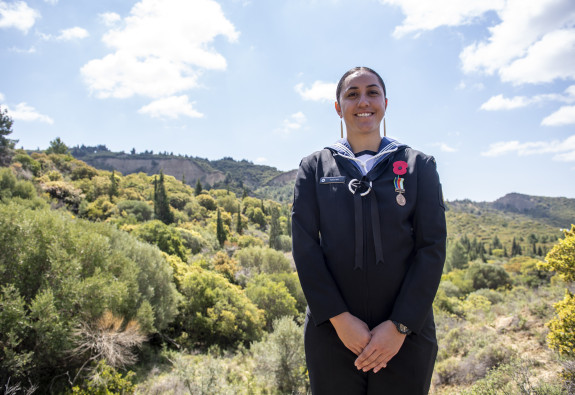 Able Writer Tiahuia Turei
Royal New Zealand Navy Able Writer Tiahuia Turei (Ngāti Porou) might normally spend Anzac Day at the remote Tikitiki Returned and Services Association on the East Coast.
However, this year the 23-year-old has travelled to Gallipoli in Türkiye as part of the New Zealand Defence Force (NZDF) contingent supporting Anzac Day commemorations.
"It was a surprise to be given the opportunity, but the honour of my life to be here," she said.
Over the weekend, the contingent took part in rededication and remembrance ceremony held at the place where 477-strong New Zealand Māori Contingent of the New Zealand Expeditionary Force made its camp during the costly and ultimately unsuccessful campaign.
It is also taking part in the traditional services held on around the Gallipoli Peninsula on Anzac day.
"Only four people from my community have been able to travel to Gallipoli to connect with our tipuna," Able Writer Turei said.
"I took my people who haven't been able to with me in spirit to experience what I did on the Peninsula.
I am not only honouring those who passed through haka and waiata, but walking the battlefields they walked.
Able Writer Turei also has connection with the battlefields of World War II as her grandfather and great-grandfather both served in the 28 (Maori) Battalion.
She was determined to follow in their military footsteps.
"Growing up in a very rural small Māori community and attending Kōhanga Reo and Kura Kaupapa Māori my whole life I struggled with the academic side of the entry level for NZDF and failed my first attempt.
"Despite that, with some extra support I was able pass the second time with flying colours," she said, which was a lesson for other young people.
"Don't let failure make you stop on what you want if it is your desire to put in the work and focus and you will succeed."