Our long-time link to Antarctica
One of our oldest ongoing missions is Operation Antarctica.
24 March, 2023
The New Zealand Defence Force's tri-Service Operation Antarctica is one of our oldest missions, with the NZDF having contributed personnel to Antarctica since 1957.
At the helm is Senior National Officer Major Lucy Wright, who works as the liaison between the military and the important scientific and environment programmes on the ice.
"I work full-time in the Antarctica New Zealand offices near Harewood Terminal in Christchurch, and also deploy to Antarctica during the summer season for short durations."
Each year Operation Antarctica provides support to Antarctica science and research programmes in a variety of ways.
"It's a cliché but no two days are the same on Operation Antarctica.
"I work with Antarctica New Zealand General Manager Operations, the team working on the Scott Base rebuild, NZDF, and other Antarctic programmes that use Christchurch as the Antarctica Gateway."
NZDF has a team at Scott Base and McMurdo Station, and deploys a ship offload team each year to offload cargo from container ships at McMurdo.
"We have the RNZAF conducting airlift to and from Antarctica of people and cargo, NZDF personnel at both Scott Base and McMurdo supporting operations, and HMNZS Aotearoa is now in service and successfully completed the ship's first trip south in early 2022 to resupply fuel.
"We also have the Harewood Terminal Team in Christchurch who facilitate the movement of passengers and cargo to and from the ice for all the Antarctic Programmes operating in Christchurch," she said.
This season sees an increase in NZDF staff at both Scott Base and McMurdo as both bases are undergoing a rebuild, as well as supporting a full science season. The Harewood Terminal Team operations will also ramp up due to an increase in winter flights to the ice towards the middle of the year.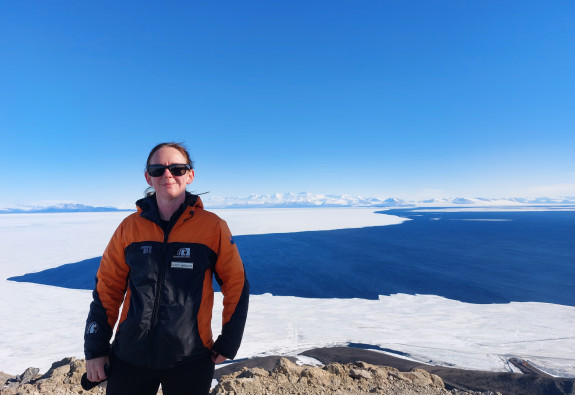 MAJ Wright said the importance of this mission is significant as changes in the Antarctic environment have implications for the rest of the planet. The work NZDF supports allows us to understand this impact and how this may change in a warming climate – if all the ice melted in Antarctica, global sea levels would rise by 60m.
"New Zealand is a world leader in Antarctic science and the NZDF's contribution to Antarctica New Zealand helps support this. We also work closely as part of the Joint Logistics Pool with the United States Antarctic programme.
"This season is really busy as it is the first full season post COVID, so there are lots of moving parts.
I am very fortunate to have an amazing team down on the ice and I work with great people at Antarctica NZ. The variety in this job is great and I feel like I am contributing to New Zealand's operations in Antarctica.
Starting out her military career as a Reserve Force officer in 2006, MAJ Wright was offered a Regular Force role in 2013 and took it as an opportunity to do something different.
"I've had a number of amazing roles and experiences with NZDF, and have also had some time with the Ministry of Business Innovation and Employment as the Regional Operational Manager for MIQ during the pandemic response.
The role of Senior National Officer for Op Antarctica is a three-year posting.
"Over the next few years I am looking forward to working with the team and seeing the part that the NZDF plays in future operations in Antarctica," she said.