Our history: Decades of flying to the ice
For nearly 70 years the Royal New Zealand Air Force has been an important presence in the frozen continent of Antarctica.
27 January, 2023
Since 1956 six types of Air Force aircraft have been used in Antarctica flying scientists, Defence Force personnel and equipment to the southern-most point of the earth. They have also helped with mapping the continent and for surveillance in the Southern Ocean.
The Defence Force has a long-standing commitment to supporting scientific and environmental programmes in Antarctica and its personnel play an integral part of operations there. We provide Hercules and Boeing flights as well as support air movements operations at Harewood Terminal in Christchurch and at Phoenix airfield in Antarctica. NZDF personnel can fill a range of roles in support of Antarctica programmes including cargo handling, communications, and light engineering teams.
Sixty-six years ago the RNZAF Antarctic Flight was formed to help the Commonwealth Trans-Antarctic Expedition. Squadron Leader JR Claydon led the three-strong flight, which was equipped with a de Havilland Beaver and an Auster floatplane, according to NZ History.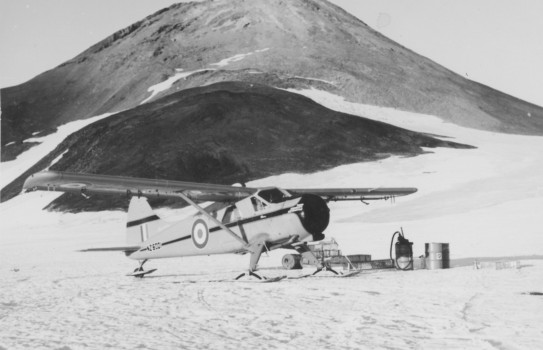 "It helped transport men, dog teams and supplies, and carried out geological mapping over two summers (1956–1958) before it was disbanded in 1960."
Five years later Air Force operations to Antarctica resumed with the arrival of a Hercules, which flew the first of what have become annual summer flights from Christchurch to the continent.
The same fleet of five Hercules that began their flights to the ice in 1965 are still flying their today, with the latest summer season already seeing a number of trips to the ice runway near Aotearoa New Zealand's Scott Base.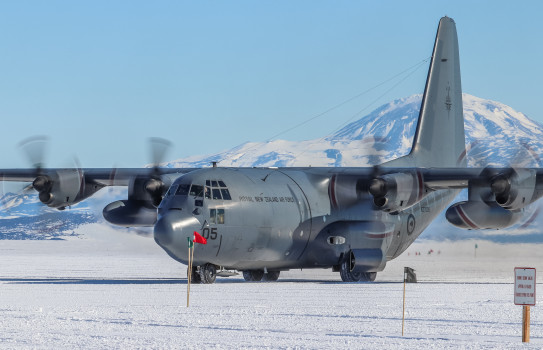 Lieutenant Commander (Rtd) Ross Hickey was one of those who had been deployed to the Defence Force's largest summertime deployment, Operation Antarctica. Before his retirement from the Navy he was the Defence Force's Senior National Officer at Scott Base.
Alongside the fixed wing aircraft, the Air Force's Iroquois helicopters also operated in Antarctica, from 1985 until 2000, supporting science events. No. 3 Squadron pilots were brought down for valuable flying training in extreme conditions, he said.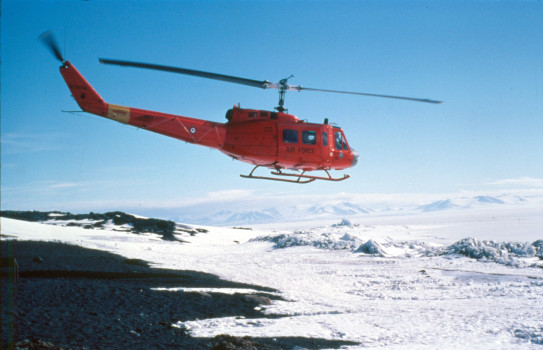 "So back then they were painted orange. They would bring down pilots – it was valuable training for them. But East Timor was cranking up at the time and there was a high demand from the NZDF to have that Iroquois fleet on other high demand operations, so we finished in 2000 and ever since then, we've utilised civilian helicopter companies out of New Zealand."
The P-3K2 Orion has also operated in Antarctica for a number of years, carrying out surveillance over the Southern Ocean, working collectively with the Royal New Zealand Navy and Ministry of Foreign Affairs and Trade, he said.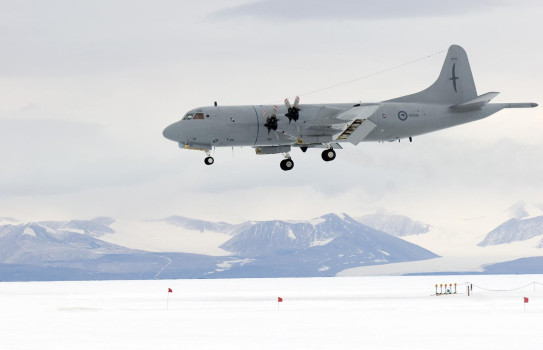 "If they are required they can land on the US runway, refuel and remain overnight for respite for the pilot and crew and then carry on the next day. The advantage of that for New Zealand, is that by bringing them all the way south from New Zealand and refuelling, it gives them so much more surveillance time, deep in the Southern Ocean, as opposed to flying out of Invercargill."
The Boeing B757 has been operating in Antarctica since 2011, Mr Hickey said.
"It's a great asset to bring south – particularly when you can get 120-odd seats on it for moving people. Primarily they support the US and Antarctica New Zealand, but we've also flown flights into Terra Nova Bay in support of the Italians."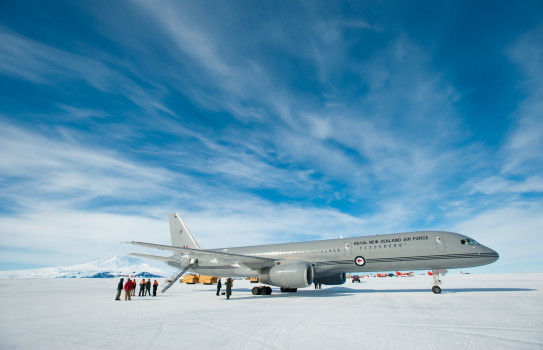 Op Antarctica is the New Zealand Defence Force's largest mission over the summer season, with about 200 people deployed on the operation.
Christchurch's Harewood terminal provides all the cargo support and personnel processing, for the US programme, the Antarctic New Zealand programme and also for the Italian programme.
At Scott Base, Defence Force personnel fill roles including communications operations, a chef, cargo personnel, logistics, plant operators and a Senior National Officer looking after the Defence Force effort at the base.
Mr Hickey emphasised the importance of NZDF staff working in Antarctica, not just to the science community, but also to the wider public.
"We're not just coming down here in big grey ships and aircraft, but we're down here in support of peace and science. That's been part of the job for me that has been important and most satisfying."