NZDF sparks mangrove-planting project in Maldives
New Zealand Defence Force personnel attending an environmental security forum in the Maldives have ensured everyone trod lightly on the low-lying islands, by quickly influencing and calculating the offset of the forum's carbon footprint.
07 September, 2022
The United States Indo-Pacific Command (USINDOPACOM) is also looking to ensure they offset their carbon footprint for future conferences, in a similar manner.
The NZDF's Future Force Director Wing Commander (WGCDR) Trevor Hammond and Sustainability Director Dr Lee Bint attended the 2022 Indo-Pacific Environmental Security Forum (IPESF) in August.
WGCDR Hammond said he had a chance conversation with an Australian reef ecologist, who had floated the idea with the conference organisers previously, to make it a carbon-neutral event, but to no avail.
Wondering whether it could be done retrospectively, WGCDR Hammond and Dr Bint spoke to the organisers and were asked to give a presentation on the idea the next morning.
Before dinner that evening, the NZDF team created a spreadsheet and calculated the carbon footprint of 140 people flying, catching ferries, staying at the resort and producing waste. They also added a 10 percent margin for error.
"The organisers didn't hesitate at the estimated US$22,000 cost to offset emissions, and said 'OK, that's fine'."

~

Wing Commander Trevor Hammond
They decided it would be good to do something locally in the Maldives – and the mangrove planting project fitted the bill. With this figure in mind, the USINDOPACOM Environmental Security Program has proposed to work with botany experts in the Maldives to design and execute an environmental project focused on mangrove sustainability on Huraa Island.
The USINDOPACOM Environmental Security Program will work with Maldivian experts and island residents to implement the proposal currently under development and contribute to funding this to at least US$22,000 which is the carbon footprint dollar value of the 2022 IPESF.
The 2022 IPESF had a number of goals and themes. But as the forum progressed the question of carbon footprints and how to actively address them arose.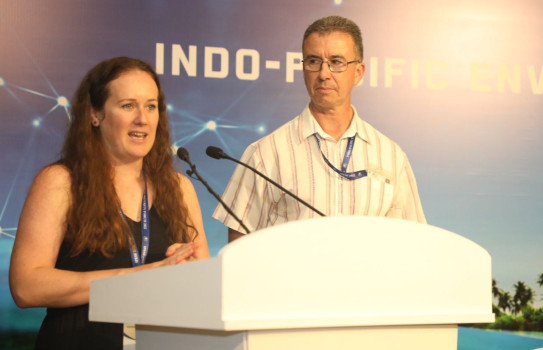 "The NZDF identified that hosts USINDOPACOM had an opportunity to lead by example and offset a quantifiable carbon footprint for the event," said US Brigadier General David W. Gardner.
"Among the military leaders I met in the Maldives, we spoke of the importance of environmental stewardship as part of our defence focus.
"We recognize that we should factor into our planning and operations the impact of carbon emissions on the environment."
This was set out in the US Department of Defense's 2014 Climate Change Adaption Roadmap, he said.