NZDF celebrates National Volunteer Week
This week is Te Wiki Tūao ā-Motu National Volunteer Week and we're highlighting some of our people who volunteer.
20 June, 2022
We have some incredibly generous people across New Zealand Defence Force, who work tirelessly to help others.
The theme of this year's National Volunteer Week is 'Time to Shine - He wā whakawhiti', and it's an opportunity to celebrate the mahi aroha (doing work for love) our people do for their communities every day.
Hear from some of our personnel who volunteer in their spare time.
Everyone contributing a little bit helps keep society running smoothly and I would empower anyone to give it a go.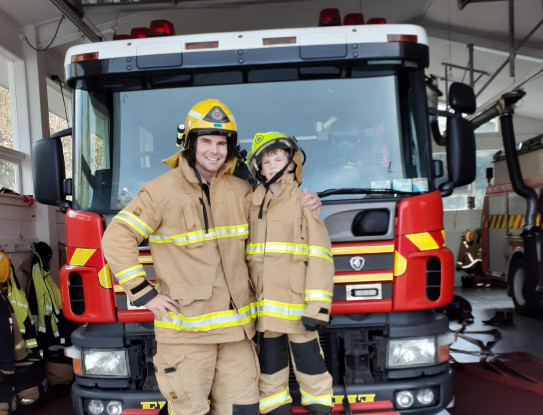 Lieutenant Jack Walters (LT)
Lieutenant Jack Walters has spent a lot of time at sea, both as a Seaman Combat Specialist and then again by commissioning from the ranks to a Warfare Officer. When he found himself posted ashore for a year and a half, he realised he had spare time on his hands and wanted to spend it gainfully.
He discovered the mentorship programme Big Brothers, Big Sisters in 2019. The programme sets up adult volunteers spending one-on-one time with a young person, aged between 6 and 12, usually once a week.
His mentee is 10-year-old Henry. Activities can be simple, such as kicking a ball around, or walks on the beach. But LT Walters has also organised some high-end fun; including Rigid-Hulled Inflatable Boat (RHIB) rides, Snow Planet, and visits to the Titirangi Volunteer Fire Brigade – where LT Walters is also a Volunteer Firefighter.
"It's exciting and meaningful for him," LT Walters says. "It's about hanging out with a big buddy, a safe person, and being a positive role model for them."
During first COVID-19 lockdowns in 2020, LT Walters volunteered to collect groceries for his elderly neighbours when he went shopping. That grew into becoming a volunteer delivery person for the Red Cross' Meals on Wheels programme.
He enjoyed the work. "A lot of them, surprised by my relative youth and (large) size asked me what I did, and I told them I was in the Navy." There was plenty of chitchat and offers of a cup of tea, which he had to decline. "They were glad the service was still going during lockdown."
He's been a Volunteer Firefighter for three years. Navy personnel are trained to fight fires as part of their Damage Control training, and the Station Volunteers were impressed with the calibre of Navy training.
"I've been on call-outs, turning up to car crashes, doing CPR and critical assists. I've been to some large house fires. These are mostly sad events for the victims, but it is worth it to be able to help people and the community in their time of need."
His advice: "Volunteering at different levels is usually just as rewarding for the volunteer as it is for the recipients. Everyone contributing a little bit helps keep society running smoothly and I would empower anyone to give it a go."
I have some sort of personal or family connection to all of my volunteer groups. I think that's what has inspired me to keep going.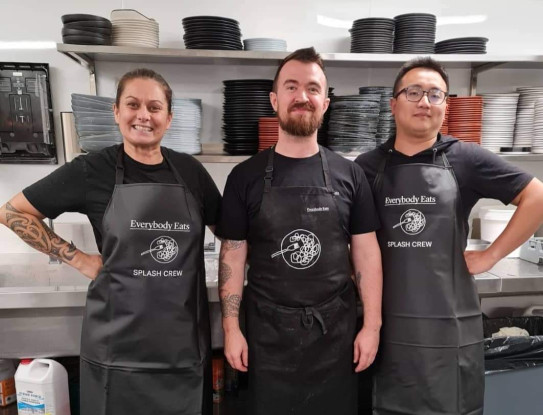 Corporal Paddy Whare (CPL)
When dozens of in-need people sit down to a three course meal in the Everybody Eats programme, Corporal Paddy Whare can often be found out the back doing dishes, a job she has volunteered to do.
"I know not everybody likes doing dishes but I don't mind. As a soldier I'm used to getting stuck in!"
CPL Whare, who is now based at The Army Depot in Waiouru, has been nominated as an NZDF Volunteer of the Year.
Putting her hand up to volunteer for the jobs few people are keen to do comes easily to her.
"I have some sort of personal or family connection to all of my volunteer groups. I think that's what has inspired me to keep going."
Twenty –odd years ago CPL Whare and her young son were taken in by Women's Refuge.
"I was going through some not so good stuff and they looked after us. I decided years later that I wanted to give back to them so I'd collect for them during their street appeal."
CPL Whare is also a staunch advocate for breast and cervical screening.
"I lost my sister-in-law to breast cancer, and she left my brother with young twins. I also had a cousin die from breast cancer. I decided I'd do whatever it takes to draw attention to the importance of mammograms." She had her hair shaved to draw awareness and raise money for the breast cancer appeal.
"I want women to know that it's OK to be scared when you find a lump. Just don't ignore it."
She is a rugby league fan, and supports various teams, training as a strapper so she can do more than yell support from the sidelines.
CPL Whare says she enjoys doing the dishes at the Everybody Eats dinners because it means people who need it have had a decent meal for whatever they can afford to pay. "Our friends from the streets might just pay 10 cents but it's great to see them eating and being part of the community."
"We need volunteers in our society so that we can get things done. It's a really good feeling when you see a positive outcome."
Volunteering, being a dad and working full-time keeps me out of trouble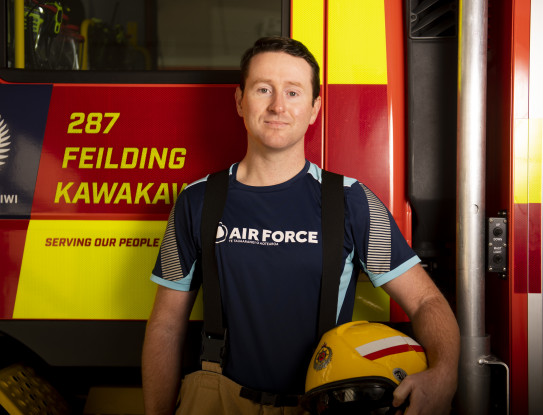 Squadron Leader Mark Elrick (SQNLDR)
Working full time as a Communications and Information Systems Officer and being a dad to four boys aged between 14 and nearly one, it's hard to know how Squadron Leader Mark Elrick finds the time to also volunteer at his local fire brigade.
The qualified firefighter has volunteered his time at Feilding's Urban Firefighter Brigade for the past four and a half years, and is qualified as a driver, pump operator and operational firefighter. He has attended roughly 100 calls a year since joining the brigade.
"Volunteering, being a dad and working full-time keeps me out of trouble," he laughed.
"A lot of the calls happen in the weekends or at nighttime. I'm fortunate enough at the moment where I have a fairly flexible schedule where I can work from home some days and my boss is kind enough to say, if I've got the capacity I can respond and that helps during the daytime."
He found that organisations like the Air Force and Fire and Emergency New Zealand (FENZ) had the same kind of community focus, dedication to service and professionalism, "so I guess that's what drew me to it".
Before joining the Air Force, SQNLDR Elrick also volunteered with St John's and learned skills that were transferable to the fire brigade.
"When I joined FENZ there was a Memorandum of Understanding with St John's, so we responded to a lot of medical calls – last week I went to two CPR assists as well. The medical calls that have a happy ending are the memorable and rewarding jobs.
"Also going to a house where a fire is just starting and everyone's outside upset and worried and you come and save the property – those days I go home quite happy. A lot of the time there are unfortunately not great endings, so when there's a positive result it's really rewarding."
Playing an active role in the small Manawatū community also appealed to SQNLDR Elrick.
"It's not all about riding the trucks. We help install a lot of smoke alarms in the elderly community, deliver fire wise education in schools and conduct risk assessments. All of these help in preventing fire-related damage in the local community.
"I also really enjoy deployments and working hands-on with the tools, but as an officer you focus on leading the capability and team, so it's quite nice for me as an officer to go in as an operator."
Both the Air Force and FENZ bring different elements to their roles, which is something SQNLDR Elrick has been able to transfer across.
"The cool thing is I can bring a lot of the Air Force procedures over to it as well, like the recruitment process and training. Likewise there's some really good stuff that FENZ does with welfare and comradery that I can transfer to the Air Force. It balances those worlds."
I just wanted to be part of the community, do something that was meaningful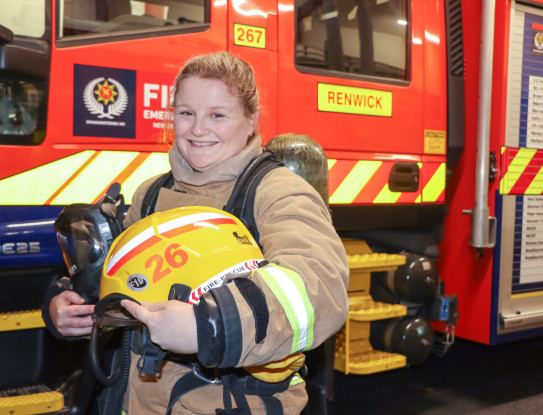 Bunny Lippiatt
Cutting people out of crashed cars, manning community events, and racing up the Sky Tower.
It's all in a day's work for NZDF civilian Bunny, one of our many Defence Force personnel who volunteers in their community.
When Bunny Lippiatt isn't arranging Command and Recruit Training Squadron courses for Defence College, she's a firefighter with the Renwick Volunteer Fire Brigade down the road from RNZAF Base Woodbourne.
She joined the Fire Service in 2018 after seeing an ad in the newspaper. "I just wanted to be part of the community, do something that was meaningful," she says.
A few years on, and Bunny enjoys everything about volunteering. "All of it, I love working with the community. I love the family of the Fire Service, they are a really good family to belong to. I just really like helping people."
In August Bunny will be donning her full 25kg kit, wearing a face mask and breathing from a cylinder as she powers her way up 51 flights of stairs in the annual Firefighter Sky Tower Challenge.
It'll be her second time taking on the gruelling exercise to raise money for Kiwis living with blood cancer.
She recently organised a quiz night in the Woodbourne Tavern to fundraise for the event, and can often be seen with a collecting bucket outside the local supermarket.
Bunny says she absolutely loves the physicality of being a firefighter.
"Especially for a smaller person like myself, especially cutting open cars and things, it's very physically challenging. But in saying that, you do what you need to do - adrenalin's a great thing."
And there's a great sense of camaraderie amongst the volunteers who give their time for the Marlborough community. "Our brigade is very, very close, we are like brothers and sisters."
This week is National Volunteer Week, and Bunny's encouraging others to head down to their local brigade, attend some training nights, and give it a go. She says volunteering is really rewarding and incredibly fulfilling, "I wouldn't be without my Fire Service role."