NZ Navy's new replenishment vessel sails on maiden voyage to Antarctica
Fresh from her deployment to Tonga where she provided essential aid supplies, refuelling services and water generation, HMNZS Aotearoa has now sailed from Lyttelton and is heading south to support Antarctic environmental and scientific programmes.
04 February, 2022
As well as being Aotearoa's first trip to Antarctica, it will be the first time in more than 50 years that a Royal New Zealand Navy (RNZN) ship will be conducting an Antarctic resupply of McMurdo Station and Scott Base.
The ship is commanded by Captain Simon Griffiths.
The New Zealand Defence Force has a long-standing commitment to support Antarctica NZ and international scientific and environmental programmes on the ice including the United States Antarctic Programme. Since the 1970s, however, this support has always been via Royal New Zealand Air Force C-130 Hercules and Boeing 757.
With the construction of HMNZS Aotearoa, the NZDF now has a purpose-built, polar-class sustainment vessel specifically able to operate deep into the Southern Ocean and Ross Sea with an ice strengthened hull and upper deck trace heating.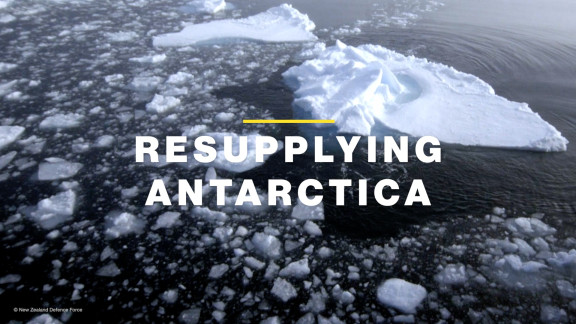 Royal New Zealand Navy's HMNZS Aotearoa - resupplying Antarctica
For the RNZN Maritime Component Commander, Commodore Garin Golding, Aotearoa's maiden sailing to Antarctica has been long awaited.
"Being able to support New Zealand's Antarctic programme from the sea is a key strategic objective, supported by the capabilities of Aotearoa," he said. "It has significant fuel-carrying capacity and is able to transport 22 shipping containers of critical supplies, which takes a lot of pressure off our aviation assets."
The successful re-supply mission will demonstrate Aotearoa's Antarctic maritime sustainment capabilities, setting the ship up for future and ongoing sustainment operations; not just to the Antarctic region but in support of New Zealand's interests around the world.
Precautions are in place to mitigate the risk of COVID-19 or other illnesses while in Antarctica. The crew will be quarantining at sea for 14 days before the ship comes alongside McMurdo Station. The ship's crew are double vaccinated, have been undergoing routine testing, and follow strict protocols around the contactless loading of stores.
Find out more about HMNZS Aotearoa here.