NZ Navy to participate in major South East Asia exercise
The Royal New Zealand Navy's maritime sustainment vessel, HMNZS Aotearoa, has sailed today from Auckland bound for South East Asia to participate in the Five Power Defence Arrangements Exercise Bersama Lima in Malaysia, alongside frigate HMNZS Te Mana.
21 August, 2023
HMNZS Te Mana deployed in July and the crew have been training off the coast of Australia with the Royal Australian Navy.
Both ships will spend several months at sea in what is the New Zealand Defence Force's (NZDF) largest naval deployment to the Indo-Pacific region, Operation Crucible. The operation is undertaken on a regular basis as part of the NZDF's bilateral and regional defence engagement, although the participating ships and route vary.
In October, the two ships will participate in Exercise Bersama Lima, an annual combined exercise involving the Five Power Defence Arrangements (FPDA) member nations Australia, Malaysia, New Zealand, Singapore and the United Kingdom.
The aim of Exercise Bersama Lima is to practise multiple aspects of maritime-based warfare, including joint task force command and control, naval, airborne and amphibious operations.
As well as the ships' crews, the NZDF is also sending another 30 personnel to the exercise. Their roles will include planning and contributing to the combined joint task force.
Maritime Component Commander, Commodore Garin Golding, said participating in high-quality training enabled the NZDF to exercise warfighting capabilities while enhancing interoperability with partners in the region.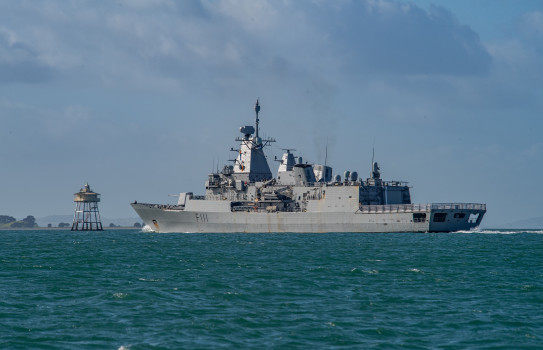 The Commanding Officer of HMNZS Te Mana, Commander John McQueen, said the crew was continuing to sharpen skills while training in Australia, ahead of the frigate's deployment to South East Asia.
"Training and exercising with our partners at sea grows our skills and provides valuable experience in the maritime environment. We're looking forward to putting those skills further to the test on Exercise Bersama Lima," he said.
Commander Dave Barr, the Commanding Officer of HMNZS Aotearoa, said the crew was excited to get underway.
"Sailors want to go to sea, it's why they join the Navy. A deployment like this enables our sailors to train and operate, and grow their experience of life and work at sea – as well as have the opportunity to visit new places."
Both ships will conduct port visits and other international engagements during their deployment to South East Asia. Port visits include Malaysia, Philippines, Singapore and Vietnam.
The ships are due to return to New Zealand in December.