NZ Army thanks villagers for Nausori Highlands military exercise
Singing and dancing while swapping shared stories over lunch was a great way for the Officer Cadet School (OCS) of New Zealand to wrap up their time in the Nausori Highlands.
29 July, 2022
It was also an important opportunity to show their appreciation to the local villagers who allowed them access to their land during Exercise Veiliutaki, where the New Zealand Army trained alongside Republic of Fiji Military Forces (RFMF) for nearly a month in the Nausori Highlands.
After finishing the close-country exercise portion of their time in Fiji, the OCS – which trains the NZ Army's potential commissioned officer candidates - gave thanks to the villagers who let them use their land to train.
Personnel all chipped in and helped clean the medical centre and plant trees around the church, while others got stuck in putting the lovo into the ground.
A lovo, similar to a New Zealand hāngī, is cooked underground and is often reserved for special occasions in Fijian villages.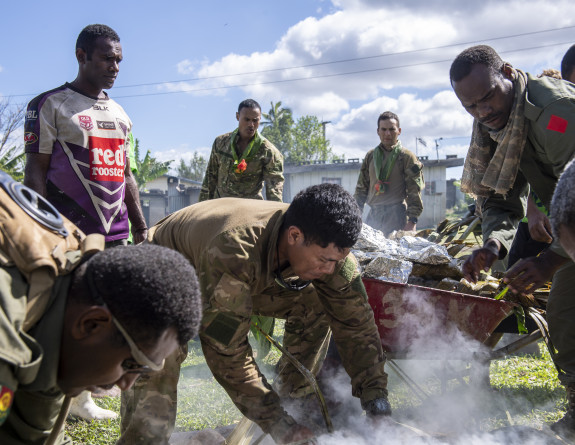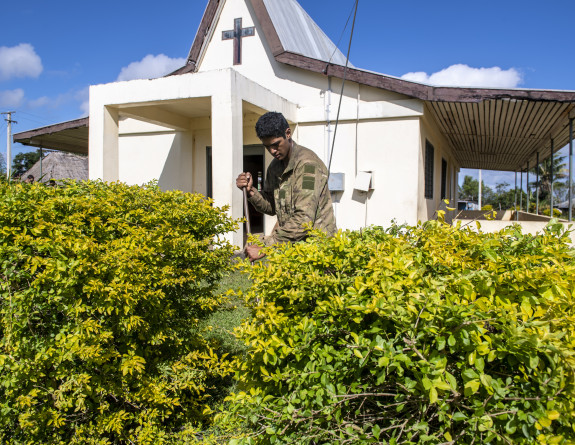 Traditional customs were observed, with the New Zealand women joining the Fijian women helping prepare vegetables for lunch, while the men helped lay the lovo down and cook other meats on the barbeque.
After the jobs were done some of the New Zealand Officer Cadets kicked a ball around with the local children, while others enjoyed fresh coconuts.
Just before lunch, everyone congregated in a building to take part in a sevusevu ceremony, where the OCS formally thanked the village.
Major Poriwira Kahura, Chief Instructor at the OCS, thanked the village for letting them use their mountains and rivers and also eat their animals.
He said they were humbled by the experience.
A village elder responded, saying they were very fortunate to have them here and it had been beneficial for the children to observe them during their time in the Nausori Highlands.
After the sevusevu session members of the NZDF, RFMF and the local village danced and took photos together, before wrapping up with a song from the local community.
As personnel departed the grounds, local village members called out "we love you so much, we miss you".