New Zealand's gateway to Antarctica
Christchurch is one of only five gateways in the world to Antarctica and it's the Harewood Terminal team who work behind the scenes to help make New Zealand's contribution to Operation Antarctica possible.
25 May, 2022
Through the operation New Zealand Defence Force supports Antarctica New Zealand, which comprises a range of commitments, including air transport, logistical support to the NZ Antarctic Programme and the bulk of the New Zealand contribution to the NZ/US Joint Logistics Pool (a shared pool of man power, air and sea assets and equipment that enable Antarctic operations in New Zealand, Terra Nova Bay, Scott Base and McMurdo Station).
Based at Christchurch Airport, the 27-strong Harewood Terminal team (HTT) is situated alongside the Air Movements Christchurch section. However, the team is a completely separate, operationally deployed, tri-service unit. The team moves a wide range of people and freight travelling under the United States, New Zealand, Italian and South Korean Antarctic programmes.
Officer Commanding of the Harewood Terminal Team, Flight Lieutenant (FLTLT) Joshua Ahdar, said the team's support for the operation spans year-round, but constraints caused by daylight hours and workable temperatures in the Antarctic continent means that the demand to move passengers and freight peaks during the Antarctic summer months.
"In the 2021–2022 summer season alone, the team played a key role in more than 100 flights, more than 2,000 passengers and more than 2,000,000 pounds of freight. To meet this demand, eight are Air Force Air Movements staff who post out and deploy for the summer season. They fill subject matter expert, supervisor and management roles," he said.
"The remaining 19 personnel are a tri-service mix of augmentees, who bring a range of skillsets and service diversity. These personnel are provided with job-specific Air Movements training."
Season 2021/2022
| | | | |
| --- | --- | --- | --- |
| Destination | Flights | PAX | Freight (lbs) |
| South | 53 | 1,178 | 1,655,656 |
| North | 53 | 1,177 | 409,949 |
| Total | 106 | 2,295 | 2,065,605 |
Acting Sergeant Alice Smith, posted to HTT for the summer season as an Antarctic Passenger Terminal Supervisor and gets passengers checked in and ready to board.
"When a flight is scheduled, it typically departs at 9am. My colleagues and I begin work at 4am with a weather call. By 4.30am we know if a flight will go ahead or not, and we immediately update the telephone information line for passengers and inform the cargo yard. Depending on the outcome of that call it's either all systems go, or we prepare for the rescheduled date," she said.
The posting had been a positive change in more ways than one, she said.
"Being in a new role, a new city, and working with a new team took me out of my comfort zone, in a good way. As well as developing skills in my trade, I've also made new connections with personnel in the Army and Navy. I've gained a lot and am now considering applying for Antarctica this summer," she said.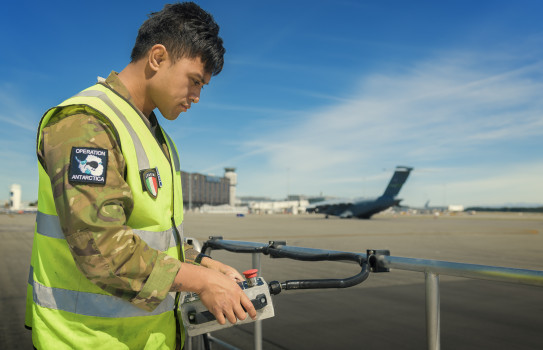 Logistics Specialist Corporal Logan Corbishley is a permanent member of Christchurch Air Movements, but was posted to HTT for the summer. He went to Antarctica in February for 21 days to assist with a ship offload. For two weeks he worked 12 hour shifts, noting down every container that came off and onto the ship, ensuring each of the hundreds of containers, containing building supplies and scientific equipment, were accounted for. Once logged onto a computer system they were then transferred to McMurdo Station. He was then given a week to explore parts of Antarctica.
"Initially I wasn't sure about posting to Antarctica as I'm someone who doesn't like the cold. But it was an amazing experience both professionally and personally. To see first-hand what it's like here gave me a good understanding of how our work supports the scientists," he said.

"Seeing penguins in the wild was amazing. At one point, while we were taking photos they popped up everywhere, they were just 1.5m away from us, that was pretty cool," he added.

Some of the more unique moves by air have included:
Runway compaction rollers (heaviest item ever airlifted from Christchurch to Ross Island, 87,000 lbs, November 2020).

The Ranfurly Shield
A case of Scott's Whiskey 'for preservation purposes'
Former US Secretary of State John Kerry
Lorde, Gin Wigmore
Sir David Attenborough
Vacancies for the 2022/23 HTT Season have been recently advertised and FLTLT Ahdar's message to anyone considering applying is simple: do it.
"It provides a unique opportunity to be involved in an operation on home soil. You get to work with other services and agencies, exercise leadership in small teams, while also playing a key part in climate change research," he said.
The roles cover all areas of flight facilitation process from cargo handling and preparation, loading and unloading aircraft, driving heavy vehicles to International passenger processing.