New Zealander plays key role in world's largest peacekeeping mission
Working towards a milestone general election while trying to avoid a humanitarian crisis in the north of the country is the current focus for Lieutenant Colonel Emily Hume and other personnel in South Sudan.
25 October, 2023
The African nation faces many challenges including political instability, civil war, a humanitarian crisis, ethnic and tribal tensions, and economic hurdles.
Around 18,000 personnel are deployed to the United Nations Mission in South Sudan (UNMISS), making it the largest peacekeeping mission in the world.
Dunedin-born Lieutenant Colonel Hume, who now calls Wellington home, is the New Zealand Defence Force's (NZDF) senior national officer on the ground.
She's responsible for the welfare of the Kiwi contingent which works alongside military partners from a range of nations, UN Police, UN civilians and humanitarian agencies, to help monitor peace agreements, protect civilian sites and support the delivery of aid.
"It has always been the case in South Sudan, people see the UN, they see the blue flag, they see the locations in which we have troops and they do come to that. They see that as a safe haven, somewhere they will be protected and can get help," Lieutenant Colonel Hume said.
This is her third overseas deployment, after stints in the Solomon Islands and Lebanon.
She spent her teenage years at Christchurch's Villa Maria College, where she caught the military bug during three days of student work experience at Burnham Military Camp. By the time her mum came to pick her up, Lieutenant Colonel Hume knew she wanted to join the New Zealand Army.
Now the 36-year-old is the deputy chief in charge of long-term planning for 14,000 UNMISS military personnel, liaising with teams across South Sudan, the mission headquarters, and UN headquarters in New York.
Within weeks of arriving, Lieutenant Colonel Hume was asked to lead a military capability study, analysing whether the mission had enough military resources - and the right type - to achieve its mandated tasks.
She's thankful for that early opportunity, which saw her visit UNMISS section headquarters in Juba, Tomping, Wau, Bentiu, Malakal and Bor, and gain an insight the difficulties of operating in some environments.
"It really gives you an appreciation of the challenges on the ground faced by the contingents that are there, including accessing areas of increased tensions in a country with limited roading infrastructure and a lack of any early warning systems.
"It was great to see all those places and appreciate the diversity of South Sudan. It's not all dry and barren, there are large areas of fertile land, supporting huge herds of cattle. Cattle raiding is a big issue here, further exacerbating existing ethnic tensions."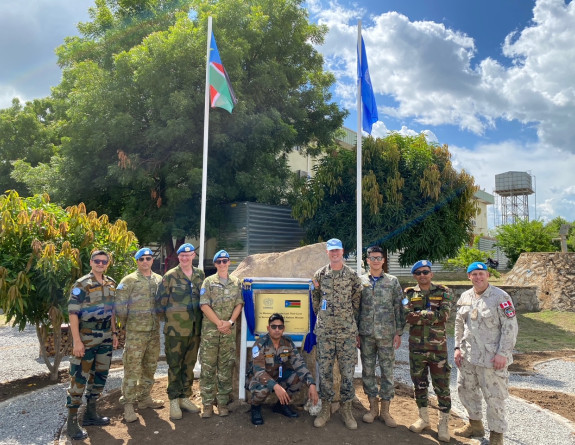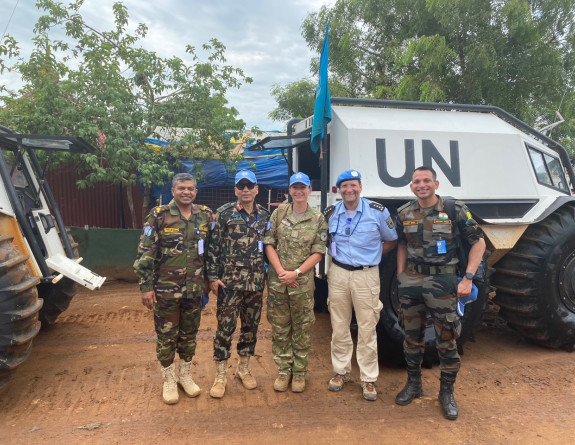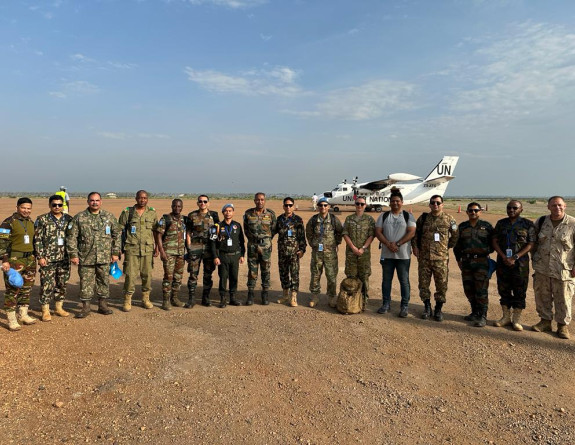 Witnessing the poverty and hardship which many South Sudanese live in, had been the most challenging aspect of her deployment.
"That's probably the hardest thing, realising there's no difference between you and these people that you're trying to support here, it's just the circumstances that most of them are born into.
"It provides motivation to want to support them and do what you can through the UN and partner agencies to improve their lives."
She said in a population of around 11 million people, around 8.3 million are reliant on humanitarian aid, and the aid system had come under further pressure since the conflict in neighbouring Sudan erupted in April.
Lieutenant Colonel Hume said the UN was focused on trying to avoid a humanitarian crisis in areas that border Sudan, which have experienced an influx of returnees to South Sudan, refugees and internally displaced people fleeing the escalating violence.
"That is obviously creating a challenging environment," she said.
At the same time, the mission was focused on next year's planned general elections - the first since South Sudan gained independence in 2011.
"There hasn't been a lot of clarity yet around the elections for December 2024, but that is the overall role which we're all working towards, making sure that we have the right settings in place to support a successful election for the people of South Sudan."
While the mission was a long way from home, Lieutenant Colonel Hume said it's important for New Zealand to support the South Sudanese because life is very tough for many of them.
"New Zealand's participation in UNMISS demonstrates its commitment to global peace and stability, contributing to the international effort to prevent violence and protect vulnerable populations."
For Lieutenant Colonel Hume, the most rewarding element of being in South Sudan was seeing where the UN had been able to support communities.
"Whether it's the Quick Impact Project which provides clean water, whether it's supporting a local community with schooling, whether it's the rebuilding of a prison or cells so at least they can have a functioning jail system, whether it's a report of a violation and UN patrols going out, investigating, and then people being held accountable for their actions."
She said the days and weeks on deployment were going by quickly, and she's enjoying her job.
"Working with the people you do, on the problems and challenges that are posed to you as a team that you have to work through, it's just fantastic.
"I'm looking forward to the remainder of the mission and what UNMISS can achieve for the people of South Sudan."
New Zealand has supported peace efforts in South Sudan through this current mission since 2011, and prior to South Sudan's independence New Zealand contributed personnel to the UN Mission in Sudan from 2005 to 2011.