New Zealand and Fiji - Neighbours across the Pacific Ocean
From training basic recruits, musicians and plant operators, to deploying Fijian Navy sailors on a New Zealand ship, the resumption of NZDF activities has reaffirmed the longstanding relationship between the NZDF and the Republic of Fiji Military Forces.
19 December, 2022
Following the reopening of international borders, a number of Republic of Fiji Military Forces (RFMF) personnel have travelled to New Zealand to attend training courses, and the New Zealand Defence Force (NZDF) has sent multiple groups of instructors across to Fiji to support RFMF courses. More than 125 Kiwis also headed to Fiji for one major New Zealand Army exercise and a major multinational exercise.
Commander Joint Forces New Zealand Rear Admiral Jim Gilmour is the commander of all forces deploying from New Zealand for operations and tri-service exercises, and says the reinstatement of these activities with Fiji is important for maintenance of security in the region.
"The stability and prosperity of the Pacific region is directly linked to maintaining strong personal relationships with our Pacific neighbours; taking and offering opportunities to grow our leaders, train our people and learn from one another, ensuring that we're able to operate together in times of crisis and to support the international rules based order."
To assist in the organising of the various activities and exchanges of personnel, Commander Sarah Bamfield (Royal New Zealand Navy) is posted to Fiji as the Defence Attaché. She has enjoyed playing a part in strengthening the relationship between the two Pacific nations. Based at the New Zealand High Commission in Suva, she acts as the conduit for everything defence-related between the New Zealand Defence Force and the Republic of Fiji Military Forces, and the New Zealand Ministry of Defence, and Fiji's Ministry of Defence, National Security and Policing.
"After several difficult years due to the pandemic, our defence engagement with Fiji has now returned to, if not exceeded, pre-COVID levels. Whilst it hasn't been without it's challenges, navigating changing border and health-related restrictions, the breadth and scale of engagement we've been able to achieve in 2022 has been phenomenal. People-to-people connections are always at the centre of everything we do, so it's been wonderful to see old relationships rekindled and new relationships form now that we're all able to travel and work together again – both here in Fiji and in Aotearoa New Zealand.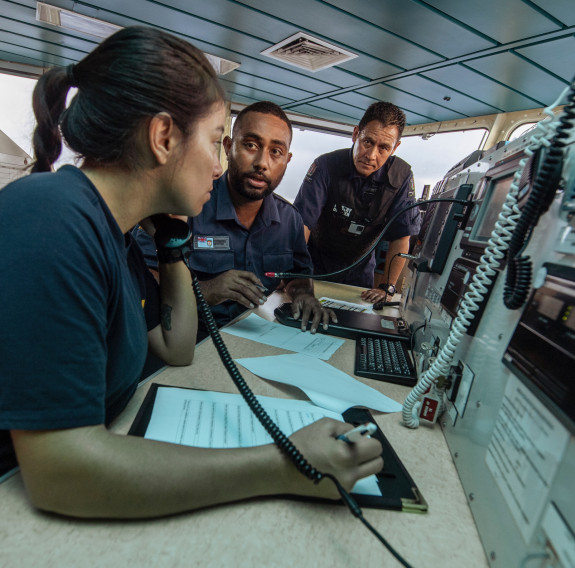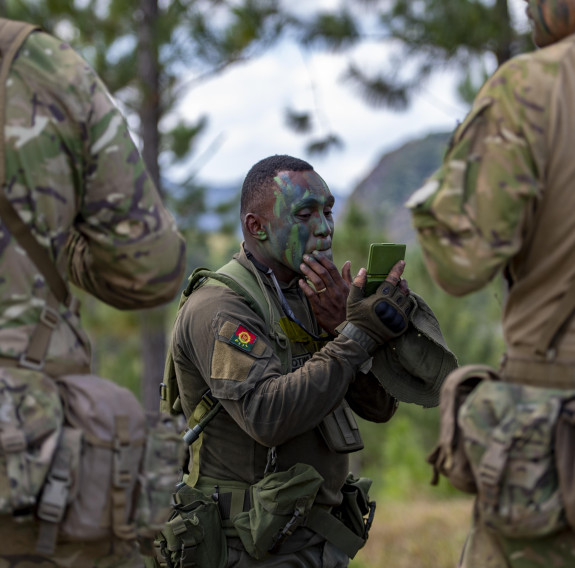 One of the biggest undertakings in Fiji this year was the Officer Cadet School of New Zealand training activity, Exercise Veiliutaki.
Ninety NZDF personnel, 72 RFMF soldiers and four international students from Tonga and Fiji conducted integrated training in combined jungle and battle craft, and the Officer Cadets were also assessed in command and leadership. During this time, they took part in a RFMF-run survival training exercise where they were placed in the jungle with minimal equipment and no food.
Officer Cadet Ilimotama Rakavono is one of the two Fijian students undertaking the Officer Cadet School of New Zealand course who participated in Exercise Veiliutaki. From Tailevu in the Republic of Fiji, he has already commissioned into the RFMF, but is on the New Zealand Commissioning Course to enhance his experience and training.
He said the hardest thing had been leaving his wife and child behind in Fiji, but he was also excited to do the New Zealand course, as he'd wanted to visit since he was a child.
"Not everyone gets the opportunity to do this, and coming back to Fiji with the knowledge I have will be good."
Exercise Cartwheel in September saw the New Zealand Army conduct the first 81mm mortar demonstrations in more than 27 years. The tactical field training exercise was a US and Fiji-led multinational exercise conducted in the Nausori Highlands in Fiji and involved defence personnel from the RFMF, NZDF, United States Army Pacific, British Army and Australian Defence Force. NZDF's participation also included demonstrations of sustained fire machine guns, section attacks and ambushes, reacting to enemy indirect firing and ethical decision-making scenarios.
The Royal New Zealand Navy ship HMNZS Manawanui made two port visits to Fiji this year, and hosted six Fijian sailors during the return journey to New Zealand. HMNZS Matataua also undertook a hydrographic survey of the Nukulau Passage in partnership with the Republic of Fiji Navy Hydrographic Service. In August, HMNZS Wellington carried out maritime security patrols and embarked a Fijian Fishery Officer for operations monitoring illegal, unregulated and unreported (IUU) fishing as part of Operation Mahi Tahi.
Meanwhile, in the skies high above Fiji, the Royal New Zealand Air Force has continued to provide critical search and rescue support, and maritime domain awareness across Fiji's EEZ and beyond.
The NZDF enjoyed hosting the RFMF Women's Rugby Team for the inaugural International Defence Rugby Championship, held in Auckland in October. The Fijian team performed admirably against teams from Australia, France, Tonga, the United Kingdom, New Zealand and a combined Papua New Guinea/Vanuatu team, coming away with the Bronze medal.
The NZDF will continue to be busy in the Pacific in 2023, with Exercise Tropic Astra planned to come to Fiji early in the year, and further iterations of Operation Mahi Tahi as well as many other activities engaging with our Pacific Neighbours.