New Year Honours awarded to three NZDF personnel
Leading from the front, whether through dire humanitarian situations, outstanding professionalism or innovative problem solving, has resulted in three New Zealand Defence Force personnel being recognised in the New Year Honours 2023.
31 December, 2022
Captain Brendon Clark from the Royal New Zealand Navy (RNZN), Serviceperson L from the New Zealand Army and Sergeant Hayden Smith from the Royal New Zealand Air Force have all received the New Zealand Distinguished Service Decoration (DSD).
Chief of Defence Force Air Marshal Kevin Short said he was extremely proud of the recognition the trio had received.
"All of our people are incredible in all that they do every day, but to have these three highlighted for their exceptional work is a really great moment for our Defence Force," Air Marshal Short said.
"I congratulate these individuals who should be immensely proud of their achievements and this formal acknowledgement. They have excelled at the challenges and tasks in their roles, and I am grateful for their service and commitment."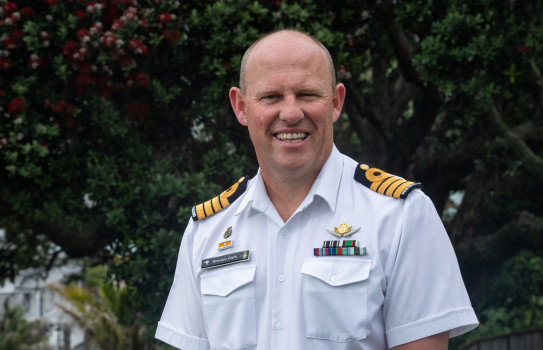 Captain Brendon Clark
Captain Brendon Clark RNZN said he was "speechless and humbled" to be nominated for the DSD.
In July 2021, Captain Clark was deployed to Bahrain as Commander Combined Task Force 150 which operates under the umbrella of the United States Naval Command that unites 34 nations to conduct Maritime Security Operations in the Middle East Region.
His citation said he performed his role with distinction, demonstrating exemplary leadership and outstanding professionalism, contributing to a record-breaking year of drug seizures in the Middle East region.
During the six-month command, a first for the New Zealand Defence Force in the 20-year history of the Combined Maritime Force (CMF), there were 14 successful interceptions netting over 2,486 kg of heroin, 11,476kg of hashish, 1,578kg of methamphetamine and 16Kg of Captagon pills. The street value of the seizures was more than $NZD3 billion that would have otherwise been used by terrorists and criminal organisations to fund their activities.
Captain Clark said that success was achieved through the collective efforts of amazing headquarters staff, from five nations and six services.
The CMF philosophy is 'come as you are, do what you can'. We spent time engaging with people, to build relationships, partnerships and friendships. This set the conditions for success.
He shared the whakatauki (proverb) "Ehara taku toa i te toa takitahi, engari kē he toa takitini - My success should not be bestowed onto me alone, it was not individual success but the success of a collective."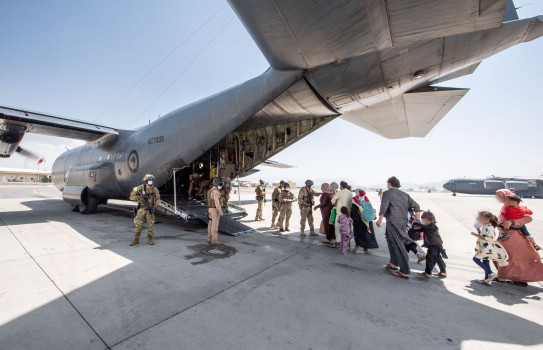 Serviceperson L
(Please note this individual cannot be identified due to the nature of his role)
Serviceman L was the officer in charge of a Special Operations Task Unit that was rapidly deployed to Afghanistan in August 2021 to conduct a non-combatant evacuation operation.
After the violent takeover of Afghanistan by the Taliban, the New Zealand Government committed to evacuate New Zealand citizens and approved foreign nationals.
Serviceman L led an advance party of Special Forces operators, required to immediately mobilise and be on the ground at Hamid Karzai International Airport in Afghanistan within 48 hours.
On arrival at Hamid Karzai International Airport, before turning his attention to rescuing evacuees, he negotiated security procedures and established key evacuation processes amid a frantic and deteriorating security environment.
He and his team managed to rescue 36 New Zealand citizens and approved foreign nationals in the first 24 hours.
On discovering a further large number of New Zealand evacuees, he was able to leverage multiple networks and worked a number of sensitive pathways to evacuate these people as well. Entering a dire situation with no existing New Zealand presence in Afghanistan, Serviceman L was able to lead the Special Operations Task Unit to save numerous lives and returning them to safety.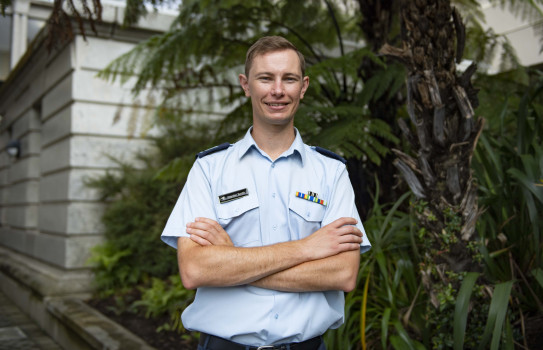 Sergeant Hayden Smith
Sergeant Hayden Smith has received the DSD for his work creating a classified data flow system, which is now being used by the RNZN as well as New Zealand's Five Eyes partners.
In September 2019, Sergeant Smith, then a Corporal, was posted into Support to Military Operations within Defence Intelligence, and was solely tasked with creating the system.
His New Year Honours citation read that Sergeant Smith "personally solved a complex issue that Five Eyes nations were struggling to resolve. Australia had a dedicated team of 40 working on the issue".
His work has resulted in him being internationally recognised for his expertise, the citation read.
"Sergeant Smith is held in high regard by our international partners for his pragmatic and collegial approach to understanding complex environments. He has provided positive outcomes at both the national and international level enhancing the reputation of the New Zealand Defence Force and New Zealand. He has demonstrated competence well above what would be expected of someone of his rank and experience," it said.
The job took the good part of two years to complete, with work ongoing to maintain and improve the system.
Sergeant Smith said he started the process by learning to use applications he had never heard of before, but "I was pretty keen to give it a go".
"I had to teach myself the back-end system they are built on, which I had some limited knowledge, but I'd never had any formal training. Then I had to learn the applications themselves, how to install and how to configure them and then how to make them do what we wanted them to do – move data from one location securely to another."
The system was so complex that teams within the Five Eyes nations could not resolve the issue of transporting classified data to the Five Eye Intelligence Enterprise.
"I didn't think I was going to get a New Year Honour for the work," Sergeant Smith said.
When I was told, I was gobsmacked. There were times I didn't think I'd pull it off, especially the first six months, it was like drinking from the firehose. I had no idea how a wee Corporal could solve this complex issue, especially being told that the other partners hadn't solved it fully.
"I definitely found myself frustrated at times and overwhelmed that I was trying to project manage this project as well as scope the requirements, as well as actually be the one doing the work. Normally for that type of project you'd have different people with a range of specialisations working on it. I think my bosses didn't know how complex it would turn out to be."
The work was completed in conjunction with the Navy's Frigate Systems Upgrade project and has been critical in operationalising the project and integrating $26 million worth of sensors with the wider New Zealand Defence Force, other government agencies and partner nations.