New Military Working Dog facility opens in Ohakea
Military Working Dogs now have a new home at Royal New Zealand Air Force (RNZAF) Base Ohakea.
20 September, 2023
Military working dogs now have a new home at Royal New Zealand Air Force (RNZAF) Base Ohakea.

Discussions about establishing a second Air Force military working dog unit, at Ohakea, first began in 2001. When plans to move No. 5 Squadron from Whenuapai to Ohakea to operate the new P-8A Poseidon aircraft became official, work began to establish the unit and a purpose-built facility for dogs and their handlers.

Squadron Leader Chris Hart, Commanding Officer Operations Squadron, said the new facility was important for the work the dogs do, performing security duties to ensure the airfield and aviation assets are secure. This includes security patrols of RNZAF assets both domestically and when deployed overseas.
"This would see the dogs employed with their unique capabilities to their full effect. They will see, hear and smell you before you see them, and then of course dogs are known for their teeth; our patrol dogs are trained to chase and bite to enable detaining intruders."
"The working dogs are now housed in a purpose-built, state of the art facility with 12 kennels. It features large equipment storage areas, exercise yards and CCTV along the kennel lines to monitor canine activity and welfare. There is also office space for the dogs' handlers and supervisors.
"The structure also features a hydrotherapy pool for the dogs, which is a conditioning and rehabilitation facility for them to swim in that will be easy on their joints."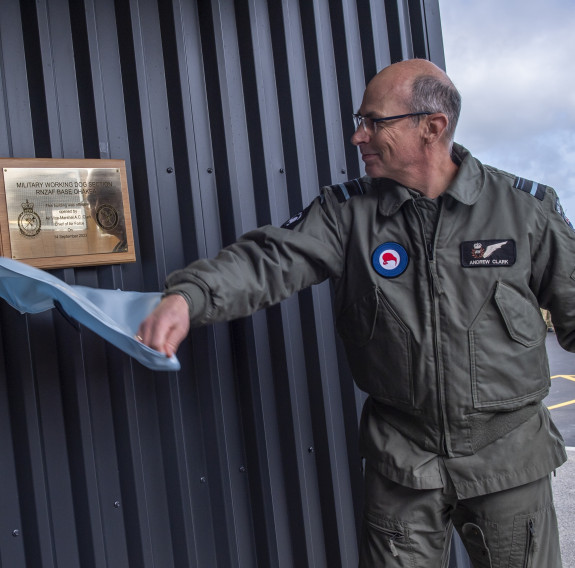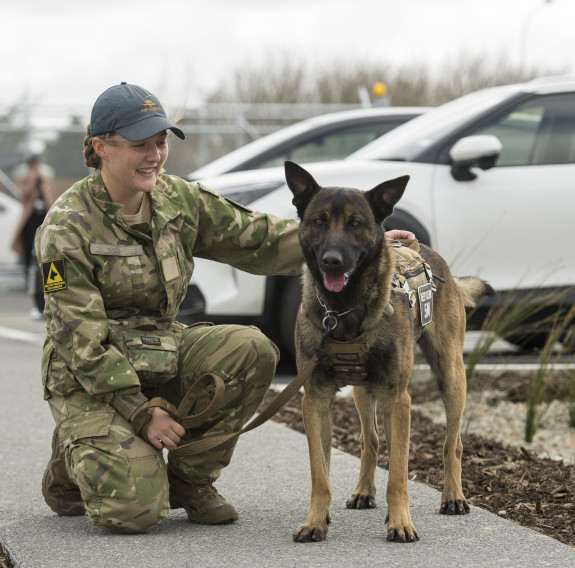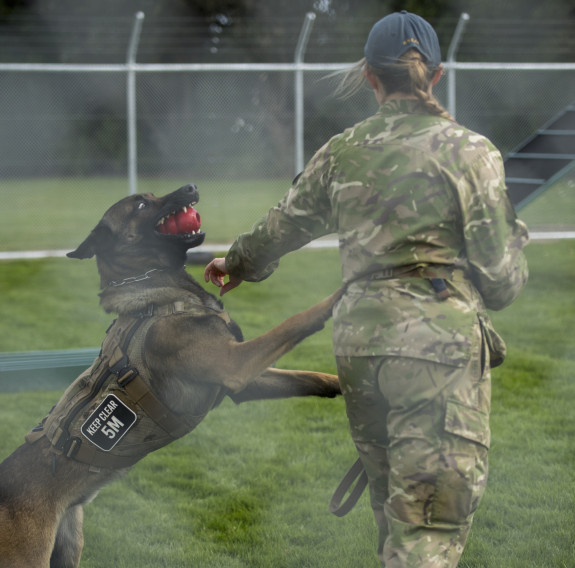 Aircraftman Ella Sands-Fore and her dog Havoc are recent graduates of the Military Working Dog basic course.

"The exercise yards are probably my favourite part of the new facility," she said.
"It's really good first thing in the morning letting them out so they can have a little play and do their thing. The pool is amazing, I can't wait to try it out with my dog. It's nice to have somewhere that's purpose built," said Aircraftman Sands-Fore.
Squadron Leader Hart said personnel training to become a dog handler begin their career in the Security Forces trade, before going through a selection process to become a dog handler and be paired with a dog.

"Every dog team is different but generally it takes 8-to-12 weeks to reach the required standard, depending on the experience levels of the handler and the nuances of each individual dog's temperament and speed of learning.
"The sight, sense and smell of a military working dog is the equivalent to that of seven people, but cannot be used in all locations because of the environment of quarantine implications. The Security Forces training pathway means you can either be employed with the military working dogs, or without. This gives our handlers greater utility in an operational setting."
Handlers ensure dogs are fit for service through walks and runs, operational training and security patrols, grooming and daily health checks.
Aircraftman Sands-Fore said her dog Havoc is a Belgian Malinois, and has all the typical traits of that breed.
"He needs his exercise but if you have a toy or a treat he'll do anything for you. He loves his bite work, anything to do with biting or tugging he loves that and playing with his toys.
"I love dogs so this is pretty much my dream job because I get to hang out with dogs all day."