Navy graduates eye up bright future
Ideas and goals realized as teenagers inspired military careers for two Royal New Zealand Navy graduates.
19 June, 2023
Southland local Hamish Catto traded a career in political science so he could explore the seas as an electronics technician, while schoolboy diver Kalani Doole decided the Navy was the obvious way to become professional.
Ordinary Electronic Technician Catto and Midshipman Doole were among 49 sailors and 27 junior officers graduating from basic training at Devonport Naval Base on June 10.
OET Catto, 21, says he started getting interested in the wider world when he was in Year 12.
"I grew up on a sheep and beef farm and I wanted to get a job that was hands-on and gave me some diversity in what I was doing," he says.
He undertook Basic Common Training, a 16-week course where new Navy personnel develop a foundation in military life. The recruits conduct drills, learn skills such as weapon handling and first aid and experience what life is like on a ship.
After basic training, personnel move on to become an expert in their chosen field. They undertake specialised training on courses, as well as on the job and through sponsored tertiary study.
"I like the idea of learning about the different systems on a ship and problem solving. I think it's really exciting when you get to diagnose and fix problems on a ship."
"I have a real interest in international relations and I'm hoping the Navy will help me develop this. The work the Navy does for example with our Pacific Island neighbours, with assistance from government agencies, helps a lot of people and that's where I think the Navy makes a real difference.
"There are so many opportunities I can explore. I'd love to go on one of the Southern Ocean trips. Serving on one of the Inshore Patrol Vessels would be a cool opportunity and a way of seeing the country."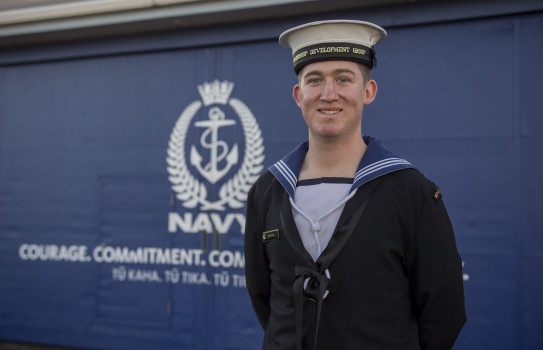 Midshipman Doole, 19, from Coromandel, joined the Royal New Zealand Navy shortly after leaving school. Having completed the 21-week Junior Officer Common Training course, he will undertake Initial Sea Time training, tackling real-time learning to live at sea.
He will then continue his training to become a Warfare Mine Clearance Diving Officer, which involves leading teams of divers in mine clearance, ordnance disposal and maritime security tasks.
Midshipman Doole was head student at Coromandel Area School, which he says gave him a taste of what it meant to become a leader.
"My experience with leadership at school was really valuable. We also did a lot of navigation on water at school which I really enjoyed. Now the Navy is the perfect place for me to develop these skills."
During his training his class got to deploy to Fiji on HMNZS Canterbury. "It really gave me an experience of what life is like on a ship.
"It reinforced that I've made the right decision to join the Navy and I can't wait to get back to sea," he says.