NATO award for Army Officer's Afghanistan work
Tying up all the loose ends of New Zealand's Afghanistan commitment as Covid-19 raged in the country was just one of the challenges Colonel Ben Bagley faced on his most recent deployment.
19 April, 2022
His demonstration of exemplary leadership and devotion to duty during the deployment has earned him a prestigious NATO Meritorious Service Medal which was presented to him by Defence Minister Peeni Henare recently.
COL Bagley deployed to Afghanistan in mid-2020. His task was to close down the Op Rua II training mission in the midst of the close down and withdrawal of forces for NATO's Operation Resolute Support. By then New Zealand had reduced its presence in Afghanistan to only six personnel, relying heavily on the support provided by the Australian Defence Force.
Deployed as New Zealand's Senior National Officer and Director of Future Operations, he was given the task to officially hand back Kandahar Air Base to the Afghanistan authorities not long after arriving in theatre. "We couldn't meet Afghan officials in person, so the whole job was completed by VTC," he said.
As the Kandahar handover was being organised, concurrent planning for the handover of air bases at Herat, Mazar-i-Sharif and Bagram was also added to the task. As the mission drew down his duties also included reducing the troop force flow into theatre to prepare for withdrawal, whilst maintaining the viability and security of key bases.
As Director of Future Operations he led the Resolute Support Force Management Board and streamlined a complex process which enabled multi-nation capability to be maintained. His job involved keeping airfield operations going at a vital air node which enabled civil and military flights to continue to support the Afghanistan National Defence and Security Forces in Kandahar Province and southern Afghanistan.
He engaged with every branch of the Afghanistan National Defence and Security Forces, and lead a disparate group of stakeholders to develop solutions that enabled airfields to continue to function once handed over by the mission.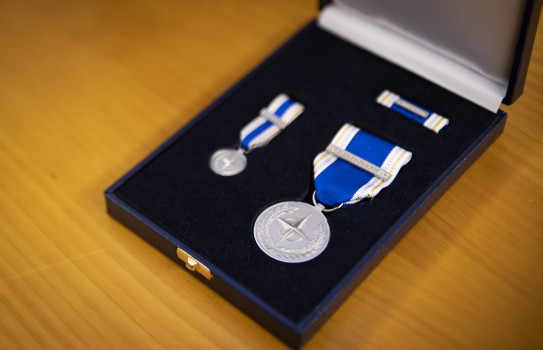 COL Bagley's citation said his efforts resulted in the continuation of airfield security and services, which preserved capability. "Through his distinguished work ethic COL Bagley has influenced, reassured and assisted members from all services of the Afghanistan National Defence and Security Forces," it said.
The spread of Covid-19 throughout Kabul meant all welfare facilities such as base gymnasiums and support facilities could not be used. "For PT it was just a matter of putting on thermals and dusting the snow off the equipment that had been moved outside to avoid the further spread of the virus." The Kiwi team based in Kabul did really well to overcome all of these seemingly insignificant challenges to ensure they maintained their cohesiveness and morale, he said.
Base dining facilities were also closed although takeaway food was available. When the chefs succumbed to Covid 19, ration packs were issued.
COL Bagley said he felt humbled to receive the award and was proud of the work he and his team achieved in what was a challenging and fluid environment.