Medic, mum, and brain tumor survivor
In June 2018 Flight Sergeant (F/S) Stacey Adam woke one morning to find that she was unable to speak coherently. It was discovered that she had a large brain tumor, within three weeks of diagnosis she had brain surgery to remove it.
07 August, 2023
F/S Adams will compete at the 2023 Invictus Games in Düsseldorf, Germany as part of the 22 strong New Zealand Team.
A medic in the Royal New Zealand Air Force, veteran, and Mum to two young boys her youngest was just four and a half months when she was diagnosed.
"When I was diagnosed it actually felt like a relief to have a diagnosis even though it was all within 12 hours of presenting to the emergency department.
I was worried I was having a stroke, and as a medic I knew the outcome of those. Also knowing I was to have surgery within three weeks, there was no time to think, I guess you could say I went into survival mode and focused on what I needed to get done.
"Probably the scariest part after I was diagnosed was the same day having chest and abdominal scans, when they were looking for secondary tumors and cancer."
She said reflecting back there were probably some signs that something wasn't quite right.
"I did have the occasional mix up or words and a little slurred speech, but it wasn't consistent. I remember at that time thinking, 'maybe I should see a Doctor about that' but I reasoned it out of my mind given I had a toddler who never slept through the night, I was seven months pregnant, and also working so put it down to tiredness."
F/S Adam said it has been a long and hard road to recovery and being part of the Invictus whanau has given her a new focus.
"The recovery process has been slow and difficult, and the follow on effects after brain surgery is something that myself and my family weren't prepared for.
"Following my surgery everything changed for me and I lost my confidence in things that I would never have thought possible. I was anxious to go anywhere as I was afraid of people talking to me or not being able to answer simple questions, or even recognizing people who I knew.
I was also anxious of people treating me differently and also afraid to meet new people. I still get nervous around people I don't know as I am hyperaware that I may have difficulty finding the right words, or just saying the wrong thing and offending people.
The idea to apply for the Invictus Games came from her hospital bed after the brain surgery that saved her life.
"When I was lying in my hospital bed the 2018 Invictus Games New Zealand team has just been named. I read some of their stories and thought that maybe it was something that I could aim for in my recovery.
"Sport had always been a big part of my life and I enjoy being part of a team, but I had lost my confidence to participate and compete. I applied for Invictus as a way to help me regain some of my confidence and find a path to acceptance of both my illness, and also discovering the new me.
"My fellow Invictus teammates have really helped me on my way to acceptance and embracing my 'duh brain' as we like to affectionately call it," F/S Adam said.
Initially being selected for the 2020 team, which was to complete at The Hague but due to the Covid-19 pandemic wasn't able to, it has been a long road to get to finally be able to compete in Germany for F/S Adam.
Finally making it to the Games after such a long journey since first applying and proving to myself how far I have come is what I am most looking forward to about the Games.
"I feel privileged to have been selected for the team and am grateful to be given the opportunity to go on this journey for myself, my family, and also with my fellow competitors.
"I've come to realise how important sport and exercise is for my recovery and also trying things that I may have never attempted if it wasn't for Invictus," she said.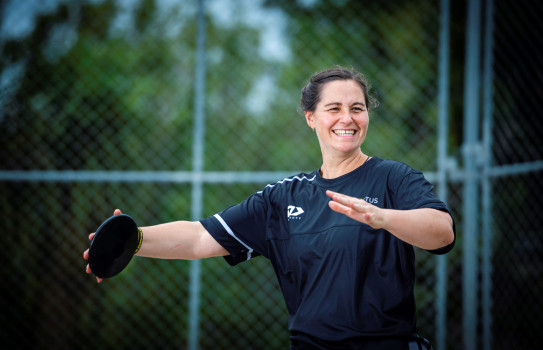 F/S Adam is thankful for the support her family has also provided for her.
"My partner has been a fantastic support. The first year following surgery was a very difficult time for him as well, having to take on a lot of the burden both mentally and physically.
"He encourages my participation in Invictus and sees first-hand how much I have gained from being involved with Invictus, even though I haven't yet competed.
"My parents have also been great help, often coming to stay with us if my partner was away for work, as for a long time I was unable to cope on my own looking after two children," she said.
F/S Adam has taken her passion for all things Invictus over the last four years to the next level and is one of two New Zealand volunteer moderators for the Invictus Games Foundation's 'We Are Invictus' app.
'We Are Invictus' seeks to build, maintain and reinforce the global network of those with a shared history of wounded, injury or illness during or as a result of service to their country. Launched in 2019 by the Invictus Games Foundation, it allows users from around the world engage with each other on a global Invictus platform.
"I have gained so much from being part of the Invictus community and I want to get the word out there.
"I want to give something back to the WIS community and get more people engaged and feel comfortable reaching out for help. The app isn't just for past or future Invictus competitors but all those who have been wounded, injured or ill as a result of their military service," she said.
F/S Adam will compete in Rowing, Table Tennis, Swimming and Athletics at the Games.
Click the video below to hear more from Stacey ⬇️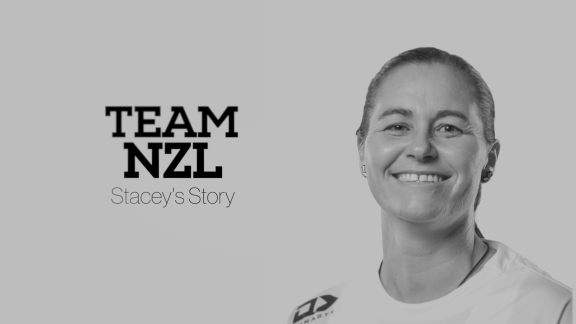 About The Invictus Games
The sixth Invictus Games will take place in Düsseldorf from 9-16 September under the motto "A HOME FOR RESPECT" and together with the German Armed Forces, will welcome around 500 competitors from more than 20 nations, as well as around 1,000 family members and friends, to compete in ten sporting disciplines.
Click here to follow our journey to The Invictus Games.