Māori Language Week: Lieutenant Colonel Glenn King
"O nāianei he mea rawa atu ki ahau. My culture means everything to me. It didn't always, but I can't dwell on that. I read an article recently and the writer said that being Māori is magical, and it was their superpower. My Māoritanga empowers me."
13 September, 2022
Nō te tau o 1989 ahau i puta ana i Ngāti Tūmatauenga – I joined the New Zealand Army in 1989. I attested two weeks after my 18th birthday and signed up as a rifleman.
Despite my parents being in the Royal New Zealand Air Force, it was only going to be the Army for me.
I had an uncle in the corps of Royal New Zealand Engineers and another in Royal New Zealand Corps of Transport (RNZCT), and I can recall going to visit them in Papakura. Seeing them in their uniforms and listening to them talk about their service had a big impact on me and here I am today.
He Kaitohutohu Mātua Māori ahau ki Te Ope Kātua o Aotearoa - I am the Senior Māori Advisor in the headquarters of the New Zealand Defence Force. This is a new role, and while my title says advisor, I do a lot more than that.
I am also part of a network which includes the service Māori Cultural Advisors who do a lot of great mahi, together with a number of advocates and supporters throughout the NZDF.
There is no average day for me - it is varied. On one hand I can be working at the macro level, such as continuing the development of Kia Eke, our NZDF Māori Strategic Framework, while at the same time helping someone develop their pepehā, and everything in between.
I see a lot of cool people in our organisation assisting those who want to know or do more to uplift themselves within te ao Māori. There are many people both within the NZDF and outside who have this knowledge, so helping connect people with each other is a big part of my mahi. Kia kaha rawa ētahi o ngā taura e paihere ana i a tātou.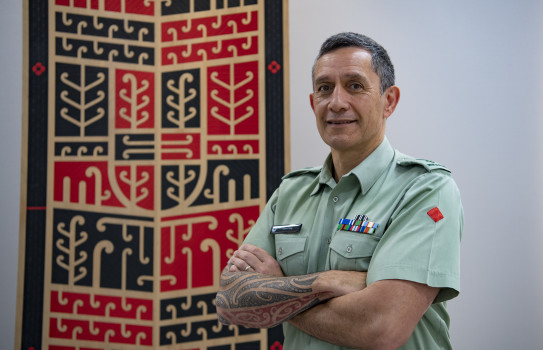 I a au e tamariki ana e noho mātou te whamere ki Aotearoa me Hāmoa. I was born in Marton, then we moved to Woodbourne before settling in Birkdale, Auckland, all before I was seven years old. We then lived in Samoa for just over three years, which was awesome. Then it was back to Auckland.
While I was raised a townie, Mum and Dad would always take me and my brother back to the marae.
Ko Muarangi te maunga, ko Te Wairoa te awa, Ko Kaipara te Moana, ko Waikaretu te Marae, Ko Pouto te Papa Kainga, anei he uri o Haumoewaarangi.
O nāianei he mea rawa atu ki ahau. My culture means everything to me. It didn't always, but I can't dwell on that. I read an article recently and the writer said that being Māori is magical, and it was their superpower. My Māoritanga empowers me.
While I grew up feeling comfortable in Māori spaces, I never understood the history of my tūpuna. I have always been curious, and wanting to learn my whakapapa was a big goal of mine. While I knew I was from Te Tai Tokerau, knowing that I also have connections to Te Arawa and Ngāti Kahungunu has been a wonderful journey.
He maha ngā Ika a Whiro i tōku whānau. I have a number of family who have served in the forces. As I said both my parents served and my dad is a veteran of the Borneo and Malaya campaigns, and while stationed in Singapore he flew into South Vietnam. My brother served as a soldier in the RNZCT as a chef. Two of my grand-uncles served with A Company 28th Māori Battalion, with only one of them returning home. Because I am in Ngāti Tumatauenga, I feel part of very large military family.
My time in the Army has afforded me the opportunity to travel overseas and also become intimate with places in Waiouru like Zone 1, Baggush and Stowmans Range. I vividly remember my first exercise after joining 2/1 RNZIR. I remember this because I felt I had finally made it to being a real soldier, and then I realised pretty quick I had so much to learn.
My first exercise overseas was Ex Swift Eagle 1990 in Australia, which was an eye-opener. In the 1990s we did a lot of unit and formation level exercises. I went to Bosnia in 1999, and while there INTERFET went into East Timor. I was there with NZBATT 4, and with NZ Provincial Reconstruction Team 06 in Afghanistan.
I left the Army in 2018 to spend more time with the whānau and continue to learn te reo Māori. I spent a lot of time helping out at my children's school, from helping out with kapa haka to doing road patrol. I was fortunate to spend some time with a small group of Māori and Pacifika boys who were finding things a bit of a challenge at school. After six months together, we had all grown a foot taller. They were able to stand in front of their teachers and whānau and deliver pepehā and haka, and we all enjoyed a hangi that these young boys had helped to prepare. This is the power that emanates within te ao Māori.