Machine Guns, Mortars and Shoddy Bike Parts – an Armourer's trade
Armourers in the New Zealand Army are highly skilled in the maintenance and repair of a wide variety of weapon systems used by our soldiers.
18 July, 2023
Joining fresh out of high school in 2012, Corporal Ash Peden thought the Army would be the perfect balance between getting a trade, keeping fit and doing something adventurous.
"I had a somewhat rural upbringing growing up in Kurow, North Otago, with a fair amount of hunting and shooting.
"I applied to be an Armourer as I could build on that passion I had handling firearms with the skills and knowledge to fix them."
As an Armourer Section Commander at 2nd/1st Battalion, Royal New Zealand Infantry Regiment in Burnham, a typical day for CPL Peden will include starting the day out with physical training, then into the workshop to assist in the management of the weapons section.
"The majority of the day-to-day work typically consists of repairing the vast array of weapons the Infantry train with. This can range from pistols and rifles up to mortars and grenade machine guns."
"On top of that there's a fair amount of other support we provide too like delivering lessons on operator maintenance, giving technical advice to enhance training and supporting Infantry whenever they head out on field exercises," he said.
An Armourer will work on a variety of equipment, starting with pistols and rifles and in time progressing to machine guns, mortars, and the weaponry on armoured fighting vehicles and artillery.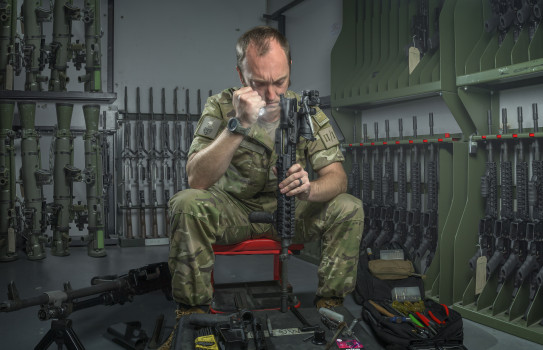 CPL Peden said he enjoys being presented with technical challenges in his role that really gets him using the "top two inches" which will often lead to learning something new.
"Being an Armourer in the Army is a great trade, it's a profession you won't learn anywhere else."
"It often provides opportunities to get away to wherever the weapons are. Whether it's supporting the combat trades on a field exercise, travelling overseas to the factory to learn about a new weapon system, or deploying on an operation.
"We usually have something interesting going on," he said.
He has been lucky enough to travel to the United States as part of the Factory Acceptance Testing team in 2018 and visited the Barrett Factory in Tennessee.
"We were there to learn about the two new sniper rifles the New Zealand Army had just purchased, and inspect them prior to being issued throughout the Army.
"That was a real highlight of my career so far."
Armourers will provide maintenance support in multiple environments including in the workshop on base or as part of a forward repair group working from a mobile workshop deployed in the field. They also are deployed in a variety of overseas exercises and missions primarily in support of other units.
CPL Peden deployed to Iraq in 2019 on Operations Manawa, as an Armourer his primarily role was supporting the Kiwi contingent.
"On top of that I was assisting the Australian Army Armourers with servicing and repairs for their weapons and vehicles.
"We provided limited range support to the Iraqi Army Brigade we were training, assisting with the distribution of equipment, and most importantly providing maintenance and repairs to the fleet of bicycles the contingents were using to get around Camp Taji. Which was no small feat in an area full of dust, muck, debris, and shoddy bike parts."
He said his favourite weapon to fix would have to be the MAG 58 7.62mm Machine Gun.
"It is such a versatile weapon – it could be given to a section to patrol with, mounted to any vehicle or employed in sustained fire role to supress a target.
"I have been on many different exercises where the MAG 58 has been used, and it is often the workhorse of that exercise."
Since joining the Army CPL Peden has gained National Certificates in Basic Engineering, Mechanical Engineering, Business (First Line Management), and Adult Education and Training. As well as multiple driver licence endorsements including the Bridge Engineering Self Supervision licence for bigger vehicles.
For more information on joining as an Electronics Technician in the NZ Army visit www.defencecareers.mil.nz