Life in uniform: Private Leah Miles
Private (PTE) Leah Miles, 2/4 Battalion, Royal New Zealand Infantry Regiment is a person who enjoys a challenge and says recruit and Reserve Infantry Corps training gave her that every single day.
09 June, 2022
PTE Miles is no stranger to challenging herself, and if you are a women's rugby follower you might well recognize the name Leah Miles from Otago Spirits Women's Rugby Team.

PTE Miles is in her final year studying a Bachelor of Science majoring in Psychology and minoring in Sports and Exercise Sciences at Otago University, and also works part-time at the university gym where a few of the women identified PTE Miles as being a good contender for joining ResF. They had also joined and loved the training, the challenges and the friendships formed.
During lockdown in 2021, PTE Miles and a fellow Spirits team member were locked down together in Dunedin and rose every morning at 0600h to train. PTE Miles confesses it was the mornings that were a struggle during her Army training.
On Corps training we were critiqued every day. This was my biggest mental challenge.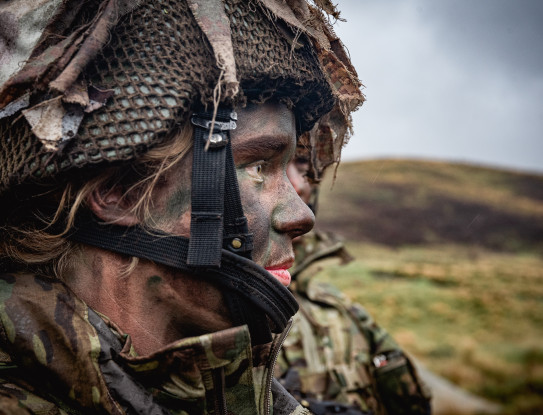 "Even getting out of bed at 0530h every morning after a long day was a challenge. I'd never done anything remotely like what I did on recruit training. I ended up loving it and thriving on the challenges."
She reminds potential recruits to arrive with a mindset of being comfortable with being uncomfortable, enjoy every day and expect the unexpected. There are times when you are going to feel out of your depth but it's all worth it in the end, she says.
"On Corps training we were critiqued every day. This was my biggest mental challenge. In the beginning, I became flustered but with repetition it built my confidence," says PTE Miles.
She says people are now shocked by what she can accomplish in a day. Everything from organisation strategy, self-confidence, communication and tolerance towards others have all been unexpected life skills she has come away with from her short time in the Reserve Forces.
"Graduation Day was pretty special and meant a lot to many of us. I was super sad to leave all my friends. I am so grateful about what has come out of my training and for everyone who I met.
"My parents were super proud of me. They thought some of the stories sounded funny and couldn't believe I had lived this whole different life over the summer!"