Invercargill man soars above old stomping grounds as Black Falcon
Invercargill's Anthony Rose used to tear around the sporting venues of Otago and Canterbury representing Southland, and years later entertaining those same cities from the cockpit of a military training aircraft has proved a special moment.
02 March, 2023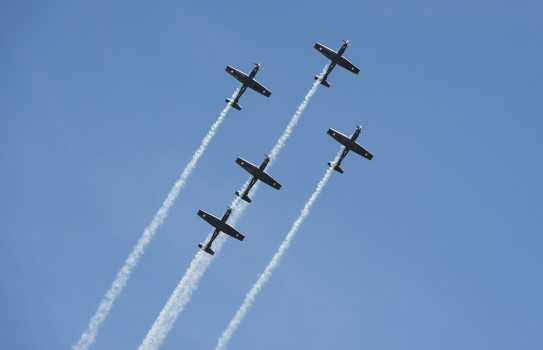 A member of the Royal New Zealand Air Force's (RNZAF) aerobatic team, The Black Falcons, Squadron Leader Rose said it was always great fun being involved in aerial displays, and flying above Dunedin and Christchurch was extra special.
The Black Falcons performed above the southern cities, and also Kaikōura, over one weekend last month, the team's first South Island display since Covid-19 disrupted activities.
"Growing up, I would go to Dunedin and Christchurch in the weekend for water polo and soccer, so it's cool to fly over there," Squadron Leader Rose said.
It was also extra special that his Christchurch-based sister could watch him and discuss it afterwards.
The former James Hargest College student joined the Air Force in 2009 straight from school.
Following graduation from pilot training on the Beechcraft Super King in 2011, he was seconded to Air New Zealand and flew domestic routes for two years.
He then posted to No. 40 Squadron in Auckland to fly the Boeing 757.
Over five years he flew all around the world, from Norway down to Antarctica. Captaining multiple Operation Antarctic missions and supporting humanitarian relief missions were highlights, he said.
Squadron Leader Rose was then posted to No. 14 Squadron in 2018 to train pilots in the T-6C Texan. He now holds the title of Flight Commander of Central Flying School.
He remembers joining the Air Force and watching the display team and thinking he would like to do that one day.
While he has ticked that goal off, his current day-to-day role sees him train the flying instructors, who will then train the new pilots.
Being a part of the display team didn't differ too much from skills they learnt during training, he said.
"Being a Black Falcon is an additional duty but it's worth it."
This is his second season as a Black Falcon, but he didn't actually get to do any displays in his first season as Covid-19 grounded the team displays.
"After two seasons of training it's great to be able to finally show the skills of the RNZAF to the public and have a great time flying around the country."