Indo-Pacific military exercise also about encouragement
An Indo-Pacific exercise aimed at responding to natural disasters has presented a different opportunity for Royal New Zealand Navy Chaplain Rich Lander – a chance to speak with Samoan children who have already been through trauma.
28 September, 2023
Nearly 1500 personnel from 16 countries are involved in Exercise Pacific Partnership - an annual United States-led exercise that was developed as a way to improve on the disjointed humanitarian assistance and disaster relief response to the 2004 Indonesian earthquake and tsunami.
Chaplain Lander, from Winton and a Central Southland College old boy, is one of 12 New Zealand Defence Force (NZDF) personnel taking part in the exercise at various stages. Their areas of expertise include physical training instruction, physiotherapy, rehabilitation, music and dentistry.
It is the second time he has visited Samoa in his seven-year NZDF career and he had a busy schedule during his week in Apia.
That included speaking to inmates at Tanumalala Prison, providing muscle in a skills session with some of the Samoan Women's Rugby Team and participating in a Zumba class with the United States Navy Band and students at Saint Mary's School.
There was also collecting sacks of rubbish in a beach clean-up, and impressing the crowd when he delivered the benediction in Samoan at the formal reception for Samoan dignitaries aboard USS Jackson, the United States' littoral combat ship which is being used in the exercise.
But the highlight was speaking to the children at the Campus of Hope.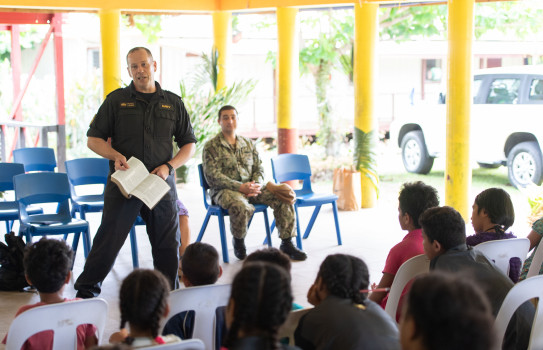 With many of the children having been abandoned by parents or suffering from abuse, Chaplain Lander said being there was special but sobering, and he aimed to provide a message of encouragement.
"I talked about the journey of Moses, who didn't have an easy life starting out, however in the right environment he was able to fulfil his potential. It's not how you start, but how you finish. We were able to leave some sports equipment with the children, and it was great to be able to bring them some joy."
Elsewhere in Samoa, a diverse multinational Pacific Partnership team was working with locals in the fields of medicine, engineering, music and veterinary science.
"To be able to 'plug into' the great work that was already happening on the ground was very cool," Chaplain Lander said.
"The heart shared by all personnel involved was to work with the Samoans and add value wherever we can, so a real team effort."
Exercise Pacific Partnership 23 is led by US Navy Captain Claudine Caluori, Commander of Destroyer Squadron Thirty One.
Other ships involved in Pacific Partnership include the dock landing ship USS Pearl Harbor, Republic of Korea tank landing ship Cheon Ja Bong and Japanese Maritime Self Defense Force tank landing ship Shimokita.
Nations taking part include Australia, Canada, Chile, Japan, Republic of Korea, the United Kingdom and the United States. The exercise moves through Vietnam, the Philippines, Malaysia, Samoa, Palau, Papua New Guinea, Fiji, and Tonga.