HMNZS Te Kaha is dockyard's biggest project
For Babcock New Zealand, HMNZS Te Kaha's upgrade and refit is the largest project the Dockyard has undertaken for many years.
01 September, 2022
The Royal New Zealand Navy ship returned to New Zealand in December 2020, after her three-year upgrade. It went on to have a worthwhile 2021 year that included a South East Asia deployment, joining the United Kingdom's Carrier Strike Group near the Philippines, and Exercise Bersama Gold in Singapore, partnered with HMNZS Aotearoa.
But the modern capability installed in Canada doesn't stop the clock on essential maintenance overall, and in Te Kaha's case, that's over 640 jobs running from January 22 to regeneration activity in the New Year.
The ship is currently on blocks in the Calliope drydock at Devonport Naval Base. Among the team overseeing the refit are Babcock Project Manager Peter Helsby, Lieutenant Commander Shaun Taylor, Weapons Engineering Officer, Lieutenant Commander (LTCDR) David Hellriegel, the ship's Marine Engineering Officer, and the Commanding Officer, Commander Kane Sutherland.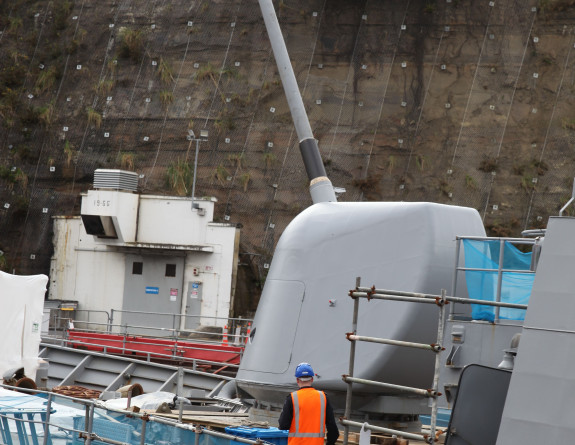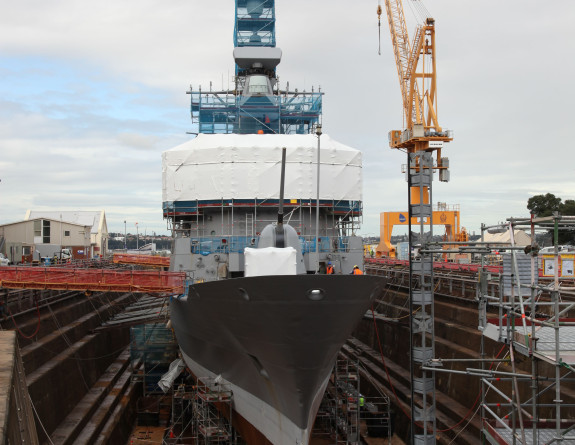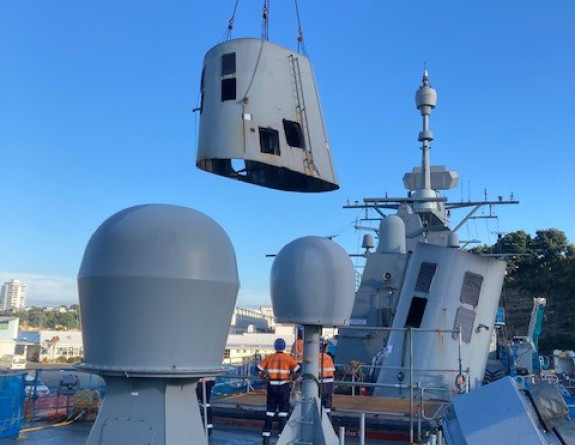 Perhaps most notable refit items are the replacements of the ship's main engines and forward generators. "That was a big critical path," says LTCDR Hellriegel.
"This is our third set of main engines in her life so far, and the second time we've replaced the forward generators. We're always learning something new about these ships, but I've never been in a package quite this deep before, involving the entire propulsion plant."
Engines are big clunky things, he says, and while the design of the ship has routes through the decks and bulkheads for replacements, it's not easy. Especially when the ship has new Sea Ceptor missile launch pads near the works. "It's never been done before," says Mr Helsby.
"But we were able lift all launch pads out as a module. That was quite a relief when it came out."
Then there's that most basic feature of an older ship – corrosion. The hull plate varies in thickness, from 6-7mm steel plate at the top, widening to 14mm at the keel. Corrosion can occur from the inside, and in fact ballast tanks are particularly prone to it.
"We do a continuous survey of a ship's hull," says LTCDR Hellriegel.
"It's not that it's rusty, and the hull integrity is fine. But after a time it won't meet international standards."
The ship has over 40 tanks and all have to be emptied. Then 'hull inserts', replacement plates of steel are welded in, peppering the hull below the waterline.
The team is fabricating brand-new bilge keels, fin-like keels on the lower hull to ease rolling motion. But the biggest and most impressive piece of new fabrication is the ship's funnels. Rather than repair the old ones, now heavily corroded and carbon-scored, the team has created two bespoke 'jigs' as templates for the funnels, then fabricated the new funnels from scratch. It's an 'old-school' dockyard task that used to happen all the time.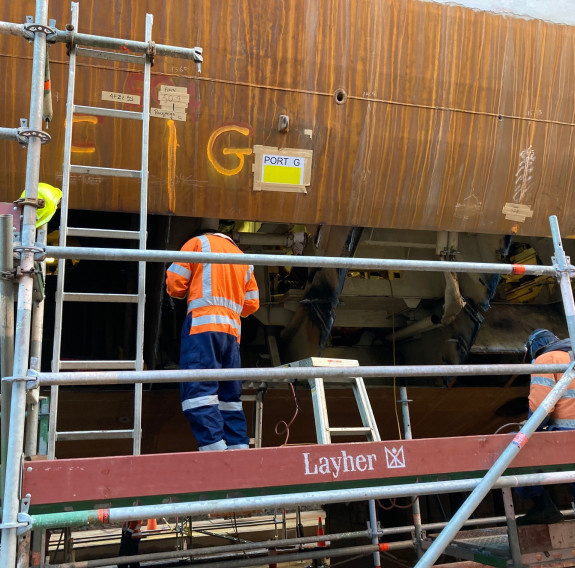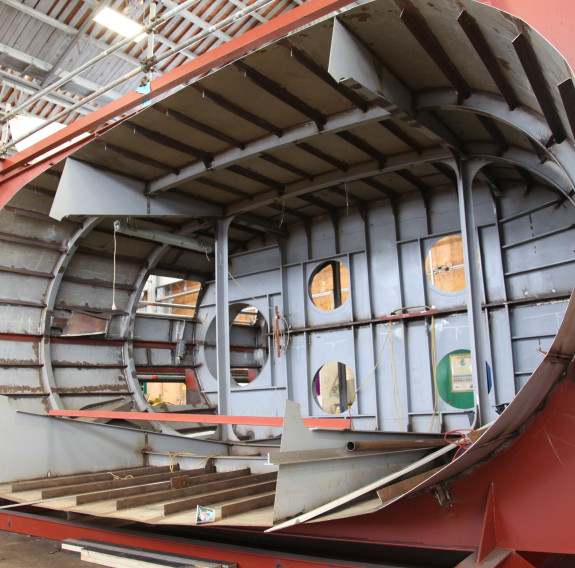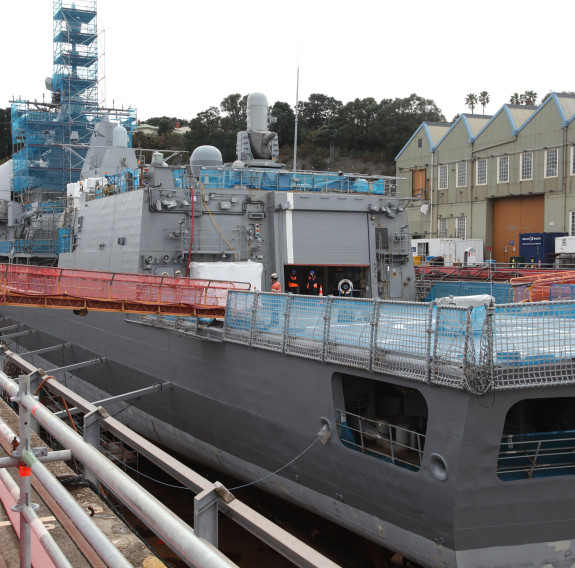 "It did result in some head-scratching by more experienced fabricators, and happily, led to new skills being learned by those with less experience," says Mr Helsby.
Considering the scale of the work needed, it's impressive the ship embarked on a South East Asia deployment in 2021.
"Well, we had Aotearoa with us," says LTCDR Hellriegel.
"So any systems we thought we would have issues with, we put spares on Aotearoa."
But now the time has come to sort it all out, and it's really satisfying, says LTCDR Hellriegel.
"The ship is going to be in a really good state, machinery-wise, and with new engines. It's a long process, and we've been working really hard. It's been a big team effort. For us, this is a passion, a calling. These guys don't just turn up and punch a card. We're all committed to getting the best result, and getting everything sorted, to have Te Kaha in the best material state we can get."
Read more about HMNZS Te Kaha here.