Hawke's Bay soldiers in middle of Gabrielle response
As first responders to Cyclone Gabrielle, New Zealand Army Reserve Force soldiers Staff Sergeant Todd Rogers, Privates Ashton Tyack (Tong) and Savannah Williams felt humbled and privileged to assist their community.
03 March, 2023
The trio, all hailing from Central Hawke's Bay, found themselves in varying roles assisting in the initial and ongoing response from the New Zealand Army. Serving in 5th/7th Battalion, Royal New Zealand Infantry Regiment, East Coast Company, Napier, meant they were part of the initial response team.
Staff Sergeant Rogers prepares students for life in the New Zealand Defence Force, Police and Corrections in his day job as creator of the Services Pathways programme at the Eastern Institute of Technology | Te Pūkenga.
At Eskdale, he noted the contrast between the excitement of children, still in pyjamas and covered in mud, getting a ride in a Unimog, and the obvious distress of their parents.
"It's been heart-breaking with what's happened but heart-warming seeing the way locals are all helping each other."

Staff Sergeant Todd Rogers
He served as an engineer in the Regular Force so his skills have been called on to assess damage and to relay the information back to NZ Army engineers so the right equipment can be transported to each location. He's travelled far and wide during the response.
"The further away from the city, the more hearty and resilient the people are. They come to town and purchase two weeks of food at a time so they are pretty well set up.
"There's some bloody awesome people out there."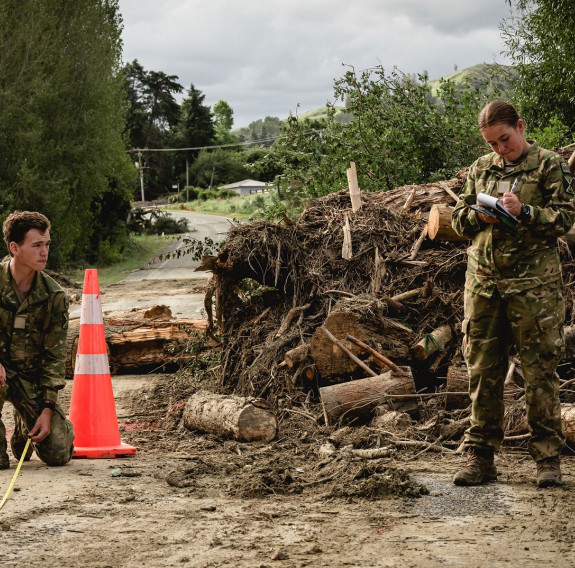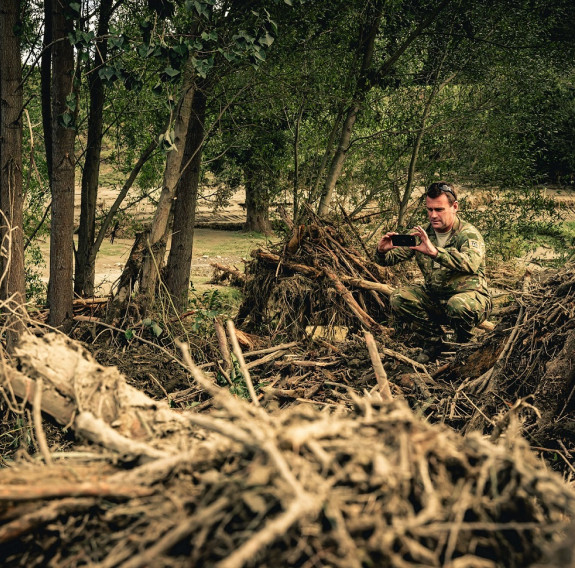 Private Williams, recently posted to the unit after completing her Reserve Force Recruit training, was thrown in the deep end.
Adapting quickly to the tempo, completing a variety of tasks, and always with a smile, the 19-year-old found the experience filled her with a sense of relief that she could actually pick up tools and assist.
"It's just been good to help," she said of her experience.
"A lot of people want to help and don't know how. I'm lucky to be in the position to assist as part of the NZ Army response. Obviously, what's happened to people, it's devastating but I feel lucky to be able to help where I can."
Private Ashton Tyack wasn't expecting his 19th birthday to roll out quite the way it did but he took it all in his stride.
"We cracked on like a normal day," he said. Private Tyack has been assisting with many of the tasks with quiet determination and motivation.
"It has been good to be out in the community and giving back, and it's rewarding being able to lend a hand to help people in their time of need."
Although his birthday might not have panned out as planned, Company Sergeant Major, Warrant Officer Class 2 Billy Te Hiko wasn't going to let the day go by without acknowledgement, organizing birthday cakes for Private Tyack and another soldier also celebrating their birthday.
Soldiers from East Coast Company have now been stood down to return to their civilian employment. However, Staff Sergeant Rogers, and Privates Williams and Tyack (Tong) continue to assist in the response.
Any Defence Recruiting enquiries can be directed to 0800 1 FORCE. Each Reserve Force company has its own training programme in line with its battalion's training focus. Company level training typically occurs one weekend a month with platoon level training occurring once a week.