Hard line against bullying earns instructor Soldier of the Year title
Corporal Nori Lee is breaking down barriers, battling bullying and finding ways to improve techniques with weapons, earning him the title of 2021 Soldier of the Year.
05 November, 2021
The 27-year-old, who is originally from Auckland, is an instructor for Depot Company, which manages and conducts 2/1 Royal New Zealand Infantry Regiment combat corps training.
His commitment to his role and willingness to go the extra mile in his core job were highlighted in his citation, as well as his commitment to the values of the New Zealand Army.
On top of physical courage and exceptional soldiering skills, Corporal Lee has displayed moral courage in shutting down bullying when he becomes aware of it.
"He understands that bullying or harassment is not helpful to training or morale as it can undermine confidence," said his commanding officer, Lieutenant Colonel Cory Neale.
The support he shows fellow soldiers also reflects the NZ Army's expectations around dealing with mental health challenges.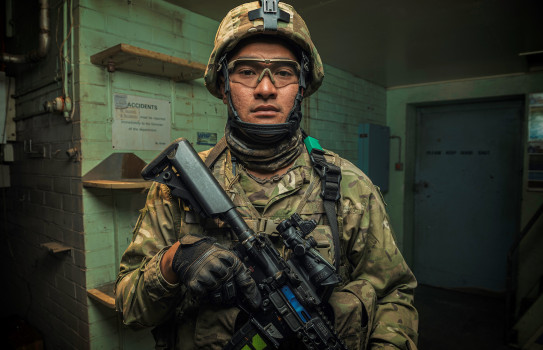 He was also commended for his community work, which included donating to food banks and homeless causes.
Corporal Lee comes from a Chinese background. He enlisted in 2012 and in 2016, when a private, he deployed on Operation Manawa, which helped train Iraqi soldiers at Camp Taji.
This year, Corporal Lee did an enormous amount of work helping develop techniques that improved the use of weapons during urban warfare training, comparing NZDF weapons with other similar weapons and the types of ammunition they use.
This helped him win the Depot Company instructor Excellence Award this year.
"He outshone the best instructors and junior non-commissioned officers in 2/1 RNZIR," LTCOL Neale said.
Warrant Officer of the NZ Army Wiremu Moffitt said Corporal Lee was a clear allrounder, with strengths in teamwork, training and diversity.
"CPL lee has clearly demonstrated the core NZDF ethos and values of Courage – Tū Kaha, Commitment – Tū Tika, Comradeship – Tū Tira and Integrity – Tū Maia and is a worthy recipient of Soldier of the Year. He is not only a dedicated soldier but an active and valued member of the wider community."