Governor General gives thanks for COVID efforts
The Governor General's first official visit to the home of the Navy included a powerful message of thanks for the fight against COVID-19.
27 January, 2023
Dame Cindy Kiro was welcomed at Devonport Naval Base's marae, Te Taua Moana, on 26 January, her first official visit to the base since taking office.
In her speech at the marae, she thanked the Navy for its service, notably in its commitment to Operation Protect, the government's strategy against COVID-19.
With the conversion of hotels into Managed Isolation and Quarantine Facilities in early 2020, Navy sailors and officers were among approximately 1,200 Defence Force personnel who helped staff them over two years. Naval personnel also manned road borders during lockdowns, assisted at commercial ports and interviewed yacht owners in coastal waters.
"I know the arrival of the global pandemic had a considerable impact on your training, operations and family life. New Zealanders are deeply grateful for your commitment to Operation Protect. Thank you for what you have done to keep our people safe."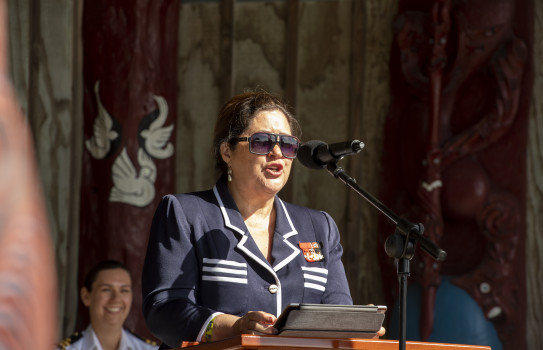 "At a time when civilian society discovered a new appreciation for 'He waka eke noa' to combat COVID-19, naval personnel already knew full well that a ship cannot fight unless it operates as a unit."
In a later tour of Maritime Sustainment vessel HMNZS Aotearoa, Dame Cindy was shown a video of the ship's 2022 deployment to Tonga following a volcanic eruption and tsunami, and re-rolling for the ship's first resupply mission to Antarctica.
"When there is a national emergency, our naval personnel have been called upon to provide prompt assistance – here and amongst our Pacific neighbours. Sadly, the impact of global warming will only increase the frequency of those responsibilities.
"Wherever you are on the globe, I know you will continue to be proud ambassadors for Aotearoa, global cooperation, peace and security."
Dame Cindy handed out the 'Bravo Zulu' Awards, the awards for the best-performing fleet units and services in 2022.