From Warfare to Weeding
When your unit's title includes "Sea Power and Warfare", you know weeds aren't going to stand a chance.
10 October, 2023
Six Naval staff members from the Directorate of Sea Power and Warfare took a break from their work to support a conservation group in Taupō last month.
The unit were looking for team building ideas that supported a local community. The Department of Conservation suggested conservation group Greening Taupō (GT) and a plan was agreed.
Team leader Commander Rob Welford said one of GT's projects is at Hipapatua Reserve on the road to Huka Falls, where non-native vegetation had been cleared for replanting.
"During what turned out to be quite a hard day's work on the banks of the Waikato River, the six from DPSW, Robyn Ellis from GT, and two DOC rangers got stuck in," he says.
"The first job was using hand grubbers to pull out weeds and grass from around young trees planted in earlier seasons, so that the DOC rangers could safely use heavy duty weed-eaters to clear stifling vegetation without damaging the fledgling natives.
"After that the team dug and marked about a hundred holes in the cleared area, ready for a community planting event that was taking place the following weekend - apparently school age volunteers are better at planting than digging the holes!"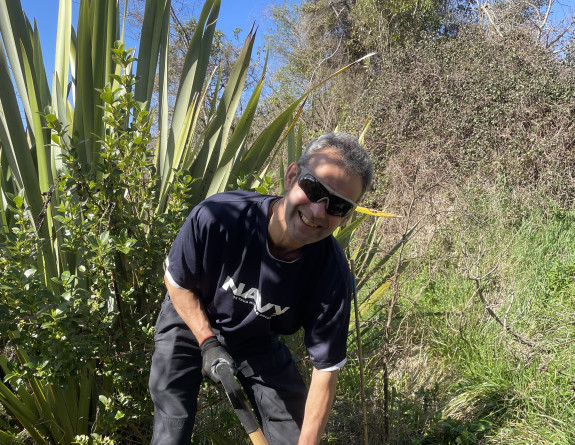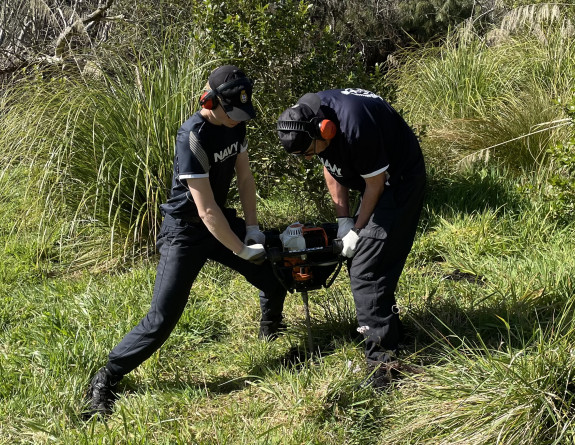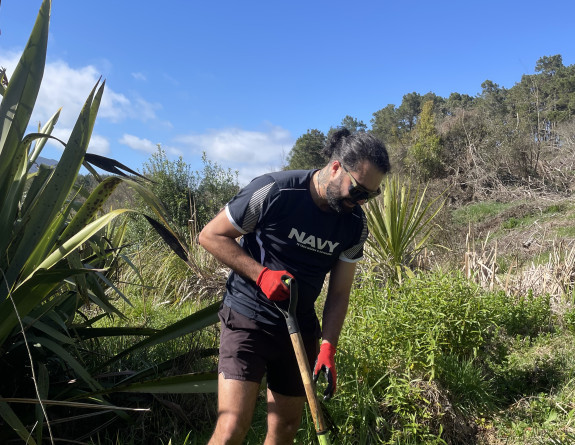 The group got a chance to plant trees as well, mainly kahikatea and Ribbon Wood trees.
Mulch is needed for new trees to stop them drying out, and the team used their military training in a human chain system to keep buckets of mulch coming. In a short time two large areas of native plantings, done over two weeks, were mulched completely.
"By the end of the day there were certainly some stiff joints and aching muscles, but the visible difference made by six people working as a team was clear, and the sense of achievement was hugely satisfying. The team had set the objective of doing something for the community and that was definitely achieved."
The Directorate of Sea Power and Warfare, based in Devonport, handles writing, reviewing, and updating doctrine, tactics, techniques, and procedures for the conduct of Navy operations. They also provide advice to procurement and capability projects, to inform future naval equipment projects, such as buying new weapons or ships.