From Auckland to Düsseldorf
Air Force veteran of 33 years, Mike Cotton took on a challenge that would ultimately show him his strength, resilience and sheer determination to be the best he can.
27 April, 2023
He served as an Aircraft Technician for 18 years with the Royal Air Force in the United Kingdom before serving for 15 years with the Royal New Zealand Air Force and will compete at the 2023 Invictus Games in Düsseldorf, Germany in September.
As part of his training for the cycling events at the games, he decided to cycle the virtual distance from Auckland to Dusseldorf, a total of 18,300km.
Having just completed the distance it has taken him just over two years, the distance he has cycled equates to an hour every day for 90 weeks.
There is a special connection to Düsseldorf for Mr Cotton, he lived in Elmpt, a German Village 50km West of Dusseldorf when he was posted to Germany with the Royal Air Force during the Gulf War.
"Düsseldorf is one of those cities we used to visit for the annual fair on the banks of Rhine, and visiting the aquarium that is actually right next to the Invictus Games Venue.
Some of the events from the 1990 that lead to my PTSD occurred during my posting to Germany, going back is kind of going to be full circle and hopefully provide some closure 32 years later.
After initially being selected for The Hague 2020 Invictus Team, which due to the Covid-19 pandemic New Zealand did not sent a team, he has been hard at training.
"When I picked cycling as a sport, I hadn't cycled for years, initially it was difficult because I was so unfit. When I started the distance from Auckland to Dusseldorf I was certainly not a cyclist.
"All my cycling training has been high intensity to build bigger better lungs and legs. The distance travelled is kind of a by-product of that, there have been no cruisy rides just to clock up the kilometers," he said.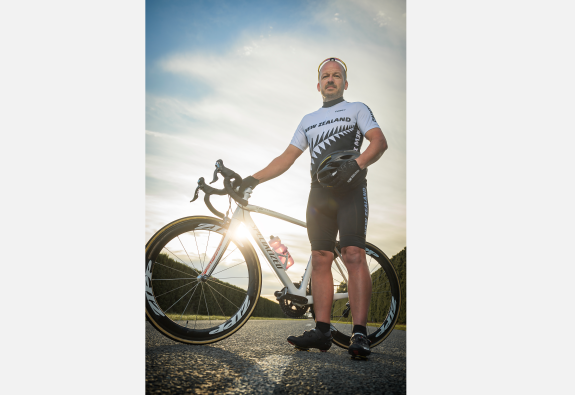 The majority of his training has been done virtually on Zwift, which allows him to maximize his training time in a structured manner using the training plans.
"All the Kiwi Invictus cyclists were given an indoor trainer as part of The Hague Games build up, but I rapidly our grew mine, so brought a new one. I wore out the first trainers bearings out after about 10,000km, so now I'm onto my second.
"Over the winter most of my time has been spent indoors on the trainer, now that I am back outside I can really see improvement out on the road.
"Cyclists are rated from A to E for online racing, depending on how powerful they are. Initially I was below the E grade, but have lost 8kg and can hold my own when racing online in a B grade race now," he said.
In 2016 Mr Cotton had the opportunity to spend a day watching the Kiwi team compete in Orlando, Florida, and this inspired him.
"I didn't realise prior to then that my PTSD made me eligible to compete, I thought it was only really for those with physical injuries."
Invictus is not just a week of sport, it is a whole support network to help wounded, injured and sick veterans. Once people leave the military civilian medical care is not really geared up for the unique injuries service people suffer from, particularly operational events leading to PTSD.
"The Invictus Games allows those who have been in challenging circumstances while serving to focus on the power of sport and physical activity, and how it can aid in recovery of injury."
He will compete in the time trial and criterium events in Düsseldorf, and has goals well beyond the games.
"Age is catching up with me, I suffer from arthritis in my hips and will eventually need a double hip replacement. Cycling is good exercise for me because unlike running my hips don't bear the weight while training.
"If the pain from my hips is ok, I hope to enter the New Zealand criterium nationals in 2024, and will of course continue online cycling racing a bit more competitively.
"I have never really competed in any sport before. The opportunity I have to compete at Invictus is not lost on me, so I want to go out there and give a credible performance when representing the Kiwi Team," he said.
About the Invictus Games
The sixth Invictus Games will take place in Düsseldorf 9-16 September under the motto "A HOME FOR RESPECT" and together with the German Armed Forces, will welcome around 500 competitors from more than 20 nations, as well as around 1,000 family members and friends, to compete in ten sporting disciplines.
Click here to follow our journey to The Invictus Games.